Deal reinforces IndiGo's position at the world's largest A320 family aircraft customer
This reinforces IndiGo's position at the world's largest A320 family aircraft customer.
It also makes the Indian LCC Airbus' largest customer by outstanding orders.
Nearly 1,000 A320 family aircraft are due to go to the carrier, with orders likely stretching out over the next decade and a half.
A320 family customers by outstanding orders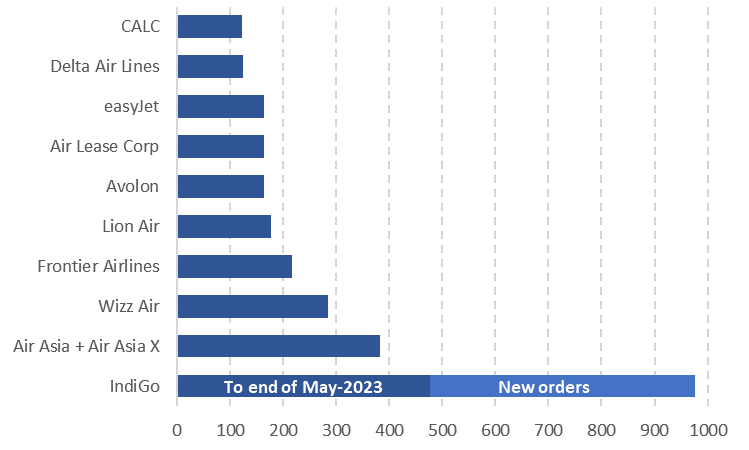 IndiGo is no stranger to blockbuster narrowbody orders. Since becoming an Airbus customer, the airline has progressively ramped up the scale of its agreements with the OEM.
The carrier placed its first order with Airbus in 2005 for 100 A320ceo family aircraft, a huge order at the time for the nascent Indian airline market.
It followed this in Jan-2011 with an order for 180 A320 family aircraft. This deal included 150 of the then in-development A320neo, making IndiGo the first airline to order the modernised variant.
In 2014 it ordered 250neo family aircraft, then Airbus' largest order from a single airline customer.
In 2019 it added a further 300 A320neo family aircraft to its books, including high-capacity A321neo and the very long range A321XLR.
Ordering reflects building Indian market
IndiGo's order also adds substantially to the number of outstanding aircraft on order within India carriers.
Prior to the IndiGo announcement, there were 997 outstanding aircraft orders in India. This is against an active commercial fleet of 866 aircraft, with another 114 temporarily grounded or inactive.
The IndiGo order essentially adds 50% to the volume of aircraft on order in the country.
This amount will further jump as Air India formalises the orders that it placed in early 2023 for 470 aircraft, a mix of narrowbodies and widebodies sourced from Airbus and Boeing.
On 20-Jun-2023, also at the Paris Airshow, Airbus and Boeing confirmed Air India had firmed up its orders. The Airbus order includes 140 A320neo and 70 A321neo single-aisle aircraft as well as 34 A350-1000 and six A350-900 widebody jets. The Boeing deal – its largest in South Asia – includes 190 737 MAXs, 20 787 Dreamliners and 10 777X jets; plus options for additional 50 737 MAX jets and 20 787 Dreamliners.
Once all of these are in place, airlines in India will have just under 2,000 aircraft on order between them.
Aircraft orders (firm and pending) in India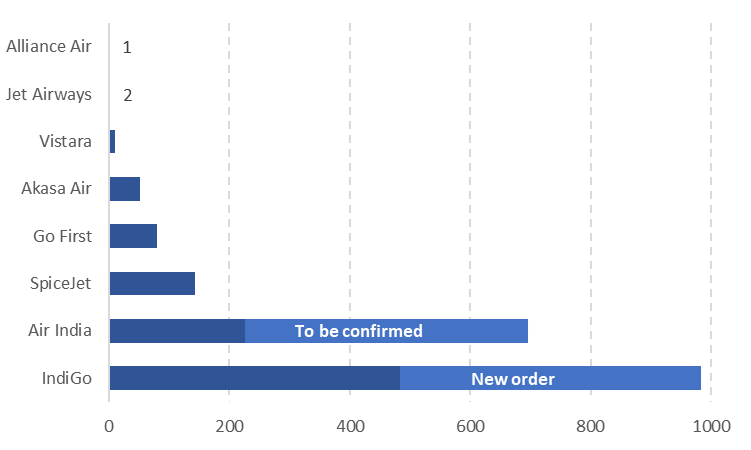 More aircraft likely needed for fast growing market
Prior to the COVID-19 pandemic, the size of India's air travel market tripled in just over a decade. According to data from the Airports Authority of India, passengers passing through Indian airports grew from 111.8 million in 2008 to 349.3 million in 2019.
The Indian market has also recovered from COVID-19. As of Feb-2023, scheduled seat capacity in India has been running above 2019 levels.
The closest parallel to India's growth outlook is what has already occurred in China. This was featured in this complimentary CAPA analysis: Giant markets, giant potential – how does India's air travel development compare with China's?
Both countries have populations of over a billion with expanding middle classes and rapid economic growth.
They also have large domestic markets and populations that are increasingly taking advantage of air travel where and when it becomes available.
India and China annual passengers (1986-2022)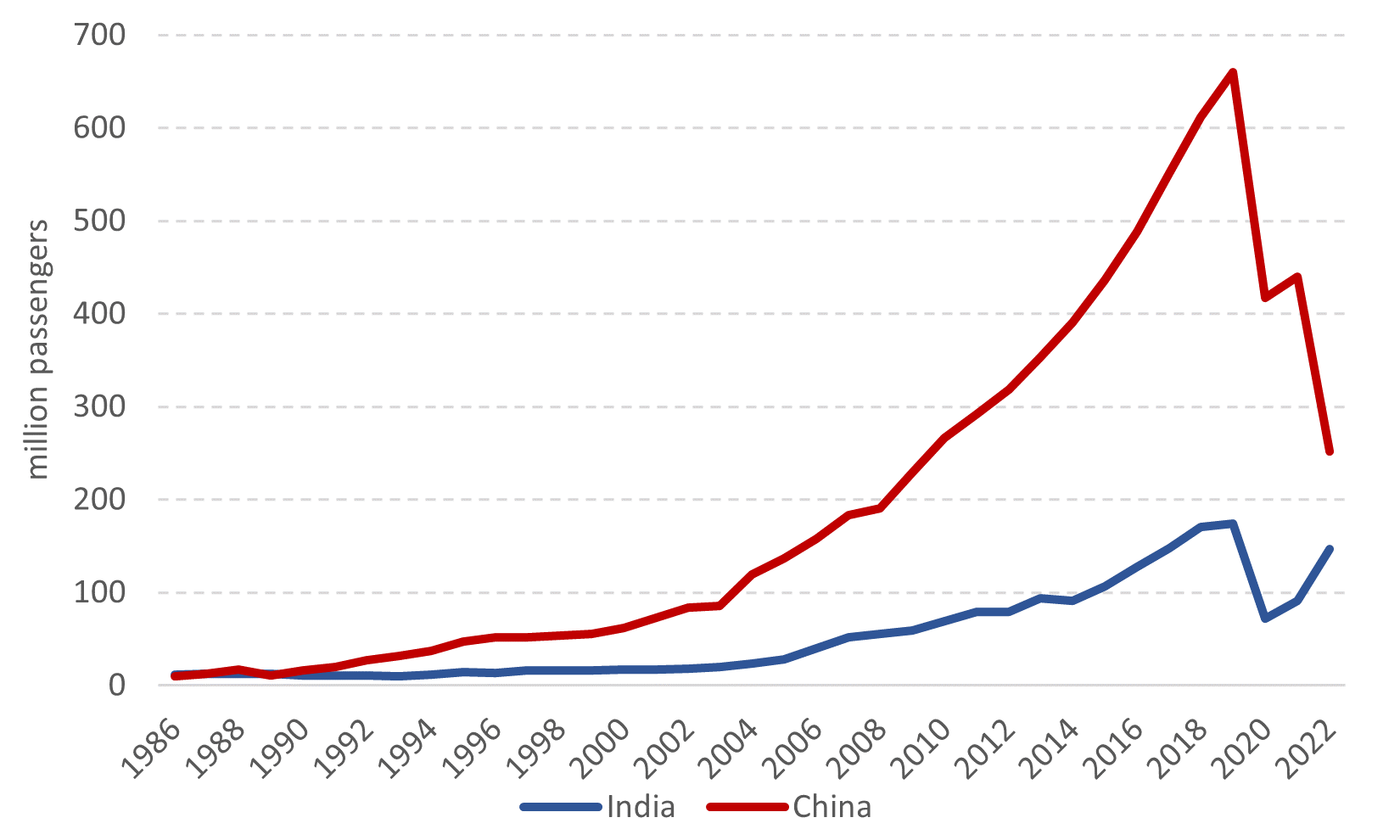 Western OEMs project there is a market for around 2,200 new large commercial aircraft (>150 seats) in India over the next two decades.
Airbus expects the market will need 1,770 "small" aircraft for domestic-type operations, and a further 440 "medium" and "large" aircraft for regional international and long-haul operations.
Boeing expects the market will need 1.983 narrowbodies and 227 widebodies.
Given the travel growth and recent aircraft ordering, these outlooks may need to be revised upwards.