IATA believes that the erosion of purchasing power "could start to dampen growth in travel demand once the 'travel deficit' has been filled, potentially in 2023". The observations were presented in IATA Economics' regular chart of the week.
Interest rate rises are increasing in number and scale
Earlier this month, the US' Federal Reserve added half a percentage point to its federal funds rate – the largest increase in this rate in 22 years – lifting it to a still modest 1%. Elsewhere, India's Reserve Bank increased its interest rate by 40 basis points to 4.4%.
These moves followed shortly after Australia's Reserve Bank announced a hike of 25 basis points, bringing the cash rate to 0.35%, and the Bank of England added 25 basis points to its policy rate.
In Asia, the situation is "more heterogeneous," notes IATA. Singapore, South Korea, and several other Asian countries do see higher inflation, which prompted the Monetary Authority of Singapore to both lift its policy rate and allow the currency to appreciate by more at its Apr-2022 meeting.
'Laggards' China and Japan may emerge with traveller purchasing power largely intact
In contrast, China and Japan "stand out as laggards" in this global inflation surge, observes IAT. In Mar-2022, China's CPI rose by +1.5%, up from +0.9% in Feb-2022. Similarly, Japan's CPI rose to +1.2% year-on-year in Mar-2022, also from +0.9% the month prior. These countries' central banks refrained from taking any monetary policy action at their Apr-2022 meetings.
The global rise in consumer prices eludes China and Japan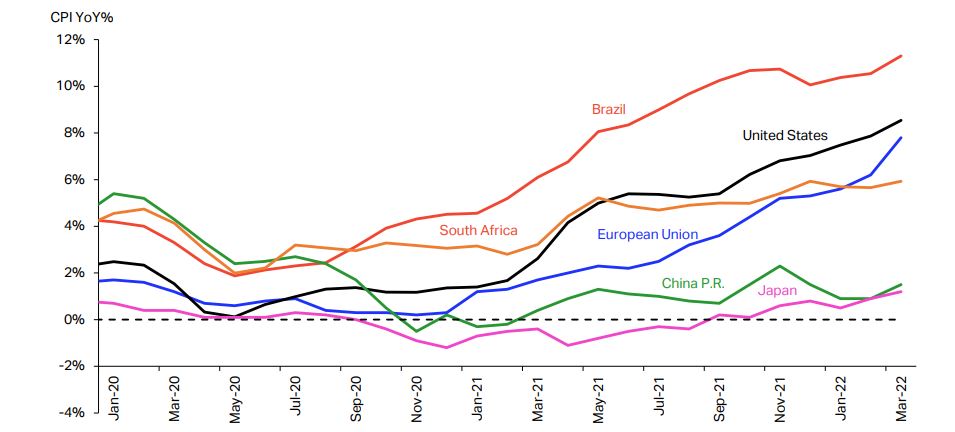 It so happens that these two countries also maintain some of the most severe travel restrictions and lockdowns still in place in response to the COVID-19 pandemic, notes ITA. However, once these restrictions are eased, it sees Chinese and Japanese travellers "will likely emerge with their purchasing power largely intact".
Stronger demand expected in China and Japan… dampened growth elsewhere
What this means is potentially a "relatively stronger surge in travel demand" in China and Japan compared to other markets where inflation is taking a greater toll on household budgets. However, the prognosis elsewhere is less optimistic with the erosion of purchasing power potentially starting to "dampen growth in travel demand once the travel deficit has been filled, potentially in 2023.