For an inside look at the world of housekeeping, cleaning specialist Zoro surveyed nearly 200 professional cleaners in the hospitality industry. From stolen items to the most frequently skipped housekeeping duties, the findings were alarming with a third of housekeepers admitting to making a bed with obvious hair strands on the sheets and another two in five making the bed with conspicuous stains on the sheets.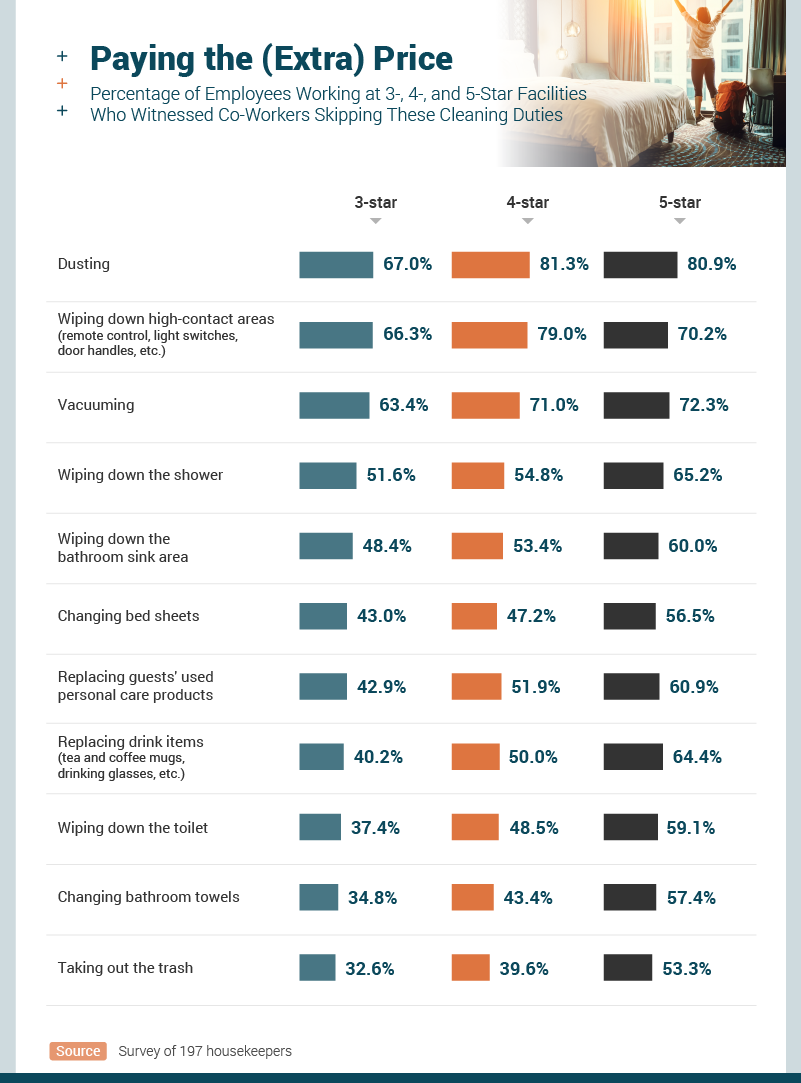 And you can't lay back safely under the covers in a five-star accommodation with thoughts that you are paying for a higher level of cleanliness with the surveyed housekeepers working in five-star facilities found to be more likely to cut corners in their cleaning responsibilities than those working in three- or four-star accommodation.
More specifically, the survey found that staff were the most likely to observe their co-workers avoiding vacuuming (over 72%), wiping down the shower (over 65%), wiping down the bathroom sink (60%), replacing personal care items between guests (nearly 61%), or wiping down the toilets (59%).
While many housekeepers are competent and professional in their jobs, the survey shows not all are the same and expecting things to be done and receiving a genuinely clean hotel room aren't always the same.
When asked about a variety of common housekeeper duties, men were found to be more likely than women to cut corners trying to get things done. While more than 10% of female housekeepers skipped changing the bed sheets, wiping down the toilet, and changing bathroom towels, more than 20% of male housekeepers skipped the same tasks.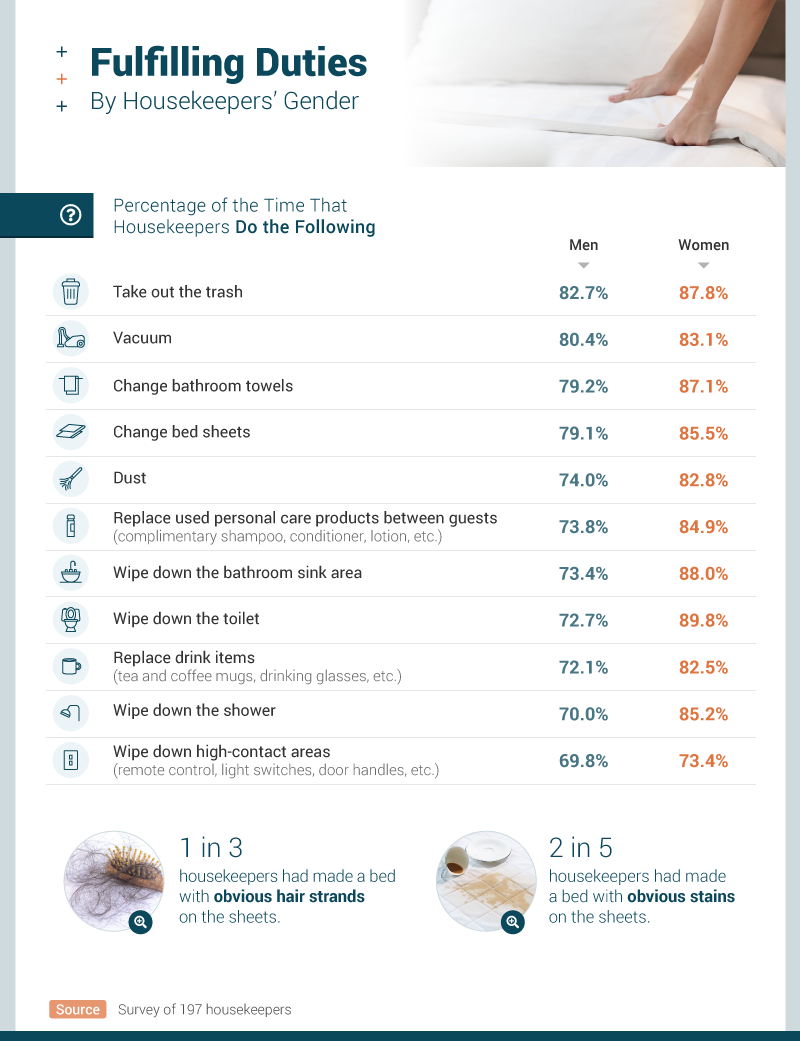 With long-distance travel, unsocial flight times and jetlag, regular travellers value the chance to get their head down while travelling. For many the 'Do Not Disturb' sign is used to retain privacy, even to keep housekeeping staff out of the room while you are away at a meeting, chilling by the pool or seeing the sites. A flimsy bit of cardboard holds a lot of power, but it isn't always a guarantee that the housekeeper on duty will heed your request.
The Survey found one in five housekeepers admitted to ignoring a "Do Not Disturb" sign hanging on a guest's door. This behaviour might not be about disregarding guests' wishes, though and increasingly hotels are changing policies in response to national security concerns and will no longer allow guests to go multiple days consecutively without allowing housekeepers into their hotel rooms for standard check-ups and basic room maintenance.
Things such as a dirty cup or wet towels are more of an annoyance, but the survey has identified major issues with the safety of belongings. All hotels warn about property being safely secured in rooms and we should take careful notice as studies show more than a third guest-related hotel thefts take place in private rooms rather than common areas (like a lobby).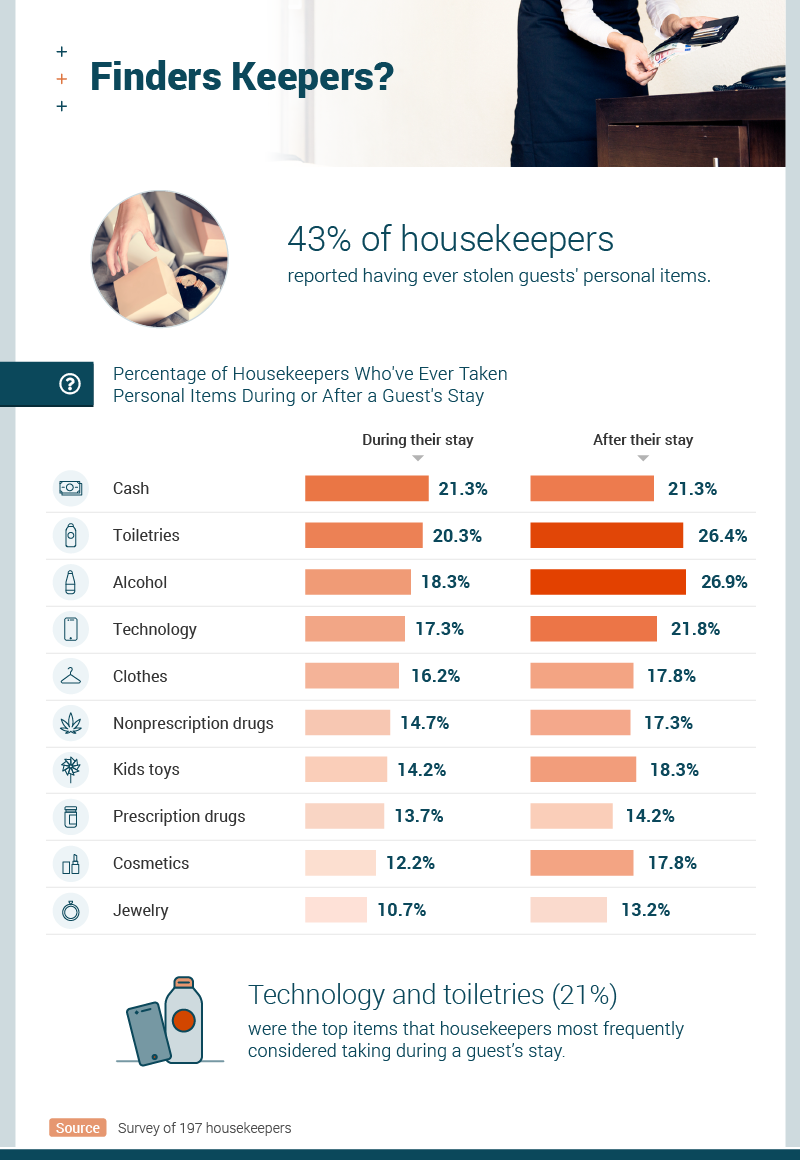 This suggests that hotel staff are the prime suspects, a position backed up by the survey. More than 1 in 5 housekeepers admitted to stealing cash from guests both during and after their stay. While some items were less likely to be stolen during a guest's stay, others were much less likely to be returned if left behind.
Compared to over 17% (yes, one in six) of housekeepers who admitted to stealing technology items while a guest was staying at their hotel, almost one in four (22%) admitted to keeping electronic devices left behind by guests after checkout. Toiletries (more than 26%) and alcohol (nearly 27%) were also among the items more likely to be "confiscated" by the cleaning crew after guests checked out of the hotel.
Technology products were some of the most common items housekeepers admitted to stealing from their guests' rooms during their hotel stays. Nearly 17% confessed to stealing laptops from their guests, followed by smartphones (almost 10%), tablets (5%), and electronic cigarettes (4%). Alcohol was another commonly pilfered item during guests' stays, and housekeepers were more likely to steal vodka (20%) and beer (over 17%) – 11% also admitted to stealing alcohol from a guest's in-room mini bar.
Rings (14%), earrings (13%), and necklaces (almost 11%) were among the smallest pieces of jewellery but also the biggest targets, according to the Zoro survey findings, while your underwear is not even safe and is allegedly taken by 6.1% of housekeepers.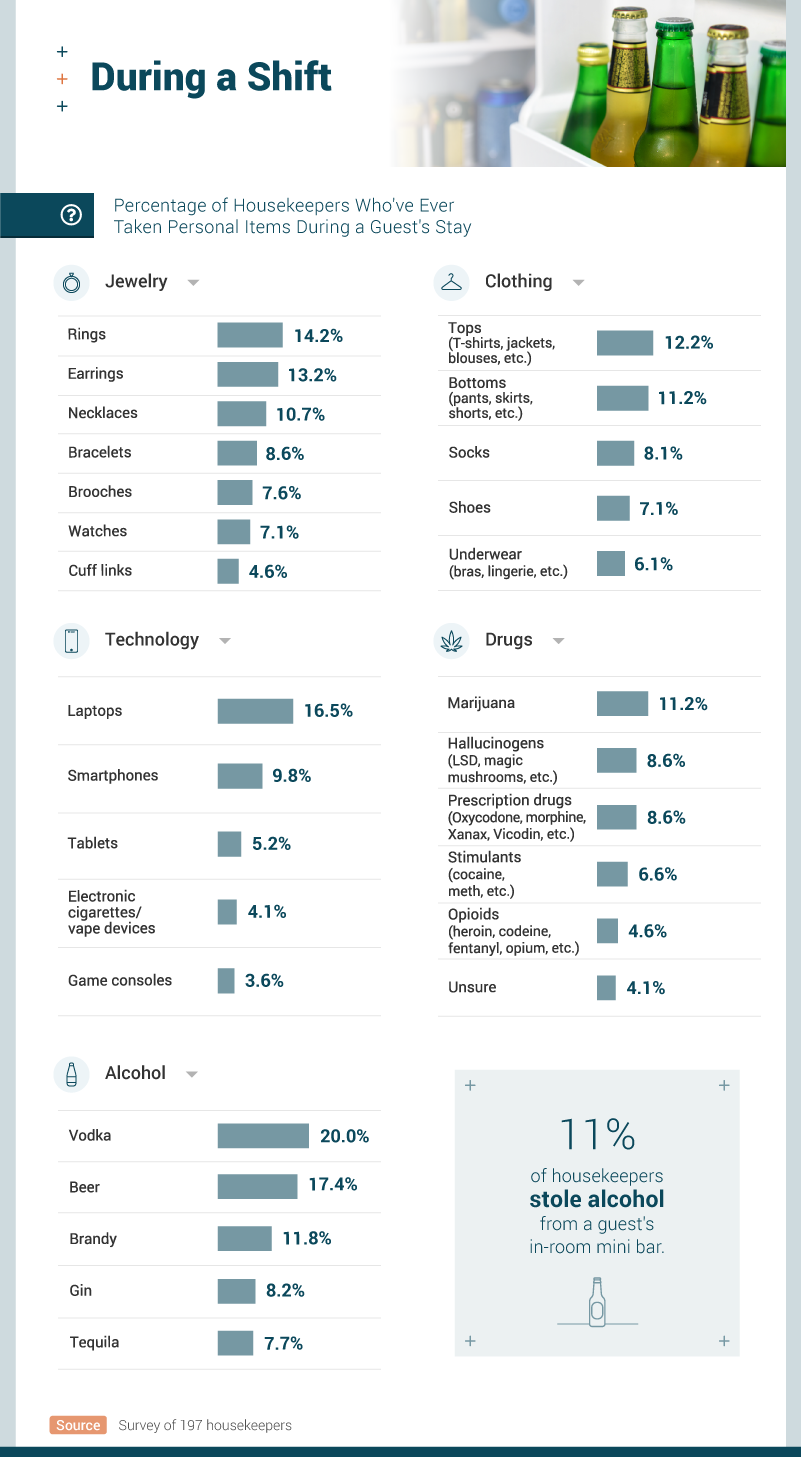 But, guests are not free from the blame and could ultimately be influencing the poor performance and behaviour of those cleaning rooms. More than one in five housekeepers acknowledged guests who didn't pick up after themselves or left messes behind were among their biggest pet peeves. Chief among their complaints were people not putting rubbish in the bin (over 17%), leaving bodily fluids or waste around (almost 12%), bathroom-related messes (11%), and not tipping (nearly 7%).
And who are the biggest offenders? Almost two thirds (62%) of housekeepers found families traveling with young children were the messiest guests of all. Nearly 40% said the same about young couples, and over a third (37%) identified families with teenagers as the least tidy guests ever. Solo travellers were further done the list, but men (30%) were revealed to be almost twice as messy as women (16%) in house keepers' eyes.