The Blue Swan Daily, in partnership with MIDAS Aviation, across this week will deliver the findings into an analysis of the world's 'Top 100' airports by capacity, highlighting differences in airport approaches to route development, passenger profile trends between different destinations, those airports that have the most reliance upon a single airline partner and those that have the biggest diversity of airline partners.
Today, we focus on the biggest hubs that lead the world's 'Top 100' airports and look at the percentage shares held by their dominant airline partner.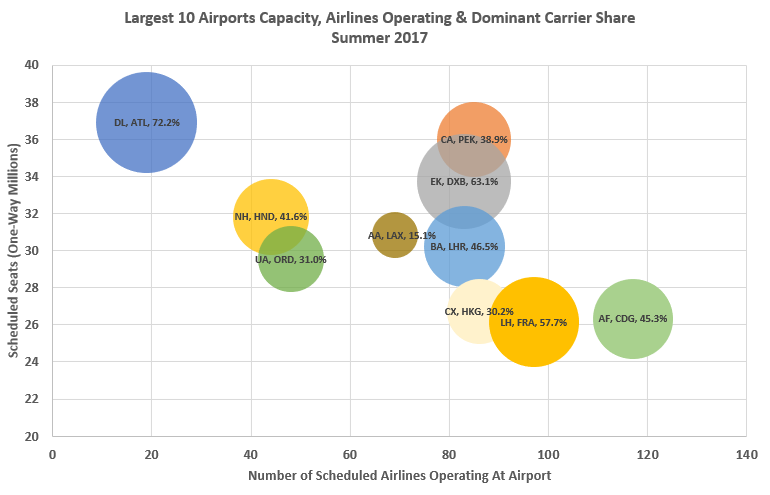 The graphic clearly shows the major differences between the world's leading airports and their airline partnerships. All are major hubs, but they have very different approaches to connectivity and the airline mix.
When we compare the number of scheduled seats, the number of scheduled airlines and the percentage share of the dominant carrier it clearly shows the dominance of Delta Air Lines at the world's biggest airport Atlanta Hartsfield-Jackson International, which has far less scheduled airlines than anyone else.
Elsewhere, the likes of Tokyo Haneda and Chicago O'Hare International may not be blessed with many carriers, but at least the dominant carrier has a less than half share of capacity. Meanwhile, Los Angeles International is actually not in a bad space – broad mix of carriers but with no one dominant operator, and whilst Paris Charles De Gaulle has a lot of customers the largest still has a more than 50% share.
The analysis provides some insights that we just don't think about enough. For instance, it would seem that there are some very large scale airports in some markets where one airline has such a position of scale and share that other carriers almost consciously avoid that market. Which begs a question as to the value of those airports spending large amounts on route development activity with limited chance of a return.
Equally at the other end of the spectrum there is clearly a cluster of airports of reasonable scale that are "must have" parts of an airline network, principally leisure focussed and sun blessed. It is in the "contested" space of reasonable scale and customer base" of airports where effective positioning and successful destination marketing can be at their most effective.
Ranging from dominant airlines holding a 12.1% share up to a 89.4% share, total summer departure seats from 8.6 million to almost 37 million, and airline operators varying from just ten up to 117, there are vast differences between the 'Top 100' airports in the world. Some are hubs serving major cities, others mainly transfer locations. They serve a mix of business and leisure markets, but they have one thing in common... they rely on sustainable air connectivity.
In total 56 different airlines dominate at these facilities with a number holding the dominant share at more than one airport. In fact American Airlines is the dominant carrier at seven of the 'Top 100' airports, with other notable carriers including China Eastern Airlines (five), United Airlines (five), Air China (four), Delta Air Lines (four) and Southwest Airlines (four).
Here's the full list of the 'Top 100' airports and details of the dominant airline at each of the facilities and their share of departure seats...
READ OUR PREVIOUS POSTS IN THIS SERIES:
INSIGHT: From Manchester to Moscow… how the Airport-Airline relationship differs across EMEA
INSIGHT: The US majors and their hub domination
INSIGHT: Asian and Australasian airports and their relationship with airlines
INSIGHT: Osaka Kansai, Tokyo Narita, Manchester and Los Angeles among major global airports offering strongest airline variety