The Blue Swan Daily, in partnership with MIDAS Aviation, across this week will deliver the findings into an analysis of the world's 'Top 100' airports by capacity, highlighting differences in airport approaches to route development, passenger profile trends between different destinations, those airports that have the most reliance upon a single airline partner and those that have the biggest diversity of airline partners.
Today, we focus on the Americas and look at which of the world's 'Top 100' airports have the largest and smallest percentage shares from their dominant airline partner and also look more closely at the difference between the largest North American gateways.
Our analysis of OAG schedule data for the current summer 2017 schedule at the world's 'Top 100' airports by departure shows that the bright lights of Hollywood and the popularity of La La Land' means that one of the largest airports in the world, Los Angeles International Airport, in the United States has the lowest dominant share of capacity from its leading airline across the whole of the Americas. US major American Airlines is one of 69 scheduled passenger airlines serving the west coast gateway, but has just a 15.1% share of departure capacity.
It is a similar story in New York, where LaGuardia Airport is ranked second in the analysis (Delta Air Lines - 17.8% share) and John F Kennedy International Airport third (JetBlue Airways - 22.3%). In fact the US is home to eight of the 'Top 10' airports with the only exceptions being fourth placed Mexico City Benito Juarez International Airport (Interjet - 23.8%) and ninth placed Vancouver International Airport (Air Canada - 29.6%).
The other US airports making the 'Top 10' include Orlando International Airport (Southwest Airlines - 24.8%), Washington Ronald Reagan National Airport (American Airlines - 25.0%), Fort Lauderdale Hollywood International Airport (JetBlue Airways - 25.6%), Boston Edward Logan International Airport (JetBlue Airways -26.2%) and Denver International Airport (Southwest Airlines - 29.7%).
It is noticeable to see that although two of the US majors have the dominant position at these airports, it is Low Cost Carriers (LCCs) which are building strong positions at these airports. While you may expect this at the Florida airports where leisure flows dominate, they are also now among the strongest operators at the major US cities and interestingly also in Mexico City.

At the other end of the scale, it is the US majors that dominate due to the important role hub operations play in their connectivity providing strong domestic, regional and international feed into intercontinental networks. Among the 'Top 10' airports based on the largest share of departure capacity held by the dominant airline, the three US majors of American Airlines, Delta Air Lines and United Airlines are the named airline on eight out of the occasions. This clearly illustrates how the carriers have effectively built a fortress at their hubs and a position that would influence other carriers to perhaps avoid that market.
It is the world's biggest airport, Atlanta Hartsfield-Jackson International Airport that also leads this ranking with dominant carrier Delta Air Lines holding a whopping 72.2% share of departure seats. This is based on the airline's mainline operations and when you factor in regional partners feeding the hub that share actually rises to 78.7%.
It is a similar story for Delta Air Lines at Minneapolis/St Paul International Airport (53.1% share); United Airlines at Houston George Bush Intercontinental Airport (52.4% share) and Newark Liberty International Airport (50.7% share); and American Airlines at Dallas/Fort Worth International Airport (66.2%), Charlotte-Douglas International Airport (60.9% share) and Miami International Airport (60.5% share). If you also include regional partners flying under the major's code then those numbers increase significantly higher, most notably at the former US Airways hub at Charlotte, where American Airlines share grows to 90.5%.
The only non-US majors to dominate at the 'Top 10' comprise Southwest Airlines at Baltimore-Washington International Thurgood Marshall Airport, which alongside local demand has become its low-cost alternative for the US capitol. The only non-US airport in the 'Top 10' is Bogota El Dorado International Airport where Colombia's national carrier Avianca holds a 57.6% share of departure capacity.
CHART – The major hubs across North America have very different relationships with their dominant airline partner with Delta Air Lines seemingly having turned its Atlanta hub into a fortress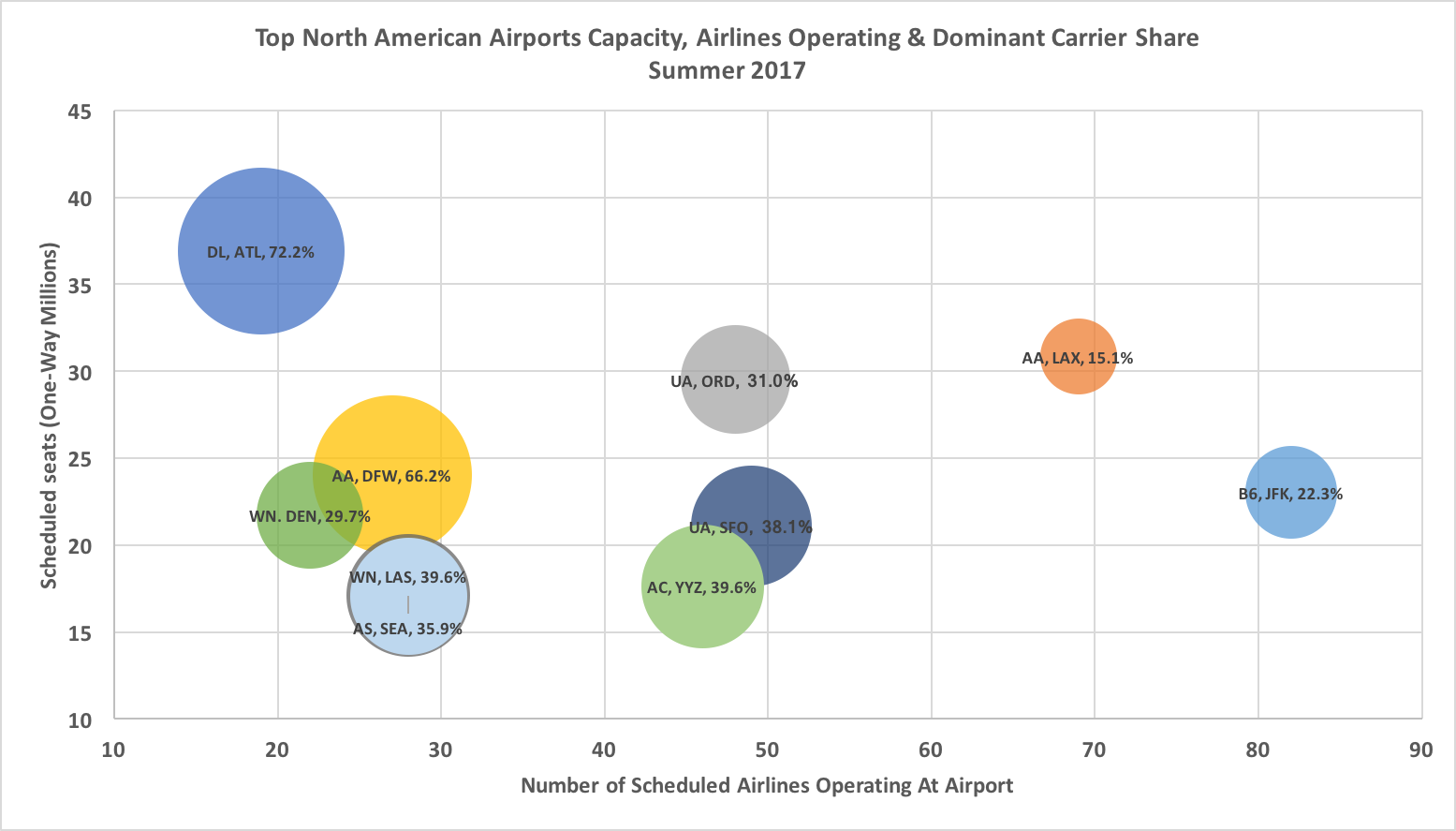 Source: The Blue Swan Daily, MIDAS Aviation and OAG
When the number of scheduled seats, the number of scheduled airlines and the percentage share of the dominant carrier are plotted on a graph in clearly illustrates some key trends and differences between the ten largest airports across North America.
It shows the dominance of Delta Air Lines at Atlanta, where it accounts for 72.2% of departure capacity in a market only served by 19 scheduled carriers. Meanwhile, Los Angeles International is actually not in a bad space – a broad mix of carriers but with no one dominant operator.
** TOMORROW: In Part 4 we look more closely at airports across EMEA focussing on the traditional European hubs and the 'new' hubs across the Middle East **