The company's total consolidated revenues increased 1.3% year-over-year during 2Q2012 to USD9billion driven by a 2.3% rise in passenger revenues to USD8.8 billion. But consolidated unit revenues grew just 3% during the quarter, 6ppt lower than the 9% posted by American Airlines. United's unit revenues have been weak relative to its legacy peers through 1H2012. But the gap did narrow during 2Q2012 compared with 1Q2012 when Delta's 14% unit revenue growth outpaced United's 5% increase by 9ppt.
US legacy carrier unit revenue performance: 1H2012
| Carrier | Unit revenue growth 2Q2012 | Unit revenue growth 1Q2012 |
| --- | --- | --- |
| American | 9% | 10% |
| Delta | 8% | 14% |
| United | 3% | 5% |
| US Airways | 7% | 7% |
Latin America reverses course and turns a weak performance in 2Q2012
During most of 2011 and during 1Q2012 Latin America was United's best performing regional entity. United recorded unit revenue growth of 7% from its Latin America markets during the first three months of 2012 as yields grew nearly 7% year-over-year. But the region's performance diminished drastically during 2Q2012 as unit revenues fell 3.4% year-over-year and yields plummeted 7% on essentially flat capacity growth.
United chief marketing officer Jim Compton explained during a 26-Jul-2012 analysts call the weakened performance in Latin America was driven by challenging year-over-year comparisons. The company recorded a 20% year-over-year rise in unit revenues in Latin America during 2Q2011. He remarked that on a two-year comparison basis, United's Latin American 2Q2012 unit revenues and yields increased 16% and 14%, respectively. Delta Air Lines executives on 25-Jul-2012 noted some slight fare pressure in Latin America during 2Q2012, which could have also pressured United's performance in the region during the quarter.
See related articles:
The Pacific emerged as United's best performing regional entity during 2Q2012, with unit revenues in the region increasing roughly 7% and yield growing 5%. Mr Compton noted those results do include proceeds from a business interruption claim United received during the quarter related to the Mar-2011 earthquake and tsunami that struck Japan. He estimated the claim increased 2Q2012 Pacific unit revenues by 2ppt.
Japan was the top performer in United's network, explained Mr Compton. United recorded unit revenue growth of 15% from its Japanese markets and a yield increase of 11% in its Japanese markets, and a 25% rise in its premium cabin unit revenues.
United cut its trans-Atlantic capacity by 4% year-over-year, which helped to lift unit revenues from the entity by 2% year-over-year. Mr Compton stated that while Europe produced moderate revenue growth year-over-year, India posted a particularly strong performance as unit revenues increased 10% and premium cabin unit revenues grew 14%.
United 2Q2012 revenue performance by regional entity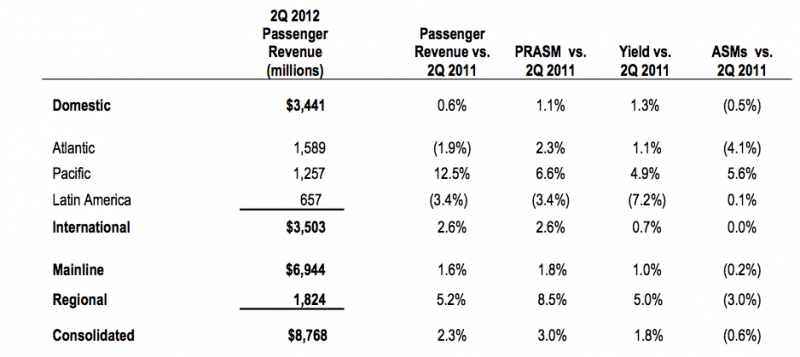 Corporate demand at United remained steady during 2Q2012, growing 16% year-over-year, which is 2ppt better than the 14% growth recorded by its legacy rival Delta.
Solid bookings for the remainder of the summer despite tepid economic conditions
Looking out over the next few weeks, Mr Compton stated that leisure bookings look strong for the remainder of the summer season in the Northern Hemisphere. However, he characterised the economy as tepid, and estimated that trans-Atlantic capacity should fall 2.7% to 3.7% during 3Q2012.
United expects its Jul-2012 unit revenues to be flat year-over-year, which is lower than the 4% to 5% estimated growth from Delta and the 1%-2% increase projected by US Airways. Mr Compton said United was seeing some pressure in London, as the Olympics generates more leisure traffic and the the city is primary a business market in the carrier's network, which is putting some pressure on the airline's unit revenues year-over-year.
Mr Compton did little to explain when the gap in United's revenue performance relative to its peers would be corrected. Now that United and Continental are on the same passenger service platform, the carriers are redeploying some aircraft in the domestic network to better match a specific market with given demand.
The first redeployment exercise began in mid-May-2012 and the next round is scheduled for Oct-2012. While the carrier stated it is pleased with the early results of the fleet adjustments, "our redeployment strategy brings some complexity to our operations for a period of time since redeploying aircraft introduces a new aircraft type into a market or hub," explained United CEO Jeff Smisek. He cited he example of using Airbus narrowbodies in Houston, which has typically been an all-Boeing hub, and placing Boeing 737s in Chicago, previously dominated by the legacy United Airbus jets.
United is also likely to incur some expense going forward as it raises the level of spares on hand as it works to correct its operational performance, which also deteriorated during 2Q2012. Mr Smisek explained that United's performance declined in on-time arrivals, mishandled bags and cancellations as the conversion to a single passenger service system and the aircraft redeployment stressed the system.
Costs continue to rise as revenue underperforms
United's consolidated operating expenses during 2Q212 increased 4% to USD9 billion as unit costs excluding fuel and special items increased 2%. The carrier projects full-year 2012 consolidated unit costs excluding fuel to grow between 2.5% and 3.5% year-over-year and rise up 3% to 4% in 3Q2012.
United CFO John Rainey stated the carrier is making investments to improve operations, which is included in the carrier's cost guidance, and warned their could be pressure on labour costs as new agreements with individual employee groups at each carrier take effect. The company is still attempting to negotiate joint collective bargaining agreements with the combined workforce.
Despite all of the integration challenges that have driven underperformance at United relative to its peers in 2012, the carrier's stock price during 1Q2012 traded at a premium compared with its legacy peers. United traded higher than US Airways, whose stock during the last couple of months was lifted on growing speculation that it would be successful in its attempt to merge with American. But on the day it reported weakened profits United's stock price fell nearly 6%, and could see pressure going forward as no clear timeframe exists for the carrier to overcome the integration hurdles that continue to diminish its revenue performance.
Shares comparison for US Airways, United Continental, Delta Air Lines: 27-Apr-2012 to 26-Jul-2012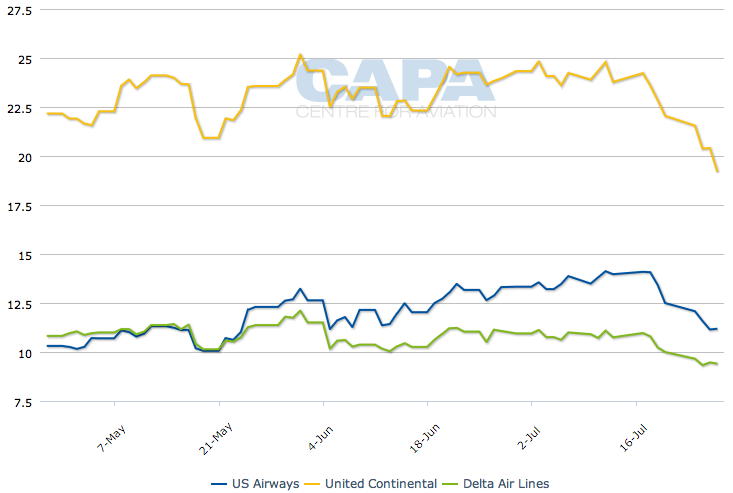 Background information
United select operating statistics: 2Q2012 vs 2Q2011
United financial highlights: 2Q2012 vs 2Q2011