Paris was the top global destination for holding meetings in 2019, a spot is has now held for two years. Lisbon was in second place, Berlin third, Barcelona fourth and Madrid fifth. As for countries, USA unsurprisingly was the top ranked country, followed by Germany, France, Spain and the UK.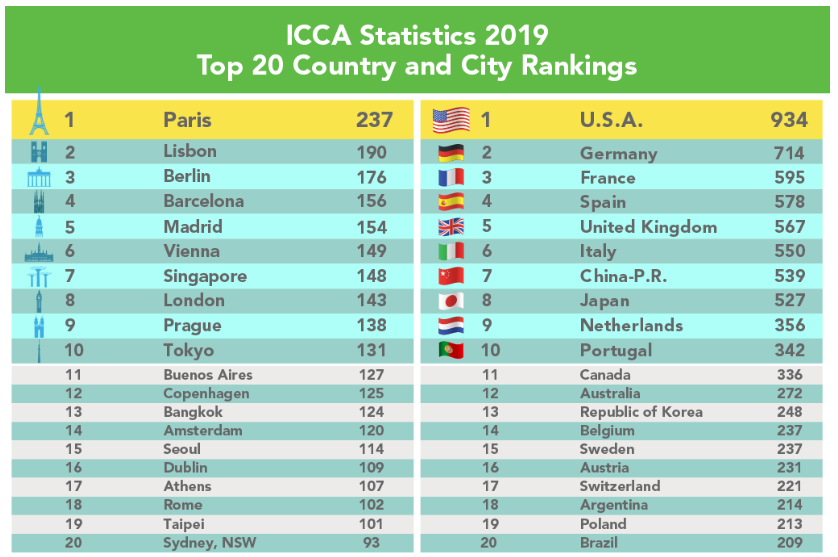 However the Covid-19 pandemic has changed everything and wiped a minimum of USD6 billion worth of business due to the cancellation of meetings between 1-Mar-2020 and 1-Sep-2020. This figure only represents registration fees and delegate expenditure of flights, hotels etc so does not account for all the indirect business that could have been gained by the holding of the events.
With so much at stake it is of no surprise that the meetings industry has been innovative and created a number of new ways to facilitate knowledge sharing. Webinars and the holding of virtual events has increased significantly over the past two months. Slowly live events will start again in the latter months of the year and it is expected that hybrid events will be introduced and prove to be part of the solution.
CAPA – Centre for Aviation has already had to cancel and postpone a few global summits. In their place CAPA has instituted a series of Masterclass Webinars, taking place every couple of weeks, to highlight a specific facet of how air travel is being effected and what the route out of the crisis might look like.
You can view all these CAPA sessions: CAPA Masterclass
Future global CAPA summits are still planned to be held in the second half of the year and will almost certainly include a hybrid aspect in order to limit the numbers that can attend but ensure a wide range and high level of speaker for which CAPA has become known.
In early Apr-2020, ICCA analysed data regarding 1749 international meetings held or due to be held from Feb-2020 to Jun-2020 and saw that the pandemic was having a large impact on meetings in the Asia-Pacific region in particular. As the pandemic started in Asia and gradually spread west that is no surprise so it is to be expected that further analysis later in the year will show this trend continuing across Europe and the Americas.
During the period analysed, 47.92% of international meetings to be held in Asia Pacific were going to be cancelled, postponed or moved, with 30.43% in Africa and just 16.45% in Europe. The percentage of meetings effected will almost certainly increase when analysed at a later date once more months are included.
According to the ICCA analysis, medium sized international association meetings of between 100-500 delegates are the most affected with over 50% of them having to be cancelled, postponed or moved. Large meetings of over 500 are the next affected with small meetings of less than 100 seeing less disruption.
ICCA CEO Senthil Gopinath said: "ICCA's annual statistics report is one of few that compares destinations' meetings-related performance on a global scale and therefore provides great insight into global trends in the meetings industry. Given the current circumstances, it is great to once again highlight the consistent growth in association meetings globally."
The performance in 2019 shows the need and importance of face-to-face events, and consequently highlights that the industry will play an important role in the recovery of global economies, when the time is right. While there are encouraging signs, the problem remains right now that we don't really know when that time will be and how long the sector will continue to be impacted.