In its Airlines Financial Monitor for September-October 2019, IATA says premium-class passengers accounted for 5.0% of total international origin-destination traffic in the first eight months of 2019. This proportion was on line with last year's performance, albeit marginally lower (down 0.1ppt).
In terms of revenue, premium-class passengers represented almost a third (30%) of total international revenues over the period, up half a percentage point on the outcome in 2018. In Aug-2019, similar to the month earlier, premium passenger traffic grew faster than its economy counterpart only on Asia-Southwest Pacific and North and Mid Pacific international routes as global weakness in trade continues to weigh on business travel.
The largest out-performance of premium fares (vs economy) has been in the North-South America and Within Europe markets, identifies IATA.
CHART - International premium traffic and revenues are in line with that of a year ago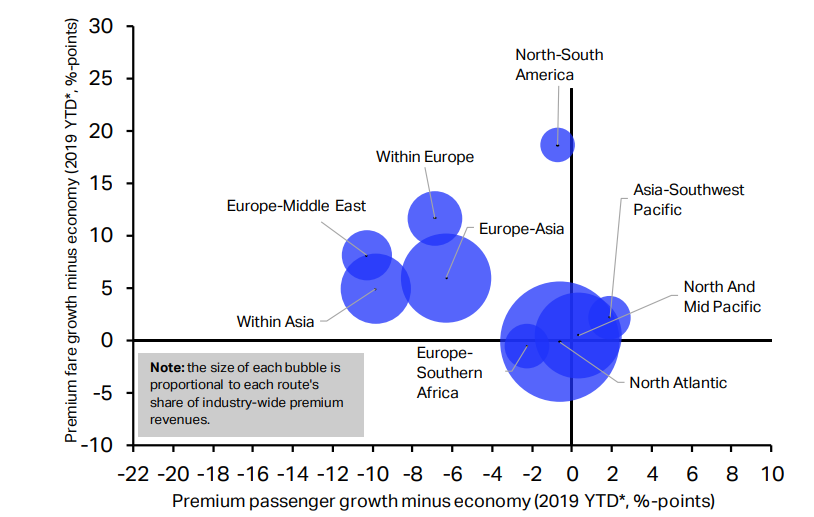 Source: IATA Economics and Diio
Moving into Sep-2019 and global passenger yields fell due to declines in both the economy and premium class markets. Economy cabin yields fell by -1.4% compared to Aug-2019, the largest monthly decline in the last 17 months. Premium yields fell by a more modest -0.9%.
In the past year, the softer economic backdrop together with trade tensions has been putting downward pressure on yields. Global yields have fallen by ~-4% compared to its level of a year ago. Looking ahead,
IATA sees "slowing economic growth together with the planned capacity increases in some regions" as likely to place further pressure on yields in the coming months.
CHART - Global passenger yields decline, with both softer economy and premium cabin yields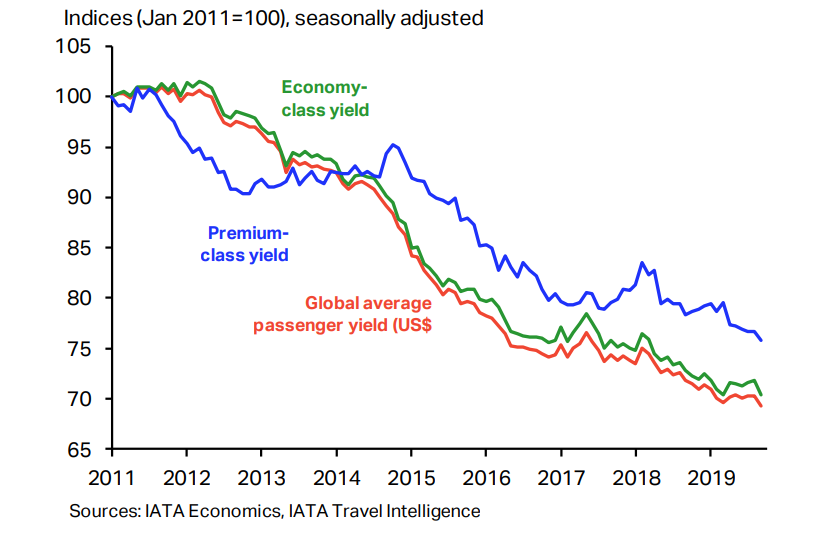 Source: IATA Economics and IATA Travel Intelligence
The latest Airlines Financial Monitor edition also highlights that industry-wide available seat kilometres (ASKs) increased for another month and are currently trending upwards at a +3.3% annualised rate over the third quarter. Following a modest fall in Aug-2019, available freight kilometres (AFTKs) picked up in Sep-2019 and are trending upwards at ~+5% annualised rate over the past three months. In year-on-year terms, freight capacity rose by +2.1%.
But a weakening pace of demand remains in in line with slowing momentum in the global economy, declining world trade activity and various political and geopolitical tensions across regions. Revenue passenger kilometres (RPKs) trended sideways in Sep-2019, while freight tonne kilometres (FTKs) lifted slightly on a month-on-month basis, sustaining the broadly flat trend in volumes that emerged after the sharp decline in late- 2018 and early-2019. IATA says the global backdrop for air freight "is still one of uncertainty".
The seasonally adjusted passenger load factor softened to 82.3% in Sep-2019, down from 82.4% in the previous month as capacity expanded slightly faster than demand, in month-on-month terms. That said, the bigger picture is that the passenger load factor remains high by historical standards, as the IATA chart below illustrates. On the freight side, the load factor ticked up modestly this month to 46.4%, but the downward trend which emerged in mid-2017 remains firmly in place.
CHART - Passenger load factor eased slightly in Sep-2019, while freight load factor ticked up the same month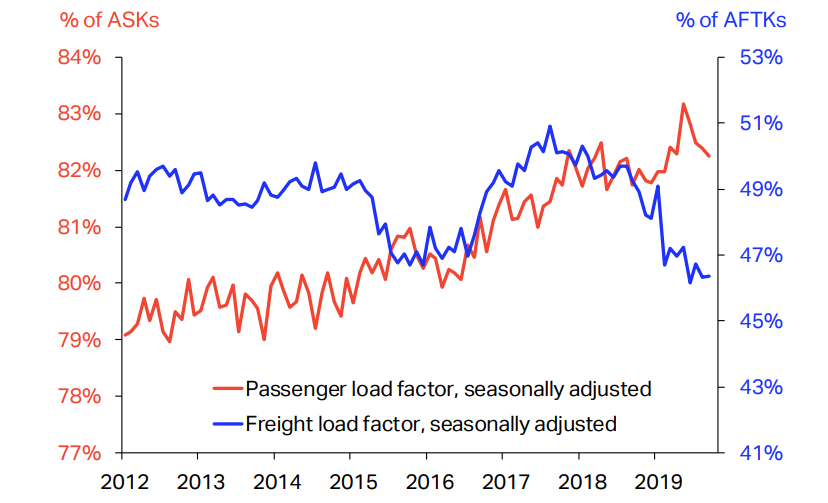 Source: IATA Monthly Statistics