Adjusted EBITDA was up by +3.2% to GBP57.8 million, following a year of investment in group technology, customer management and operations capabilities. However, after factoring in depreciation, amortisation, and debt servicing, the company recorded a pre-tax loss of -GBP20.8 million, in line with budgeted forecasts and reflecting a period of intense long-term investment, acquisition integration and reorganisation.
From humble beginnings to now firmly positioned among London's most trusted business class car service providers, Addison Lee is now responsible for getting over ten million people where they need to go each year in London alone.
"We still believe that taxis and minicabs can be so much more than just a means to an end – our clients are right to expect extraordinary standards, and by allying the latest technologies with traditional customer service values, we can not only disrupt the industry, we can revolutionise it," it says.
For Andy Boland, Addison Lee Group's CEO, 2017 was the year its London business "returned decisively to growth" and a wider focus of the business became "investing in and building the world's leading" managed ground transportation business. "We've made a strong start to the new financial year," he adds. With Q1 revenues up +23% and set to top GBP400 million for the current financial year, this rate of growth could see the business double in size over the next three years.
Addison Lee Group has further built its international offering after the financial year-end by purchasing Tandem Technologies, provider of software for corporate car bookings in New York. Tandem's software is used by businesses in New York and the acquisition strengthens Addison Lee's platform for expansion into New York's USD2.2 billion car service market, allowing business customers to book cars through the company's digital channels.
Since the start of the new financial year, ALG has also signed significant new contracts for its managed service proposition in the USA in the airline, investment banking, professional services and marketing services sectors. Provision of digital platform and mobile app booking capability, alongside a dedicated ALG fleet and end-to-end passenger service support, has been key to this success.
In January, Addison Lee also unveiled its new global product, allowing customers to book executive car services in over 100 cities around the world through its app and website, reflecting the international travel patterns of Addison Lee's customers.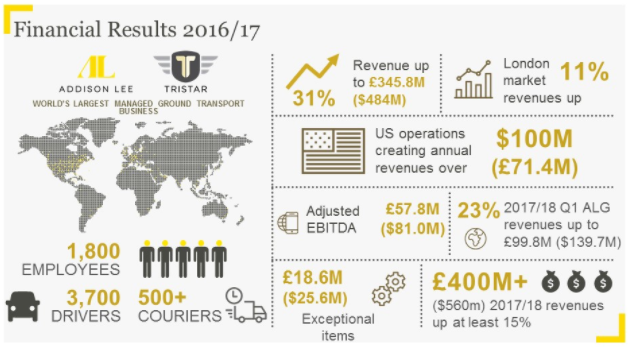 Interesting developments are also under evaluation in its home market with ALG leading a consortium in London to look at the impact of new vehicle technology, including the introduction of autonomous vehicles, into the Royal Borough of Greenwich, supported by United Kingdom Government funding from Innovate UK. The group is also currently partnering with autonomous vehicle (AV) technology partners to test inclusion of AV into the ALG operating model and connected vehicle technology.
Using its' international presence, premium managed service and digital technology, ALG is expected to demonstrate strong growth in revenue and profitability in a global market that is growing and consolidating. The group is confident of a strong financial performance for the year to 31-Aug-2018, with annual revenues expected to exceed GBP400 million.