---
Summary:
IATA predicts global airline industry will make a USD31.4 billion profit on revenues of USD743 billion in 2017.
European airlines will post a USD7.4 billion profit this year (down from USD8.6 billion in 2016) which is equal to $6.94/passenger.
easyJet shares have risen more than a third (33.6%) since the start of 2017, while Ryanair's have grown by almost a quarter (23.5%).
---
In 2017 airlines are expected to retain a net profit of USD7.69 per passenger, according to IATA, and while it will be a solid performance as demand for both the cargo and passenger business remains strong, earnings are being squeezed by rising fuel, labour and maintenance expenses. While overall profits are rising, the profit per passenger in this growing industry will actually slip from USD9.13 in 2016 and USD10.08 in 2015 (the revised 4.2% net profit margin is down from 4.9% in 2016).
Europe, in particular, could see significant disparity in performance as the low-cost carriers continue to strengthen their market positions and some legacy operators continue to face competitive pressures. We have already lost airberlin and Monarch Airlines, Alitalia remains on the brink and others could disappear from our skies over the year ahead either due to collapse or further industry consolidation.
IATA predicts that European airlines will post a USD7.4 billion profit this year (down from USD8.6 billion in 2016) which is equal to $6.94/passenger. Passenger demand is expected to grow by 7.0%, slightly ahead of expected capacity growth of 6.9%. Airlines are clearly placing more attention on costs as the days of chasing RASM (revenue per available seat mile) has translated to a greater focus on yields. This has been driven by the strong performance of the continent's low cost carriers, particularly easyJet and Ryanair.
easyJet has this week posted full year (12 months to 30-Sep-2017) profits before tax of GBP408 million despite an adverse headline currency impact of GBP101 million. This is down 17.3% on the previous year in what the airline defines as a 'difficult year' for the business.
During the year it carried a record 80.2 million passengers, up 9.7% year on year, with a record load factor of 92.6% (2016: 91.6%). Capacity grew by 8.5% to over 86.7 million seats, with revenues reaching GBP5,047 million, up 8.1%, with revenue per seat broadly flat year on year (-0.4%) at £58.23.
The announcement of the results, the last under the stewardship of Carolyn McCall before she is succeeded at the end of the month by Johan Lundgren, previously group deputy chief executive officer of TUI Group, saw easyJet stock shoot up more than 7.3% during the first hours of trading post announcement to a four month high of GBP1,374, after closing at GBP1,280 the night before. As at the close of business on 20-Nov-2017 the stock had steadied at GBP1,343. The airline's shares had grown more than a third (33.6%) during 2017 after closing last year at GBP1,005, but are still some way down from the highs of GBP1,900+ recorded back in Apr-2015.
CHART – easyJet's share price has risen by more than a third during the current calendar year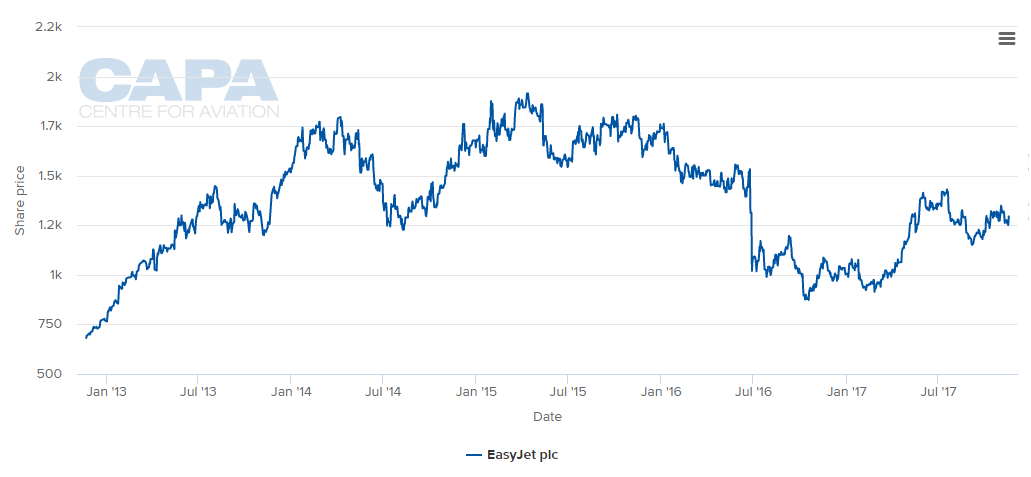 Source: CAPA – Centre for Aviation and stock exchanges
At the end of last month, Ryanair's first half trading (six months to 30-Sep-2017) report showed an 11% increase in H1 profit to EUR1,290 million on revenues of EUR4,425 million, up 7% on the same period in the previous financial year. Passenger numbers rose 11% to 72.1 million for the six month period and margins. While it expects usual seasonality issues in the second half of the year and also the impact of its recent pilot rostering failure and the grounding of 25 aircraft, it still expects to grow H2 traffic by 4% with a full year full year PAT guidance in a range of EUR1,400 million to EUR1,450 million.
Ryanair is also seeing strong investor confidence as its 'always getting better' strategy delivers clear operational and financial benefits to the business. The airline's share price (as at close of business 20-Nov-2017) was EUR17.98, almost the first time it has exceeded the EUR18 figure on closure since details of its pilot rostering issue emerged in mid Sep-2017 (it had risen to EUR18.29 during the day). This is down from a high of EUR19.35 in Aug-2017 but still represents a 23.5% rise on the EUR14.56 price it closed the year on.
CHART – Ryanair's share price has risen by almost a quarter during the current calendar year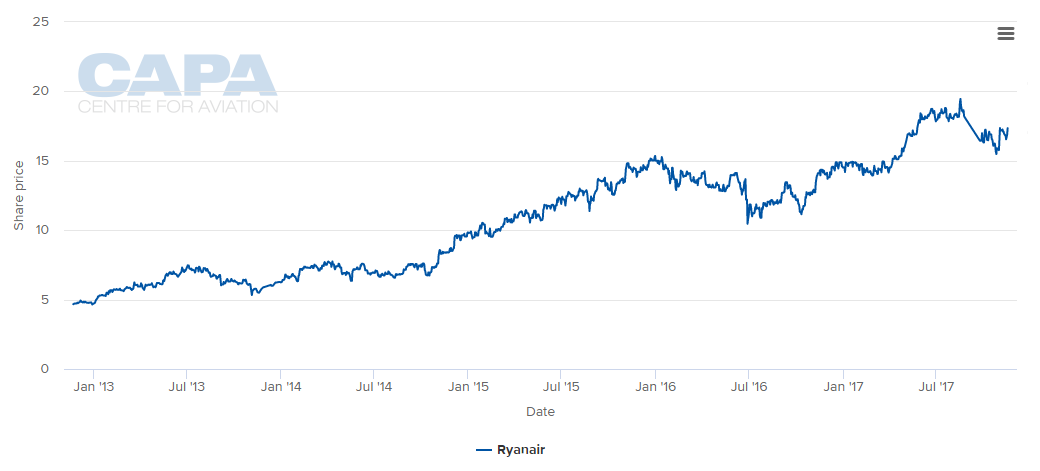 Source: CAPA – Centre for Aviation and stock exchanges