MAP - Ireland West Airport is located in the north west of the Republic of Ireland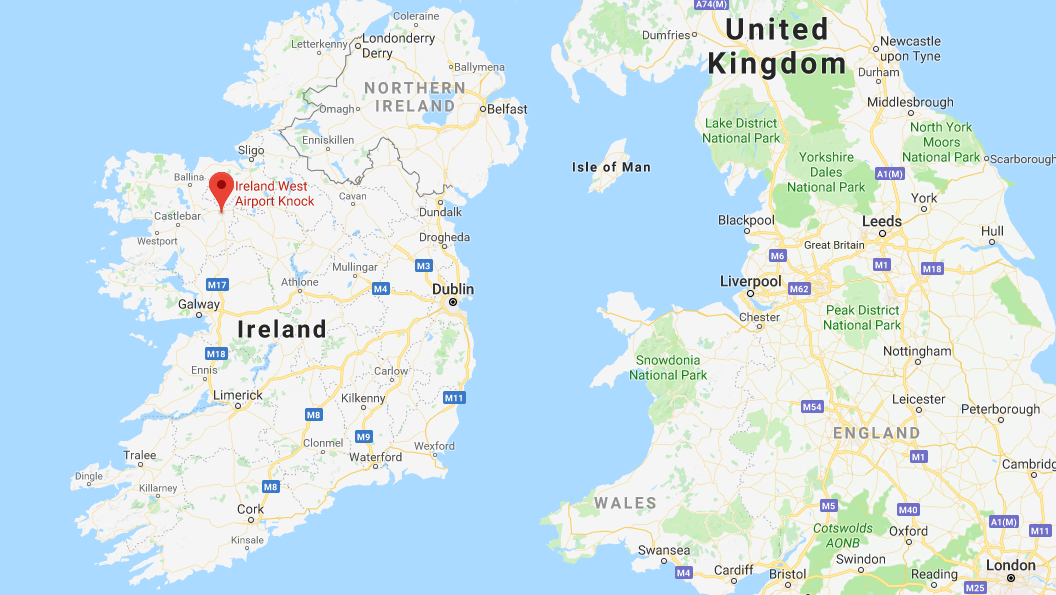 Source: Google Maps
However, passenger traffic and annual growth since 2009 has been subject to various peaks and troughs over the years, manifesting in a classic W formation that is to some extent representative of the ups and downs of the Irish economy.
CHART - Last year's record traffic performance continued the peak and trough pattern seen at Ireland West Airport this decade with growth of just over +2.0%, down from +7.5% in 2016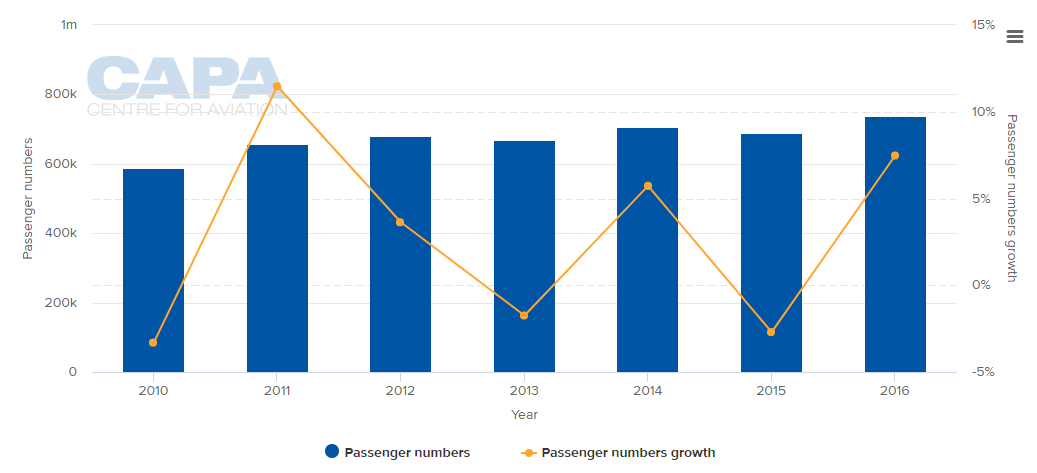 Source: CAPA - Centre for Aviation and Ireland Central Statistics Office
Knock Airport, as it was previously known, and before that as Horan International Airport, was a labour of love for Monsignor James Horan, whose lengthy campaign to build an airport on a "foggy, boggy" site in County Mayo was rewarded when it opened in 1985. This followed its funding being approved by the then Taoiseach (Prime Minister) Charles Haughey and supplemented by a 'Jumbo Draw'; a lottery that raised the shortfall of IR£4 million when government funding was slashed after Haughey's Fianna Fáil party lost power in a 1982 General Election .
A tour of countries including the USA and Australia to promote the lottery took its toll on Horan, who died shortly after the airport was completed. Having delivered the airport in just five years, there is now a statue of him at the airport and a musical was written for him, A Wing and a Prayer.
Actually Horan died during a pilgrimage to Lourdes and religion plays a huge part in the airport's construction. Knock is the location of a national basilica, shrine and pilgrimage site where observers reported an apparition in 1879, similar to those at the shrines of Lourdes and Fatima (Portugal) which also took place during periods of enormous cultural, social and economic change. In the West of Ireland famines were still prevalent. It is perhaps not surprising that the airport's first flights were three Aer Lingus charters to Rome. Pope John Paul II had urged the building of the basilica during a papal visit in 1979.
So it was designed both as a gateway for international visitors to the shrine and to Ireland's 'Wild Atlantic Way' and as vehicle for a thinly spread but wide catchment area population that encompasses the West, Midlands and North West of Ireland and parts of Northern Ireland to travel internationally, for business or to sun seekers' vacation destinations. About 250,000 passengers, a third of the total, were visitors to the area in 2017.
The airport now serves 23 International destinations including nine non-stop scheduled routes (mainly in the UK) and is served by three of Europe's major International airlines, Aer Lingus, Flybe, which will add 16,000 seats in 2018 and Ryanair.
CHART - Ryanair is the largest operator at Ireland West Airport ahead of Aer Lingus and Flybe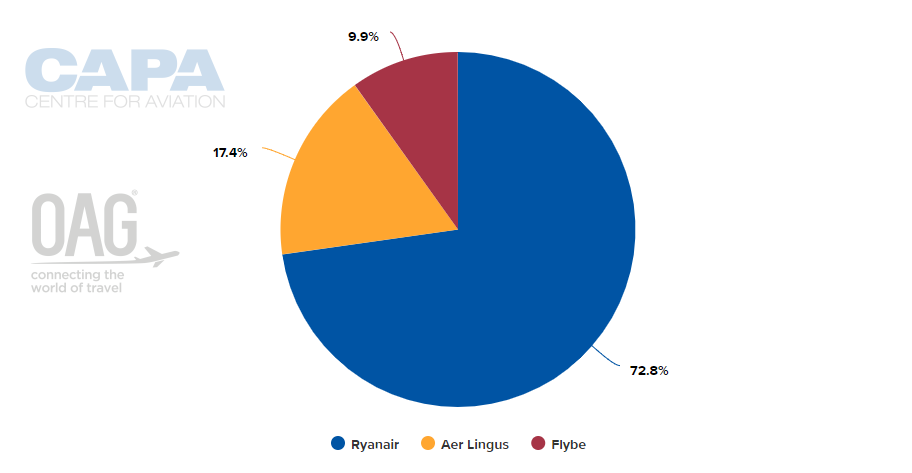 Source: CAPA - Centre for Aviation and OAG (data: w/c 08-Jan-2018)
Despite the concerns over the impact of 'Brexit', the growth in passenger numbers in 2017 was fuelled by a very strong performance across the range of UK services available at the airport, with an extra 18,000 passengers travelling to and from the UK in 2017, which represented a 3% increase on 2016 numbers.
2017 also saw the airport commence work on a EUR15 million facilities investment plan into new passenger facilities, terminal upgrades and infrastructural works across the airport facility and runway. The airport is now owned by a trust in which seven local authorities, led by County Mayo, hold a 17.5% shareholding.