Domestic demand began to recover in the country when the rate of new Covid-19 infections fell into single digits and rapidly headed towards zero (when measured by new infections as a percentage of the seven-day moving average of total cases). But, an initial sharp increase in domestic air travel has since stabilised, with demand still remaining at a level well below that seen last year.
There are many uncertainties regarding the extent of travel demand and consumer behaviour in the restart period and IATA's insight into the changes in the booking pattern of passengers observed in the China domestic market in recent months is something that airlines and airports in many other nations should take warning from.
CHART – A change in passenger booking behaviour in the Chinese domestic market is creating additional uncertainty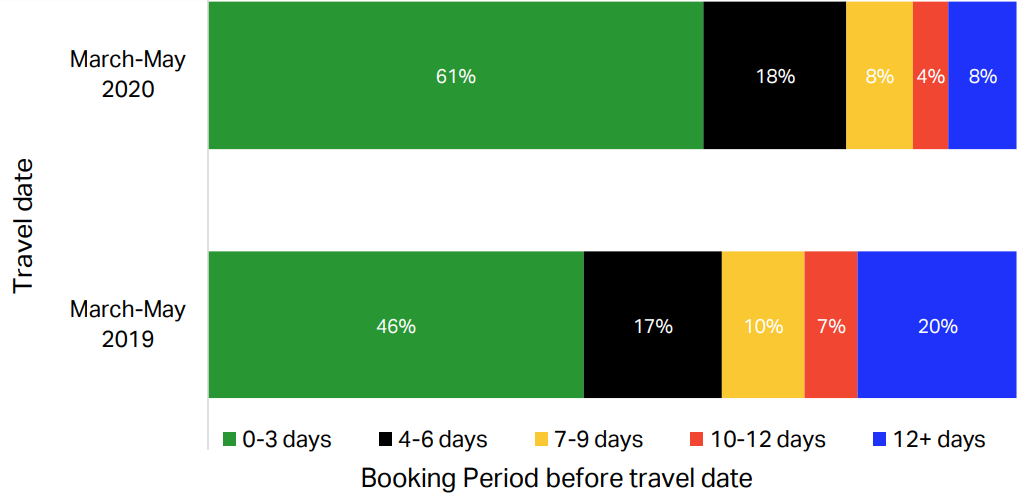 Source: IATA Economics using data from DDS
The obvious differences in the booking patterns for the Mar-2020 to May-2020 period and the same months last year are at the two ends of the chart covering the shortest and longest booking periods.
A significant higher proportion of passengers are booking their travel within three days of the travel date this year – 61% of bookings compared with 46% a year ago. Similarly, at the other end of the spectrum only 8% of passengers are currently booking 12 days or more in advance, down from 20% over the same period in 2019.
The reason for the shift could be easily explained by current circumstances. Passengers could be worried about the robustness of flight schedules, while lower fares enable travellers more flexibility to make a last minute decision and book late. There is also the case of diluted demand influencing timescales for booking.
Right now it is hard for anyone to understand demand in the 'new normal' and any shift in booking patterns will make decision-making even harder, for airlines in particular. The historical data that has underpinned business models for so long could now actually be a hindrance in the industry restart process.
Travel analytics company ForwardKeys has also shared some insights into Chinese booking habits and positively remarks that its data shows that Chinese domestic bookings have now reached more than 50% of what it was at the equivalent moment in 2019, based on issued air tickets. It too highlights a significant uptick in last-minute domestic flight bookings in its analysis from 11-May-2020 to 21-May-2020.
During that period, it says, the lead time between ticketing and travel shortened dramatically; 72% of flight tickets were issued within 4 days of the travel date, compared with 51% at the equivalent point in 2019. For this particular period, ForwardKeys believes the outside influence of students returning to university may have weighed on the findings.
CHART - Looking back to the start of 2020, Chinese domestic air travel surged in the first three weeks of January, thanks to Chinese New Year. However, the Covid-19 outbreak spoiled the party and by mid-February, the aviation market in China had all but collapsed, before starting its recovery over the remainder of that month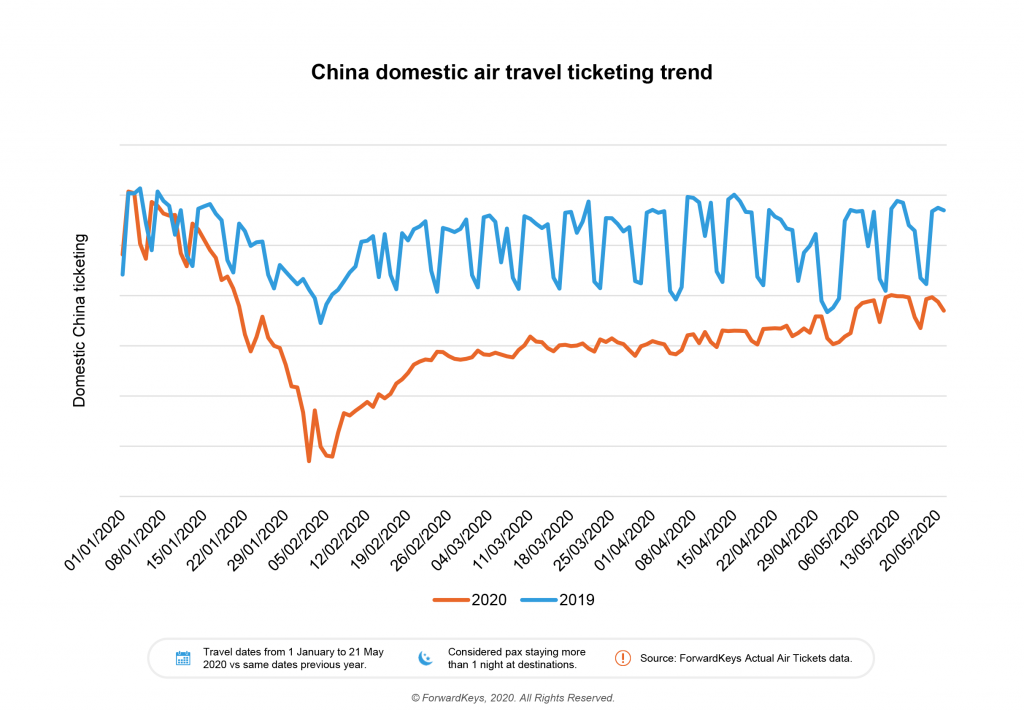 Source: ForwardKeys
Numerous travel sentiment studies continue to show a preparedness or unpreparedness to return to travel. The findings seem to vary from one to another and perhaps perfectly highlight a mood right now where most of us have lost track and find it hard to identify what day of the week it is let alone be able to cohesively plan to travel.
A study from Nordic carrier Finnair that is based on a survey of more than 3,000 Finnair Plus Loyalty programme members probably gives us a good feel into the pulse of travellers, and it is a positive observation. Half the respondents, which included members across all tiers, said they were already thinking about leisure trips by air, with an additional third holding a neutral attitude towards air travel for leisure. Almost nine out of ten customers said they expected to fly at least once within the next year.
The findings support a stronger recovery in leisure demand, with business travel expected to follow behind. More than three in five (61%) respondents planned to take leisure trip to a European destination, while under half (45%) planned to travel within Europe for business. Germany and Spain were named most often as the destinations for the next trip.
Travel restrictions were – quite naturally – the largest concern for travel: more than three quarters (77%) mentioned removing travel restrictions to be a prerequisite for their air travel, something we are now increasingly seeing, especially across Europe.
https://corporatetravelcommunity.com/customer-empathy-may-now-beat-price-in-encouraging-us-to-book-but-what-price-will-consumers-ultimately-be-willing-to-pay-for-piece-of-mind/
Interestingly, and as highlighted previously in a The Blue Swan Daily insight, the Covid-19 pandemic is delivering a new criteria for choosing an airline, albeit in the short-term. The top drivers for choosing an airline included its ability to ensure customer wellbeing and health during the trip, which cam in ahead of both ticket prices and flight schedules.
Aircraft cleaning and the possibility to ensure good hand hygiene were mentioned as the most important means for easing the concerns of travel safety. Also, two thirds (65%) of the respondents said that a requirement to wear a mask would ease their concerns either a moderate amount, a lot or a great deal.