The airline has been studying the Canadian market as part of a continued expansion of its low cost model which has recently seen it expand into Argentina and Singapore and will see further country markets added over this and coming years.
Norwegian is currently in the process of obtaining a Canadian aviation document (CAD) from Transport Canada to allow it to complete its licence application. This is expected to be issued within the next three months, but with the countdown to a proposed Jul-2018 launch date inching closer, this exemption relieves any pressure on the carrier.
The application gives little away about Norwegian's plans except confirming it has "applied for a scheduled international licence to operate a service between member states of the European Community and Canada." While this could ultimately mean Martinique to Montreal, a further entry is more precise in its wording and states the exemption has been sought "to permit the launch of this new low-cost long haul service from Europe to North America". It also confirms a proposed launch date: "The applicant indicates that it intends to commence commercial activities in Canada on 23-Jul-2018."
Norwegian's proposed Canadian operations will be facilitated by its fleet renewal programme. This year it is scheduled to receive 11 Boeing 787-9 Dreamliners, 12 737 MAX-8s and two 737-800s and the first of these aircraft have already been inducted into its network.
While it is possible that the 787-9s could themselves be deployed, or perhaps allow smaller existing 787-8s to be placed in busy markets between Europe and Canada, for example out of London Gatwick to Montréal, Toronto and Vancouver, these are already well served markets with significant competition.
Norwegian's growth has proven it isn't one to shy away from competition, but The Blue Swan Daily believes it will more likely take advantage of the performance of the 737MAX-8 to deliver new long haul low cost routes out of less well connected markets, linking the likes of Halifax or Hamilton to destinations in western Europe.
Analysis of OAG summer 2018 schedules between Canada and Europe highlight the existing strong flows from the largest markets in Canada. Looking at the proposed Norwegian launch month of July, there are already more than 7,500 flights scheduled in this market offering over two million seats. This works out an average of 122 return flights per day providing more than 35,000 seats in each direction.
CHART – Air capacity between Canada and Europe will be up +7.9% year over year in Jul-2018 versus Jul-2017 even before Norwegian's expected arrival into the market

Source: The Blue Swan Daily and OAG
More than three quarters (76.7%) of this capacity is in and out of Toronto and Montréal and could highlight why Norwegian may not necessarily look to serve these destinations, instead perhaps looking at more underserved markets. But the offer into these cities continues to grow (Toronto: +8.4%; Montréal: +6.1% versus Jul-2017) showing new development.
In Jul-2018 Toronto's Lester B Pearson International Airport will actually be linked by non-stop flights to 37 different destinations across Europe, with Montréal's Pierre Elliott Trudeau International Airport linked to 31 markets. Meanwhile, the likes of Halifax's Stanfield International Airport and Calgary International Airport have just six and five respective non-stop markets.
Air Canada is the largest carrier for non-stop capacity between Canada and Europe with a 41.8% share of the two-way capacity in Jul-2018, ahead of Air Transat with a 19.7% share. Lufthansa and Air France are the largest European operators each offering more than 100,000 seats during the month, but with just 5.2% and 5.0% shares respectively.
CHART - Icelandair is the only major carrier in the Canada - Europe market to have a reduced inventory in Jul-2018 versus the same month last year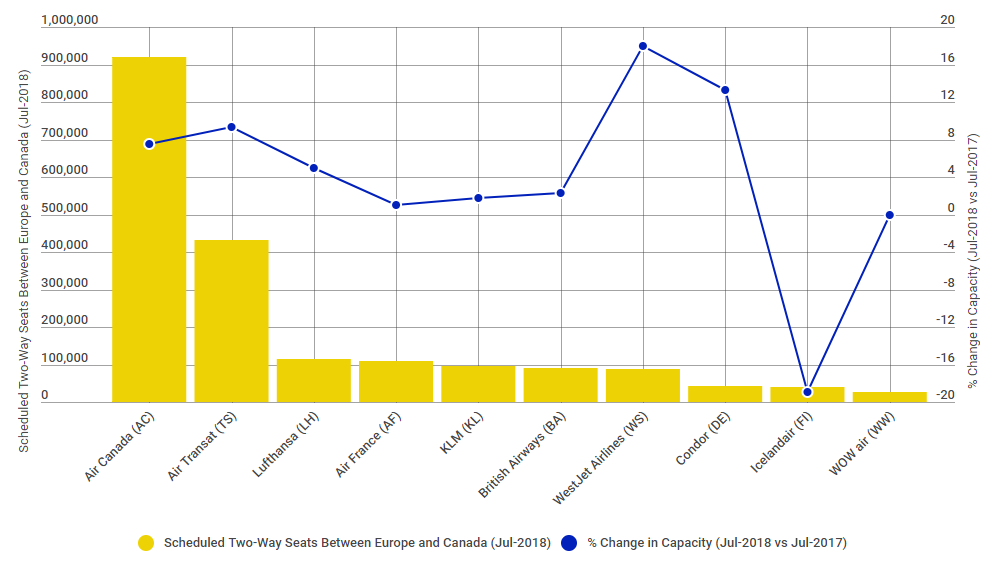 Source: The Blue Swan Daily and OAG