It was in Mar-2019 that Icelandair Group confirmed it had acquired a 51% stake in Cabo Verde Airlines (CVA), previously known as TACV, a process that had begun the year before. TACV has been existing between a rock and a hard place and those conditions have made it difficult to deliver a successful strategy.
TACV had been required to provide services to match the needs of the country's extensive diaspora, which is located mainly in Portugal and the northeast United States (but also in Italy, France and the Netherlands to a lesser degree) while it was hard to attract non-Cape Verdeans onto its services for inbound tourism purposes because of the strength of tour operators and charter carriers.
While Cape Verde is well situated to service transatlantic connections (Europe – Latin America; Africa – the Americas) TACV was loathe to commit to unproven hub routes which might take an aircraft out of operation for a day at a time. The one clear exception to that was a route to Fortaleza in Northern Brazil, with which it persevered and which became a catalyst for other Brazilian city routes – Recife, Salvador and Porto Alegre.
As its network shows, those Brazilian routes have become the mainstay of the CVA hub operations, with Lisbon – the old colonial power as it was in the case of Cape Verde – at the European end of them, supported by Paris CDG, Milan Malpensa and Rome Fiumicino. However, the three-times weekly Sal – Salvador route will be suspended, effective 01-Mar-2020, it was confirmed just last week.
The west-east flows have never been developed to any significant degree. The long-standing diaspora base at Boston, which is connected to the slave trade, has now been joined by Washington DC. But in Africa, CVA is hampered by having only two routes, the least it has ever had, to Senegal (long-established) and the more recently Lagos.
CHART - Cape Verde is advantageously placed at the crossroads of some key air traffic flows just like Iceland has gained with North Atlantic air traffic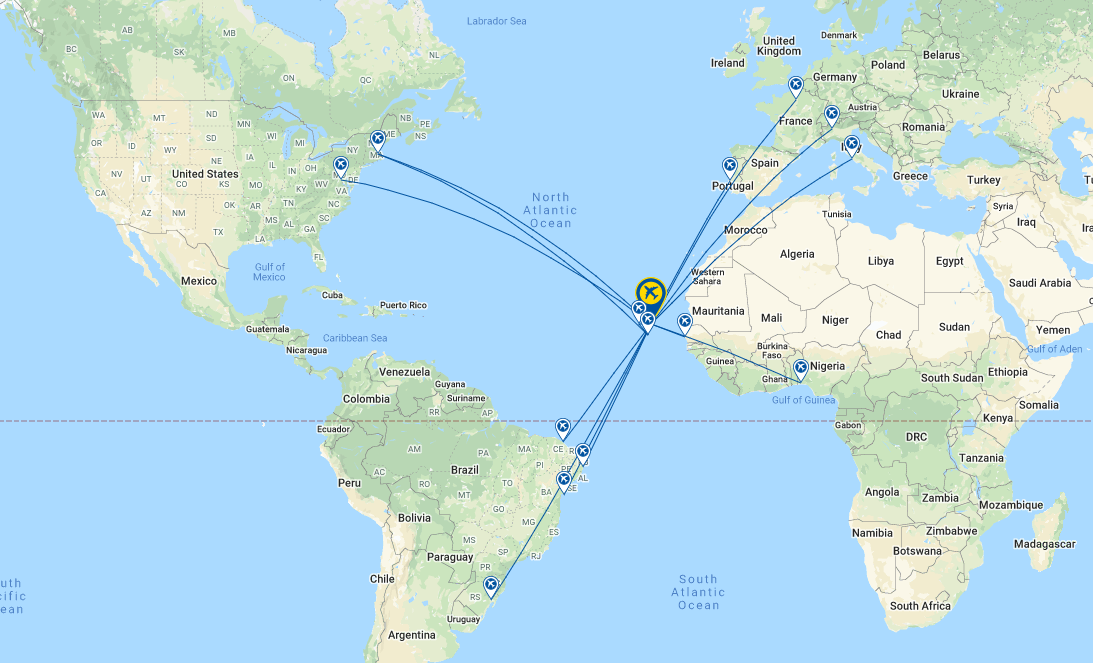 Source: CAPA - Centre for Aviation and OAG
With such a paucity of direct flights between the US and Africa one might expect that market to be the most attractive one for CVA/Icelandair but of course Africa remains restricted by its inability to implement the two-decades-old Yamoussoukro Decision which was supposed to liberalise Africa's skies.
On top of all this, CVA operates from two main airports, the long-established one on the vacation island of Sal, which has a long runway and which acts as a hub for the islands, and the relatively new one at Praia, the capital, on Santiago Island.
But the country's main commercial city, Mindelo, is on another island again, San Vicente, while Boavista Island's airport is pushing Sal to be the main vacation one. So CVA doesn't really have a base as such and, moreover, many of the inter-island domestic routes are operated by Binter CV, a subsidiary of the Canary Islands' operator Binter Canarias.
It only requires a quick glance at Icelandair's network to see how more advanced, purposeful and directional it is compared to CVA's, despite Icelandair's enforced cutbacks in 2019. And yet, CVA's does offer more opportunities for development if the way can be found.
But right now they can't be found. Icelandair Group reports that CVA's operating results for 4Q2019 were below expectations. CVA is seeking long term financing and Icelandair Group stated: "If long term financing will not be secured, it might negatively affect the operation of CVA". Its Loftleiðir Icelandic business plans to lease four or five aircraft to CVA in 2020 and under its business plan, the airline is still expected to become profitable in 2021. Time will tell if that will be the case!