In a poll of more than 28,000 people across Australia, Brazil, Canada, China, France, Germany, India, Italy, Japan, Mexico, Russia, Spain, United Kingdom and the United States of America conducted online between 16-Apr-2020 and 19-Apr-2020, respondents from more than half of the countries were against opening the economy if the virus is not fully under control.
This sentiment was highest in the developed economies of the United Kingdom and Canada (70%), followed by Mexico (65%), Spain and Australia (61%) and the United States (59%). At the same time, more respondents agree that reopening should take place in some hard-hit countries including Russia (60%), China (58%), Italy (53%), India (51%) and Germany (50%).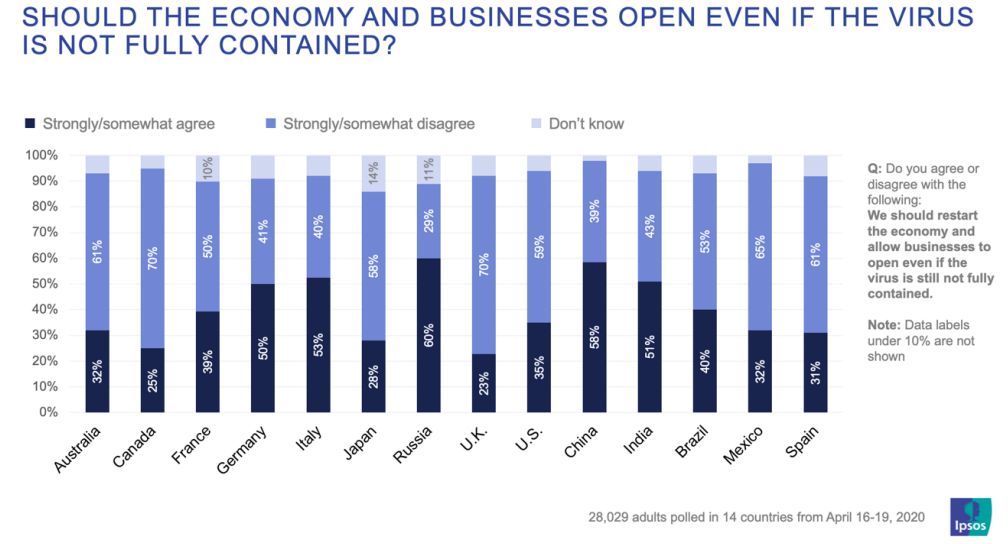 The country where respondents remain most undecided on whether businesses should open even if the virus is not fully contained is India – with just eight percentage points between those that agree and disagree, followed by Germany (nine point difference), France (11-point difference) and Italy and Brazil (13-point difference).
However, even if governments decide to reopen the economy from a Covid-19 lockdown, safety has to be at the forefront of their planning, according to the Ipsos findings. A majority of people in 12 out of 14 countries say they are going to be nervous about leaving their homes if businesses are allowed to reopen and travel resumes. This sentiment is highest in India (78%), Japan (77%), China (72%), the United Kingdom and Mexico (71%), and Brazil and Canada (68%).
Only a majority of people disagree with this in Germany (52%), while only 4 points separate those that agree and disagree in Italy. Other respondents more optimistic about leaving home are in Russia (37%), and France and Australia (32%).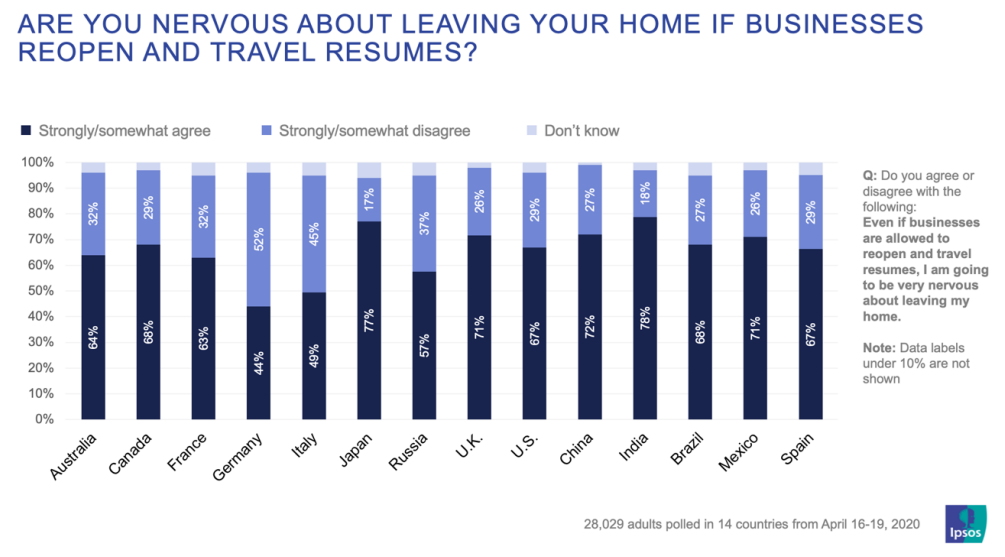 The findings perhaps further highlight concerns over the timescale for recovery from the global pandemic. A lot of effort has gone into promoting the importance of employing social distancing practices and this, together with locking down countries to the detriment of their economy have installed a level of fear into the population that will not be easy to lessen until they can be properly reassured of their safety.
As we have seen in Wuhan, where this coronavirus is said to have originated, the lifting of restrictions after around 11 weeks of lockdown has simply marked the transition from one crisis to another. The pace of recovery is painfully slow and will likely be echoed in other countries across the globe.
There are no global benchmarks and little coordination when it comes to opening up national economies. It is all trial and error and the paths being followed are varying widely from country to country.
Then also there is the threat that however controlled the virus is right now, it could return, as can be seen recently in northern parts of China. Germany has also seen a rise in cases after the initial relaxation of restrictions. These will not help change the sentiment seen in these survey findings.