The world is a very different place now and many of the things required to make the old process work – historical data, staff support for both companies and hotel properties, confident projections for hotel rates or corporate travel demand – have all been obliterated by the pandemic and subsequent economic downturn. Could this now make it the time for travel buyers to rip up the traditional annual hotel RFP and follow an alternative path?
Some argue that the normal no longer works, especially with plummeting hotel rates and volatility expected to remain for the next year or longer. In the face of these difficult dynamics, some have said the best response would be to roll over negotiated rates from 2020 to 2021 and opt out of a hotel RFP season this year.
But, wouldn't this mean that given the circumstances that travel buyers would have to agree to pay inflated rates, potentially for as long as 12-18 months as the market recovers.
The chart highlights that before early March, static negotiated rates were green, saving corporate programs approximately 25% on average off the best available rate. The after, from May, shows the same discounts have now turned red, indicating a significant depreciation in value with discounts worth less than 10% on average off the best available rate.
CHART - With the sudden drop off in hotel rates caused by Covid-19 travel restrictions, static negotiated discounts have significantly depreciated in value

Source: TRIPBAM's Break Free from Annual RFPs: How to Switch to a Fully Dynamic Program to Save Money and Work Smarter' whitepaper
That is why some believe that corporate travel programs and hoteliers would be wise to embrace a new hotel procurement process and finally get rid of the annual hotel RFP.
A recent whitepaper from hotel shopping, benchmarking and analytics provider TRIPBAM outlines how the current Covid-19 crisis has altered the hotel industry and argues that adopting dynamic rate agreements is a better solution that will ultimately help corporate travel buyers improve their hotel programmes for 2020 and beyond.
The report, 'Break Free from Annual RFPs: How to Switch to a Fully Dynamic Program to Save Money and Work Smarter', uses data gathered from TRIPBAM analytics since the crisis began and builds on conversations it has been having with buyers grappling with how to adjust hotel programmes in light of ongoing volatility and uncertainty in the hotel category.
"The traditional hotel procurement process is dysfunctional even in the best of times," says Steve Reynolds, CEO of TRIPBAM, especially noting that with market rates now dropping well below negotiated rates "supply and demand growth are out of balance". With hotel companies forced to furlough employees and corporates under increasing pressure to save costs, "we knew it was time to give buyers a way to do things differently," he adds.
While the corporate travel industry has previously been slow to embrace large scale changes to annual hotel sourcing, the white paper argues that the effects of Covid-19 make adopting dynamic discounts more practical to prevent overpaying and developments in technology make establishing evergreen agreements more feasible than in the past.
"For years, the corporate travel industry has been stuck with a broken hotel procurement process," says the report. There is no arguing with that as no travel buyer jumps for joy at the prospect of participating in a round of requests for proposals to secure supplier agreements. Yet, every year buyers and hoteliers revisit corporate agreements.
CHART - Major global chains and independent hotels have closed properties and furloughed staff in response to the rapid lack of demand. There were still more than 8,000 properties estimated to be closed as of 01-Jun-2020, but that is down from a peak of over 30,000 in Apr-2020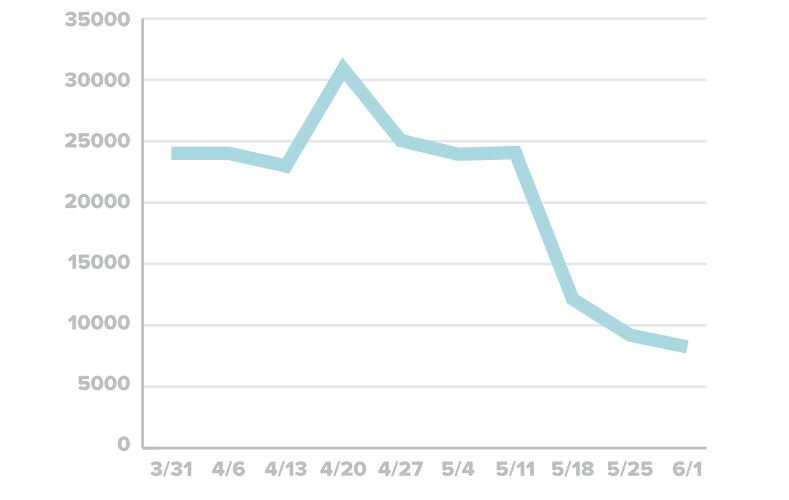 Source: TRIPBAM's Break Free from Annual RFPs: How to Switch to a Fully Dynamic Program to Save Money and Work Smarter' whitepaper
Attempts to change the annual nature of agreements or the types of agreements secured have been made by some companies willing and able to do things differently. However, "the corporate travel industry has failed to provide the groundswell of support necessary to overhaul the traditional procurement model," says the report.
"The inertia of a decades-old way of doing things and a lack of trust and transparency has kept industry practitioners from taking action to change hotel sourcing," it observes, but that could all change in the Covid-19 era.
The report's findings suggests that one options – switching over to dynamic discounts instead of static negotiated rates – could be a "gamechanging move" that will help companies secure "more appropriate rates for 2020, weather the continued uncertainty for 2021 and eliminate the need to conduct annual hotel RFPs for years to come".
The desire to avoid annual hotel RFPs has led buyers in years past to try to move beyond negotiating static rates and test the waters of dynamic discounts. Similarly, hoteliers have been pushing more buyers to try to convert to dynamic discounts in recent years instead of static rates because they said it provided better value to both sides. Yet, the movement toward dynamic never really gained momentum.
"There remains a lack of trust among companies that hotels will properly apply dynamic discounts," says the report. Other obstacles cited by those unwilling to make the jump, it says, include lack of budgeting visibility; technology limitations on the hotel or corporate side to load dynamic rates; lack of ability to make travellers understand dynamic discounts; commitment to the status quo by third parties that facilitate hotel sourcing; and lack of auditing power on the corporate side to ensure hotel discounts are correctly applied.
"The pre-pandemic reality was, as long as companies could secure auditable static rates that fell well-below market rates, it still made sense to stay the course," says the report. But, Covid-19 has now proven to be an unexpected and unequalled force in the history of the travel industry. But, is that force strong enough to deliver what would be a seismic shift in travel buying methods?