On the United States' east coast Norwegian has already axed services involving airports such as Hartford, Connecticut and Providence, Rhode Island, and on the other side of the Atlantic, Cork in the Republic of Ireland, in favour of primary airports. This may have been driven by numerous decisions, the grounding of the 737MAX clearly among them, but does support a move in the shifting in emphasis from secondary level airports at one or both ends of the route to operations between primary airports.
This has recently continued with the decision by Norwegian Air to consolidate all routes in the San Francisco Bay Area from Oakland International to San Francisco International airport. Norwegian's SVP commercial Matthew Wood reported the consolidation "will better position us for our return to profitability".
Norwegian's twice weekly San Francisco-Oslo service will commence on 30-Mar-2020 and three times weekly San Francisco-Rome service will commence on 01-Apr-2020 for its summer schedule. The carrier relocated all London, Barcelona and Paris services from Oakland to San Francisco earlier in 2019.
Oakland International had established itself as the 'low-cost' airport for the Bay region, alongside San Francisco International and San José airports, in a way that has not quite been mirrored in the Los Angeles region to the south despite the efforts of Ontario International since it broke away from Los Angeles World Airports. Long Beach Airport also has a healthy low-cost share but that airport stopped growing for environmental reasons several years ago and its passenger traffic so far in 2019 has declined by over 10%.
Despite the loss of Norwegian services Oakland International will remain the effective 'low-cost' gateway into the San Francisco Bay region in California. The below research from The Blue Swan Daily team highlights the breakdown of full service, regional and LCC operations into the San Francisco Bay area and how it compares with airports in some of the most densely-populated US conurbations.

Oakland International will survive Norwegian's departure. Analysis of passenger traffic already indicates a fall-off in growth since 2017, with a figure of +8.3% in that year reducing to +4.0% in 2018 and then to -1.9% in Jan-to-Oct-2019 (10 months).
Norwegian's share of Oakland International's overall capacity was small and as long as Southwest Airlines retains its commitment to the airport as its Bay Area operating base, it will not be adversely affected to a serious degree. Right now Southwest has a seat capacity share of almost 79% while its nearest 'challenger' Alaska Airlines has just 5.2%.
Whether the low cost long haul model can survive is another thing. Norwegian's decision in San Francisco will inevitably impact on its costs, particularly airport charges, competition and ultimately the fares it will have to charge. CAPA data shows that across a broad range of aircraft types charges at San Francisco International are more than double, in one case more than triple, those at Oakland International.
CHART - A charges comparison between the San Francisco Bay Area airports highlights the vast differences across the facilities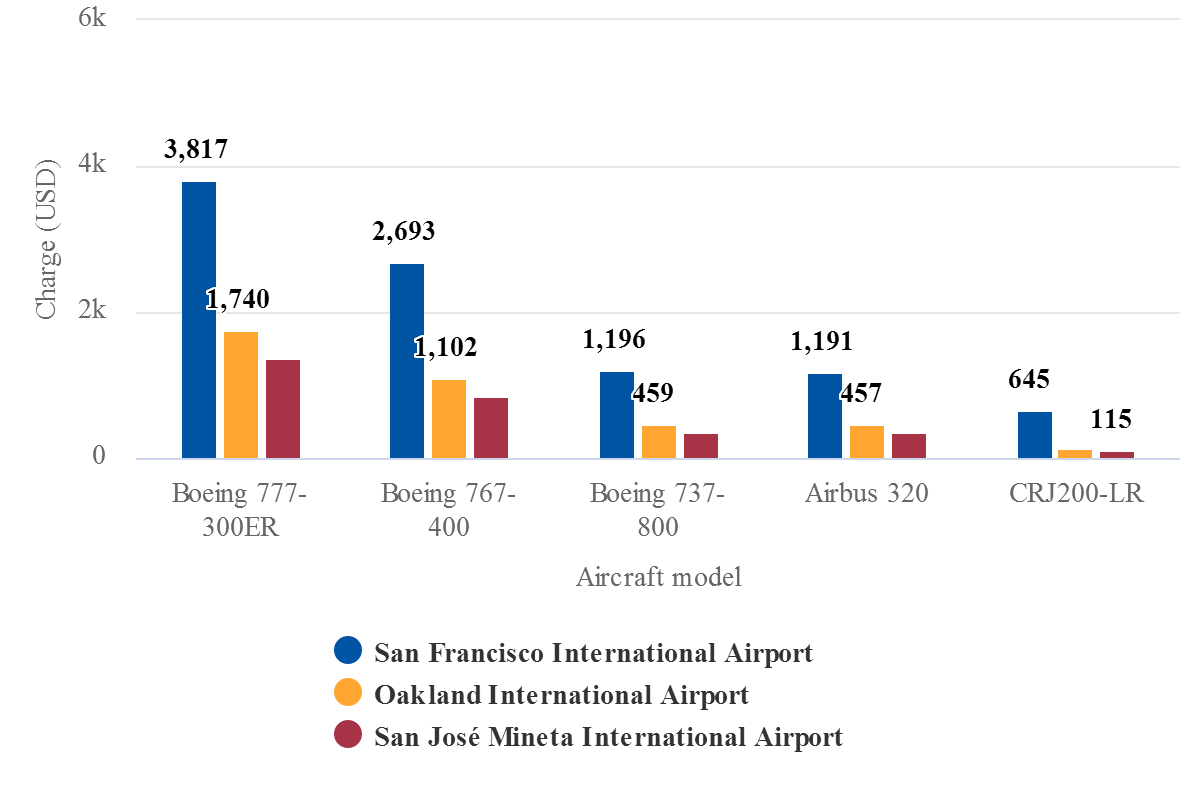 Source: CAPA - Centre for Aviation and Air Transport Research Society (data: USD 2019)
You could question why Norwegian has not considered San José's Norman Y Mineta airport as its San Francisco gateway, where charges are lower and where there presumably would be more demand from 'Silicon Valley' based companies for flights to IT-savvy Scandinavia.
Regardless, the move does support a shift in low-cost long-haul strategy and could see other secondary level low-cost airports across the world hoping to attract and/or sustain low-cost long-haul services having to rethink their own strategies, in the widebody market, at least.