An upward trend in seasonally adjusted freight volumes in Q3 has eased and the inventory-to-sales ratio in the US is now trending sideways, reports IATA. This indicates that the period when companies look to restock inventories quickly—which often gives air cargo a boost—has now ended, supporting the diagnosis.
IATA says the tendency of air freight to outperform during upturns in the economic and restocking cycle means that while the global Purchasing Managers' Index (PMI) indicates growing export orders, it will need to rise further to avoid a continued moderation in FTK growth into 2018 as FTK growth is strongly correlated with year-on-year changes in the PMI component rather than its actual level.
Despite the recent easing in the upward FTK trend, demand has continued to outpace additions to capacity. The latest IATA data shows available freight tonne kilometres (AFTKs) grew by 3.9% year-on-year in September – less than half the corresponding pace of FTK growth. As a result, the September load factor came in 2.2 percentage points higher than a year ago, while the seasonally adjusted measure remained close to a three-year high.
CHART – International FTKs grew by 10.3% year-on-year in September, down from 12.5% in August with all regions of the world seeing a deceleration in year-on-year growth compared to August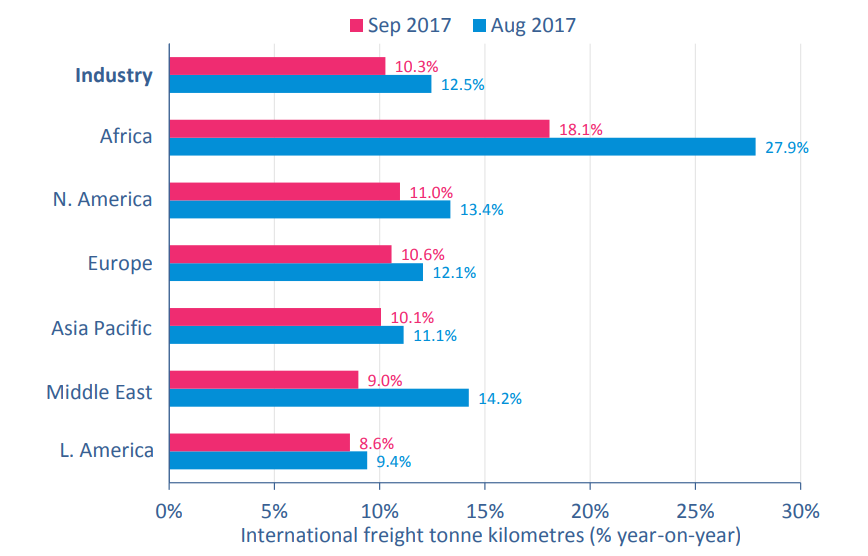 Source: IATA Economics, IATA Monthly Statistics
Looking at each region individually, IATA notes that…
Asia-Pacific airlines saw freight volumes increase by 9.3% in Sep-2017, compared to the same period last year. Capacity in the region expanded 5.3%. Demand growth was strong on all the major routes to, from and within Asia-Pacific, consistent with strong export order books for the region's manufacturers. Exporters in Chinese Taipei, China and Japan all reported growing order books.
North American carriers posted an increase in freight volumes of 7.4% for the month; the region also posted the second fastest international growth rate among regions (11.0%). Capacity increased 1.4%. The strength of the US dollar boosted the inbound freight market in recent years. However, there are signs that the decline in the US dollar since the start of the year is beginning to rebalance trade flows. Data from the US Census Bureau shows a 12.0% increase in air imports to the US in the first seven months of 2017, compared to a slower rise in export orders of 6.6%.
European airlines posted a 10.3% increase in freight demand in Sep-2017, and a capacity increase of 5.6%. Concerns that the recent strengthening of the euro might have affected the region's exporters have not materialised. In fact, German manufacturers' export orders are growing at their fastest pace in more than seven years. Freight demand is strongest on the routes to and from Asia.
Middle Eastern carriers' year-on-year freight volumes increased 8.9% in Sep-2017 and capacity increased 2.6%. This was a slowdown in demand from the previous month. A short-lived weak patch in demand in Q3 2016 has meant that recent months have produced volatility in the year-on-year growth rate.
Latin American airlines experienced a growth in demand of 7.6% in Sep-2017 and capacity increased by 5.9% compared to the same period in 2016. International freight volumes rose by 8.6% over the same period. This is well above the five-year average rate of 0.1%. The pick-up in demand reflects signs of economic recovery in the region's largest economy, Brazil.
African carriers posted the largest year-on-year increase in demand of all regions in Sep-2017, with freight volumes rising 17.7%. This is a slowdown from August but still more than twice the five-year average growth pace of 8.9%. Capacity increased by 2.6% over the same time period. Demand has been boosted by very strong growth on the trade lane to and from Asia which increased by more than 67% in the first eight months of the year.