---
Summary:
It appears that a proposed Moscow – St Petersburg high-speed rail service is resurrected at the expense of a Moscow – Kazan one;
There is already a relatively fast link between the cities; but the new one would be faster;
European experience suggests it could be successful and impact air services - the city pair is very popular by air from Moscow's three main airports.
---
There is nothing new about high-speed rail travel in Russia on this route, between the old (St Petersburg) and new (Moscow) capitals and indeed on other routes such as St Petersburg – Helsinki and Moscow – Nizhny Novgorod. Two experimental high-speed train sets were built as long ago as 1974, designed for 200 km/h (120 mph) operation. But it was not until Dec-2009 that the Sapsan service on the Moscow – St Petersburg railway came into service; Russia's highest speed railway with a top speed of 250 km/h (155 mph).
Almost immediately (2010) a new Moscow – St Petersburg line came up for discussion, a "European standard" one, built to Russian gauge and probably to be built parallel to the existing line. It would allow trains to run at speeds up to 400 km/h (249 mph). The total journey time would be cut from three hours 45 minutes to two hours 30 minutes. The new line was expected to make extensive use of bridges, tunnels and viaducts with finance provided by a public-private finance vehicle. It was forecast to carry 14 million people in its first year.
Representatives from many other high-speed lines were to be consulted, in an effort to avoid construction delays and design flaws. Apart from faster travel times, the new line would increase capacity, since the current line is congested and there is only room for a limited number of high speed trains (and double-decker trains are limited by bridges). It would also improve safety, as trains pass some level crossings at 250 km/h.
However, the project was then cancelled in favour of the Moscow – Kazan High-Speed Rail Project. Now it seems to have come full-circle with president Putin now opting for a connection to St Petersburg, his home city, to go ahead at the expense of Kazan.
The distance between Moscow and St Petersburg is 714 km which puts it a little outside the optimum range for a high-speed rail line to be competitive against air services. The European Commission has long pressed for rail services to predominate over air for distances of up to 600 km.
The original hi-speed line was successful in reducing vehicular (road) traffic but could a new one seriously impact on air travel flows between the two cities, with a journey time of two and a half hours?
If one looks to the UK for guidance, the answer is yes. Trains that are not particularly 'high-speed' by these standards, operating at up to 125 mph (200 kmh) have creamed off much of the business travel between London and English regional cities such as Manchester, Leeds, Liverpool and Newcastle where there are, or were, competing air services.
To a lesser degree that happened with services from London to Glasgow and Edinburgh in Scotland, where distances are slightly less than Moscow – St Petersburg but the travel time is double what is expected from the new Russian line.
A similar set of circumstances exists in France, where the TGV routes, which operate at 320 kmh, have minimised air traffic on key routes such as Paris to and from Lyon, Marseille and Bordeaux.
Also in Spain where one of the world's busiest air routes, Madrid – Barcelona, was much reduced by the impact of the AVE rail service. Much the same is true in Germany and Italy and of course in Asia, in China and South Korea.
The UK is the more pertinent example because the London airports account for around 50% of all UK air traffic and the same is true of Moscow in Russia. And after Moscow, St Petersburg is the busiest provincial city for air travel by some margin.
CHART – The Moscow airports of Sheremetyevo, Domodedovo and Vnukovo are Russia's largest with St Petersburg's Pulkovo International ranked fourth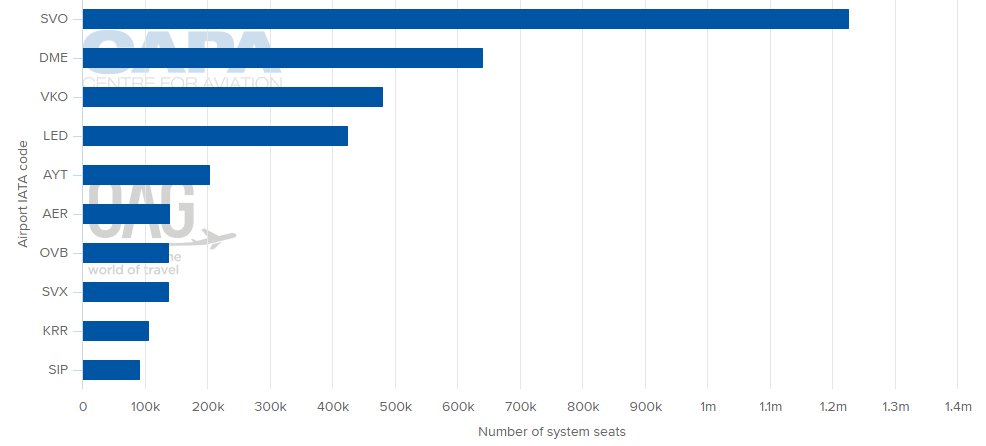 Source: CAPA – Centre for Aviation and OAG (data: w/c 29-Apr-2019)
Looking at the current airport schedules, remarkably the St Petersburg Pulkovo route is the top one by seats (domestic and international) at both Sheremetyevo and Vnukovo airports and is the second-placed one at Domodedovo airport. Only at the much smaller Zhukovsky Airport does it fail to register.
None of this proves anything but it does suggest that despite the popularity of air travel between Moscow and St Petersburg, if a reliable and consistently high-speed rail service can be introduced between the two cities then as everywhere else the air transport business will have a fight on its hands.