---
Summary:
Istanbul has joined the list of cities with airports collectively handling over 100 million passengers annually;
There is no commonality of ownership patterns of these mega city airports; they can be public or private sector, or both;
There are several cities vying to join the eight who already share this accolade, led by Seoul, Beijing, Bangkok and Moscow.
---
The two airports accounting for this statistic are the larger Atatürk Airport, which was the major international gateway to Istanbul prior to the opening of the new airport, and the smaller and separately owned Sabiha Gökçen International Airport in the east of the conurbation. Between them the two airports hosted 102,117,000 passengers.
A gradual transition has been taking place since 31-Oct-2018 and Turkish Airlines completed a transfer of its entire passenger operations from Atatürk to the new Istanbul Airport on 31-Dec-2018 and it is the sole carrier there momentarily. Alongside the traffic at Atatürk and Sabiha Gökçen, an additional 66,000 passengers were handled by Turkish Airlines at the new airport.
CHART - Atatürk (top) and Sabiha Gökçen (bottom) airports both reported healthy rises in passenger numbers in 2018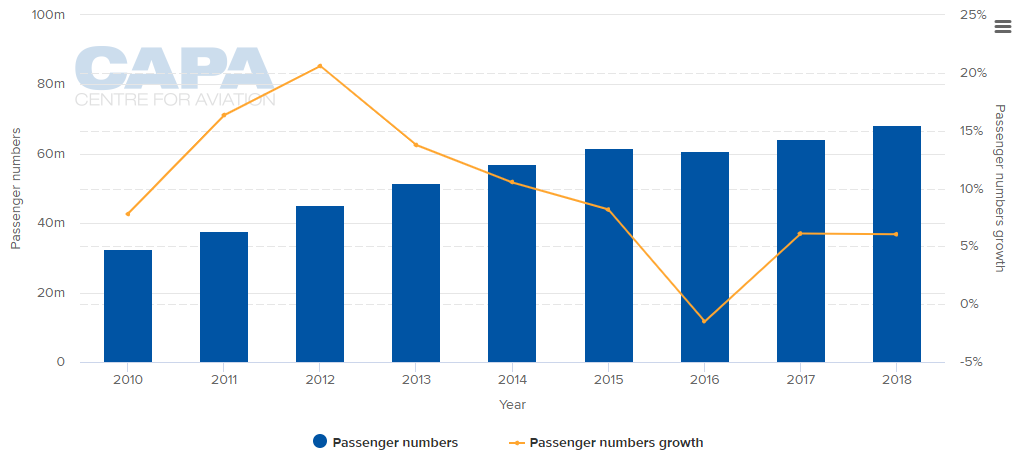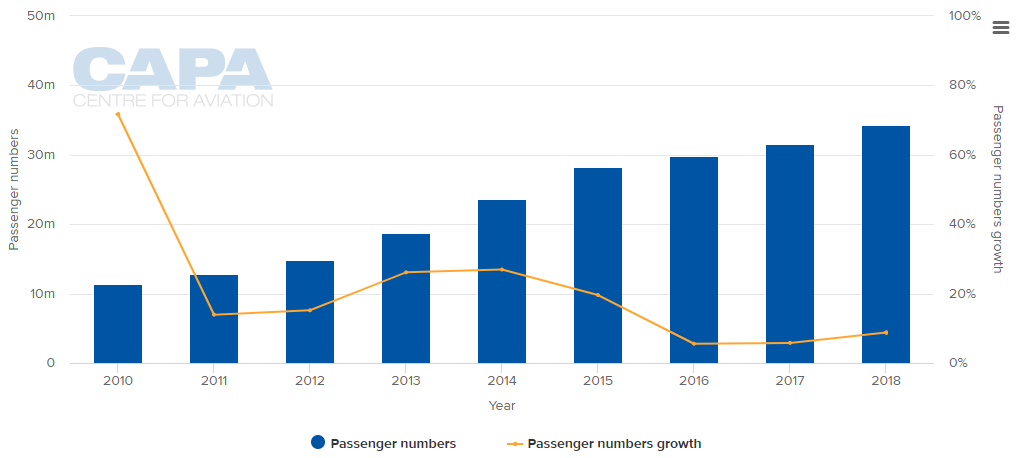 Source: CAPA - Centre for Aviation, TAV Airports Holding and Istanbul Sabiha Gokcen Airport reports
The new Istanbul airport will commence full-scale operations on 03-Mar-2019 and Sabiha Gökçen is carrying on regardless and intends to grow further. All three Istanbul airports are individually owned and operated by different sets of investors and operators.
The Blue Swan Daily investigations show there is no commonality across the world regarding ownership of these giant city airports. In some cities in the '100 M club' such as Paris there is common ownership (Groupe ADP, though that may change after the government divests its share this year), also New York (the cities of New York and Newark, managed by the Port Authority), while the single Atlanta Hartsfield-Jackson Airport, the biggest of all for now, is also owned by the city.
In others, there is distinct public and/or private sector ownership of individual assets. London is the starkest example with all of its six airports under the ownership of different organisations or consortiums and only one of them a public body (Luton).
https://corporatetravelcommunity.com/paris-enters-the-worlds-100-million-ppa-club-but-which-other-cities-are-already-members/
As highlighted above, last year's article mentioned other cities that are already members of this exclusive club, and those that aspire to it.
TABLE – The existing members of the '100 M Club' and their passenger totals for 2018 where known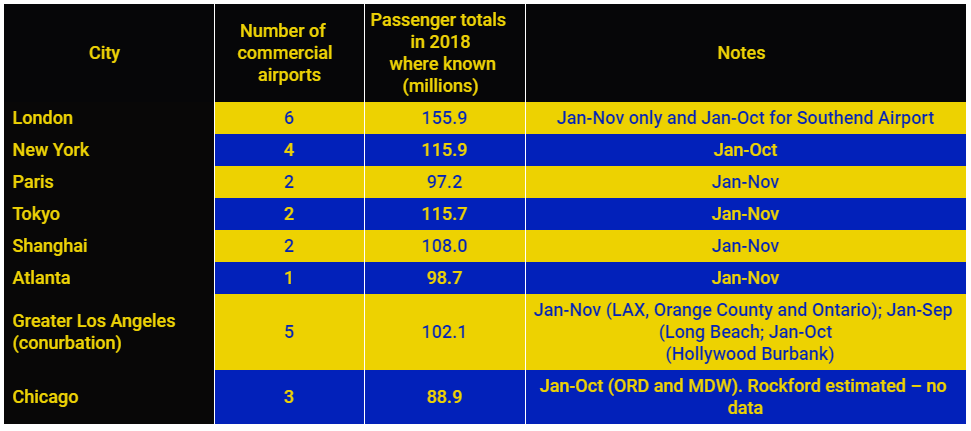 Source: CAPA – Centre for Aviation Airport Profiles
While, below, we highlight the cities that were identified last year, along with Istanbul, as candidates to soon become '100 M Club' members and investigate how close they are to achieving that status, allowing for the fact that in most cases full-year data remains incomplete at the time of writing.
TABLE – Expected new members of the '100 M Club' in the forthcoming years and their passenger totals for 2018 where known

Source: CAPA – Centre for Aviation Airport Profiles
At the time of publication the only city among these all with full-year statistics is Seoul. Incheon Airport grew at 10% in 2018. It is possible that it may break the 100mppa barrier in 2019 but it will depend on Gimpo Airport, which suffered a small loss (-0.2%) in 2018. Of the others, Moscow is also a candidate for 2019 or 2020. There will be some privatisation activity there in 2019, which often generates additional traffic fairly quickly.
Bangkok though is the closest, but its growth is not high. Nevertheless, it remains a candidate for 2019, along with Beijing, where growth may be spurred by the opening of the new airport. Dubai was everyone's favourite for this accolade a few years ago but a variety of events in the UAE and the wider Gulf region have ensured that growth has stagnated.