---
Summary:
Greek court agrees on construction of new airport in Crete, but it still requires ratification from the Greek parliament and will take five years to build;
The development of the New Heraklion Airport has been long discussed, but getting a developer has not been easy owing to the Greek financial crisis;
There are already suggestions that it may not be big enough to meet demand if traffic keeps on growing at the present rate.
---
The approval allows the Ariadne Airport Group Consortium, comprising Greek company GEK Terna and India's GMR Infrastructure, to begin construction in Jan-2019, lasting an estimated five years, although the EUR480 million construction project still awaits ratification from the Greek parliament.
GEK Terna Holding Real Estate Construction is a large Greek conglomerate which is listed on the Athens Stock Exchange. Its construction branch, Terna, is one of the leading enterprises in its sector in Greece. Apart from the Kastelli project it has no airport assets or contracted investments.
GEK and GMR, an Indian infrastructure company well known for its airport investments have also worked together recently, as joint bidders in the delayed concession to operate Sofia Airport, in Bulgaria's capital and, prior to that, an unsuccessful joint bid for the concession on Belgrade Airport, which was won by Vinci.
As with so many airport-related transactions in Greece, such as the concession on 14 regional and island airports to Fraport and the extension of the concession granted to Athens International Airport (AIA) to operate Athens Airport until 2046, the Kastelli project has been a drawn-out affair. In fact it was first proposed in 1986 by the then-Prime Minister Andreas Papandreou.
The country had been working for several years within the remit of the European Stability Mechanism support programme which provided it with EUR61.9 billion over three years in support of macroeconomic adjustment and bank recapitalisation in Greece. The programme was concluded in Aug-2018 and the remaining EUR24.1 million available under the maximum EUR86 billion programme volume actually was not needed.
This suggests how far Greece has come since the dark days five years ago when it almost went bust. But the quid-pro-quo for this largesse from the European Commission, European Central Bank and International Monetary Fund – the Troika as they are known – was a harsh one, with the Greek government committed to an asset disposal and privatisation programme which left a bitter taste.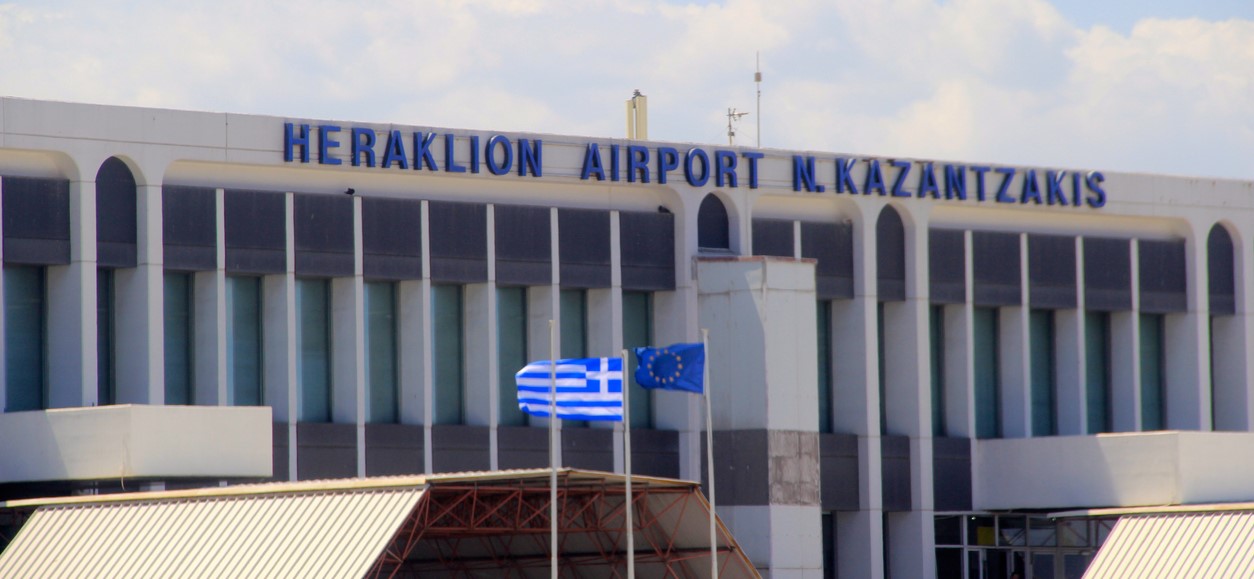 Kastelli became wrapped up in it, which is one of the reasons this 35-year build-operate-transfer (BOT) concession has dragged on for so long despite the promise of some EU funding for the construction. Since Nov-2017 the Ministry of Infrastructure, Transport and Networks began negotiating with the European Investment Bank (EIB) for a EUR180 million loan, to cover the public contribution to the project.
GMR/GEK Terna - as Ariadne - was an early bidder, from Oct-2016 but there was an initial and understandable reticence from others and the bid deadline was extended several times. Eventually, in Sep-2018, the Greek government issued a Letter of Award for the development and operation of the airport to the Ariadne consortium.
GMR confirmed the estimated capital expenditure for phase one development will be EUR520 million, adding that the project will be funded through a combination of equity, accruals from Heraklion Nikos Kazantzakis Airport and a grant provided by Greece's Government. The European Commission has recently ruled that the project receives no undue economic advantage or state aid, with EUR1.1 billion in fees respecting market conditions.
The new airport will be situated in the north western part of the city of Heraklion and on the south western side of the existing Kasteli (different spelling) Hellenic Air Force Base which is actually a mixed-use public/military facility. It will have a 3800m Code E runway running parallel to the military one, a 71,000 sq m terminal and a 15,000 sq m cargo building. The size of the site is 600 hectares and it is 360m above sea level. It is 35km away from the existing Heraklion International Airport.
CHART - Heraklion Nikos Kazantzakis Airport has seen rising passenger demand since 2013 with double-digit annual growth seen in both 2013 and 2016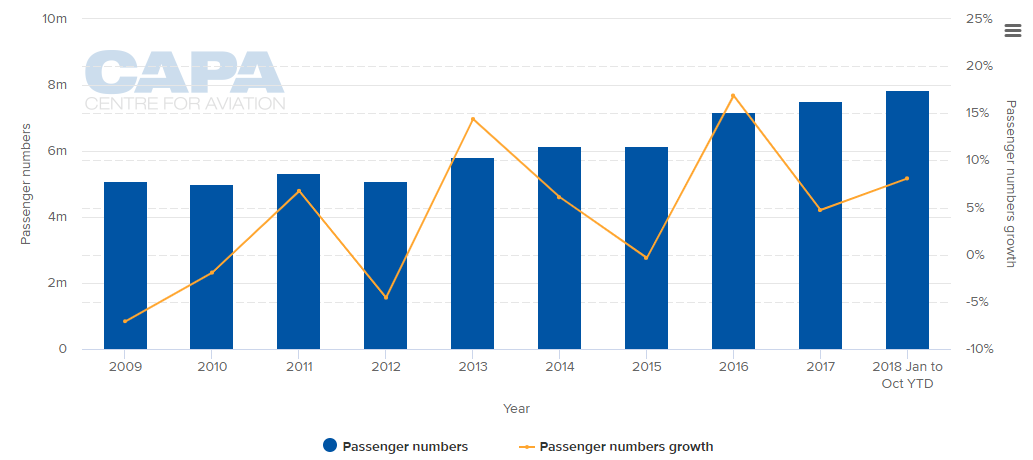 Source: CAPA - Centre for Aviation and Greece Civil Aviation Authority
Initial capacity is set at nine million ppa. That may be too low. The existing airport's capacity is a little over six million but it handled almost 7.5 million in 2017 and average growth since 2013 to 2018 (Jan-Oct) is +9.05%. At that rate it will reach nine million at the end of 2019 and the new airport would be effectively full four years before it opened.
The entire raison d'être for the new airport is to replace ageing air and land-side facilities which are no longer suitable for purpose, in order to improve the tourism industry and the general economy. The current one serves as Greece's second international airport but has only a single runway of 2, 682m and a small terminal building though that didn't prevent operators adding almost 1.5 million seats in 2018, a +23.5% increase over 2017.
When the new airport opens, the existing Heraklion Airport will be closed and an area of 278 hectares (687 acres) there will be returned to local communities for a large urban regeneration plan.