---
Summary:
Icelandic airport operator Isavia reports that the downturn in passenger numbers at Keflavik International airport is worse than anticipated and expected to stay that way;
Almost all European markets had a downturn in visitor numbers in May, some with year-on-year rates declining by more than a third;
There was small but significant growth from China, a market with much potential but Iceland must rise to the challenge of accommodating Chinese visitors.
---
The Blue Swan Daily has already featured the developments in Iceland on a number of occasions over the past couple of years, charting the proposed sale and collapse of WOW air and its impact on the country's tourism market. In the most recent report in Apr-2019, it was acknowledged that Isavia, the airport operator, was expecting passenger traffic at the main Keflavik International airport to decline by 8.7% year-on-year, to 8.9 million for 2019. Transit passengers were expected to decline by 18.7%, to 3.2 million, attributable to the decrease in both the number of destinations served and frequencies offered to selected destinations.
https://corporatetravelcommunity.com/as-demand-cools-in-iceland-what-now-for-keflavik-international-airport-following-the-collapse-of-wow-air/
Now it appears that the situation is much worse than expected. At the beginning of Jun-2019 Isavia updated its traffic outlook and now anticipates a 25.6% year-on-year passenger traffic decrease to 7.3 million, including 25% to 35% reductions each month for the remainder of 2019. Keflavik International handled 580,701 passengers in May-2019, a decline of 30.4% versus the same month last year.
While the Icelandic airport is not the only major gateway experiencing traffic declines, the rates are exceptional to the degree that it stands on its own as the worst performing mid-sized airport in the world. And this comes barely a few years after it was regularly ranked among the best performing. It is a classic case of 'Hero to Zero'.
Apart from the demise of WOW Air, other factors have played their part, such as Icelandair not being in a position to take on most of WOW's routes, other airlines (such as easyJet) cutting capacity, unfavourable currency exchange rates, lack of accommodation at peak times, and tourism overkill at the main sites along with complementary unease amongst the population that the country's natural heritage was being ruined.
CHART - Iceland's main air gateway at Keflavik International has seen passenger numbers decline -17.9% across the first five months of 2019, but airport operator predicts these could hit -25% for the full calendar year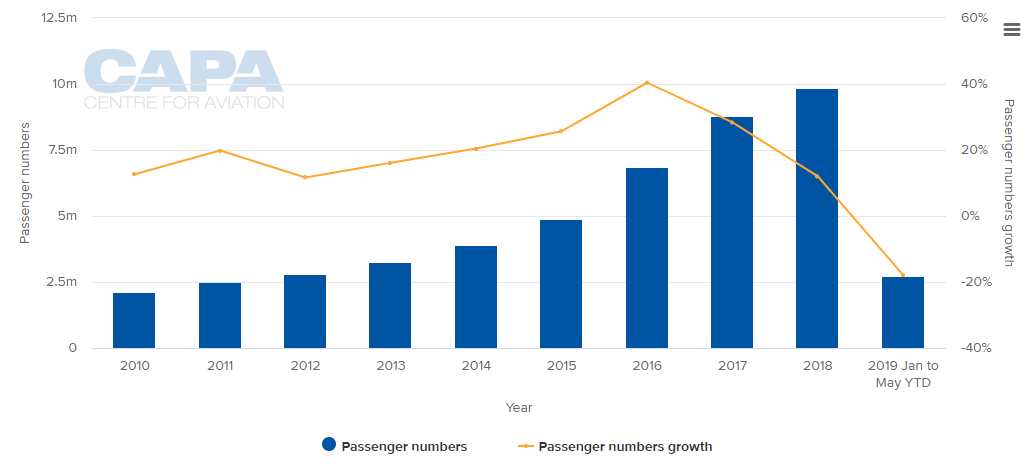 Source: CAPA - Centre for Aviation and Reykjavik Keflavik International Airport reports
A closer look at visitor arrivals from Icelandic Tourist Board provides some light on individual market performance. Obviously, the figures generally correlate with those from the airport, minus the transfer traffic flows. Visitor arrivals for May-2019 were recorded as 126,309, a -23.6% decline year-on-year.
There are significant declines from North America with USA, the largest market with more than three times the level of arrivals than second placed UK and Germany, recording a -38.7% year-on-year decline in May-2019. Canadian arrivals were down by a similar -39.0%. In Europe it was a similar story but with not so heavy falls – 16.0% from the UK, -23.8% from Germany and -29.0% from Spain.
These were all markets impacted heavily by the closure of WOW air and the UK will be hit harder through the remainder of the year as additional service reductions are introduced. Interestingly, there are a couple of small but positive stories. Arrivals from Italy were up +11.8% year-on-year in May-2019, while visitors from China increased +9.5% over the same period. While the Italian market may be easier to attract, the Chinese outbound traveller would be more valuable. But, as we all know there is a lot of work required behind the scenes to support this market.