This is a concerning warning that comes as governments across the world start rolling out plans to get their economies up and running again. Dr Takeshi Kasai, the WHO regional director for the Western Pacific, said: "This is not the time to be lax. Instead, we need to ready ourselves for a new way of living for the foreseeable future."
Experts say that governments must remain vigilant to stop the spread of the virus and the lifting of lockdowns and other social distancing measures must be done gradually and strike the right balance between keeping people healthy and allowing economies to function. This will see any developments linked to the travel and transport industries likely to be medium or longer-term measures rather than being seen in the short-term.
That is why industries need to adapt to the 'new normal' and the journey until we reach that position. While the strongest brands may have the equity to survive the crisis, the most intelligent leaders may be able to guide business through the chaos, it is those that are able to adapt to change that will be best positioned to succeed. And that doesn't just relate to the industries, but also all of us as travellers.
The arrival of Low Cost Carriers after market liberalisation previously changed the airline industry, while technology has brought significant changes to multiple businesses across the hospitality, travel and transport industries impacting supply chains, distribution, product, marketing … and that list goes on and on. We adapted then, but what we can expect now may be very different.
It is clear that domestic markets will open first so businesses need to adapt to focus on local traffic. The two week break in the summer sun will be replaced by staycations and short-term rentals may perform better than hotels. Slowly, the world will reconnect as border by border is opened, but comparisons with life before Covid-19 shouldn't be used as the baseline metric for success and instead we will transition to a more sustainable product.
Travel will be different as social distancing is imposed. The airport experience will change – technology will ease the flow and reduced demand (initially) and new processes will have to remove the bottlenecks normally seen during the airport journey, notably at security where numerous touchpoints are perfect for viruses to thrive.
Aircraft interiors may start to look different. The radical designs entered into the respected annual Crystal Cabin competition that were previously dismissed as unmanageable, may now start to see the light of day.
In the short-term it will not be all about packing in the passengers. We could see a return of Combi aircraft where the passenger cabin level is split and shared with cargo. In fact, HAECO Cabin Solutions have just launched new, certifiable devices to allow package stowage in the main passenger cabin, optimising passenger and cargo yield using packages to distance passengers while maintaining proper weight and balance requirements.
The recent densification of aircraft interiors, maximising every space to add an extra row or two of seats will not necessarily be forgotten. Instead new solutions will be developed to permit as many passengers as possible to fly safely. Let's be honest, blocking the middle seat in a row of three may be a short-term option, but it is not a solution.
Italian aircraft interiors specialist Aviointeriors is pitching Glassafe as an effective solution, a not glass, but plastic shield that protects all passengers from one another by creating an "isolated volume around the passenger in order to avoid or minimise contacts and interactions via air between passenger and passenger, so as to reduce the probability of contamination by viruses or other".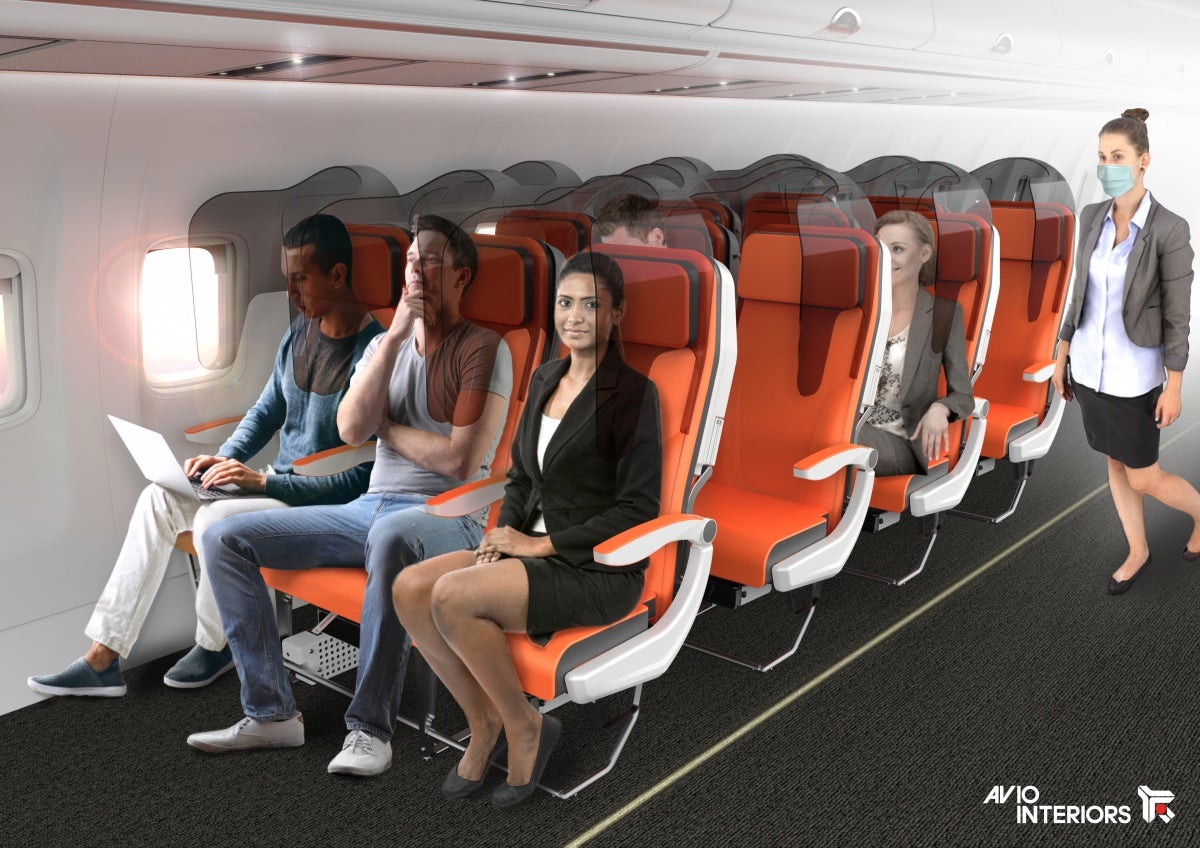 This may not be the right solution, but it highlights some of the initial ideas being considered. What is important is that we are already seeing thoughts being put into the travel of tomorrow as we adapt our mindsets for the 'new normal'.
International Air Transport Association (IATA) director general Alexandre de Juniac warned this week that confidence-building measures will be needed to get people flying and deal with a slower recovery of the air transport industry. We cannot automatically assume that people will want to travel as soon as severe measures to control the spread of Covid-19 are eased.
IATA says there is a group of passengers – about 60% who will return to travel relatively quickly. But the rest say they will likely wait six months or more. And an even larger portion – nearly 70% are saying that they want to see their financial situation stabilise before returning to the skies.
This caution is being seen in the behaviour of Chinese and Australian travellers, where virus transmission is largely seen to be under control, but where we have as yet not seen a significant return of air travel.
CHART - IATA says lessons can be learnt from China's domestic air travel 'restart' where after an initial rise in flights as new cases fell towards zero, recovery then stalled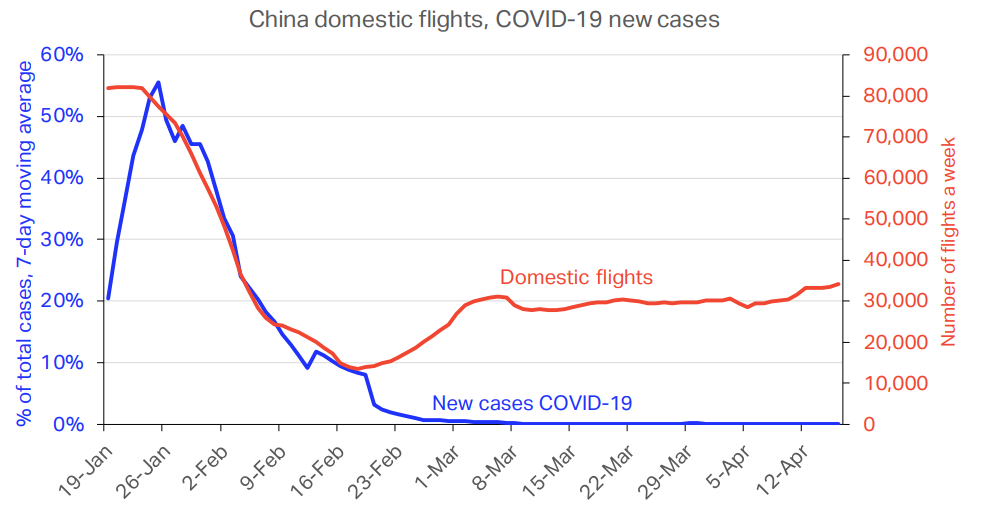 Source: IATA Economics analysis based on WHO data, and data provided under license by FlightRadar 24
"An orderly re-start means harmonisation and coordination," says Mr de Juniac, but as of now we still don't yet know what measures will be needed to keep flying safe. "Each day we are learning more about the virus. This will enable science-based measures that can be implemented effectively and, hopefully, quickly," he acknowledges.
Not a firm answer, but it again reinforces what is important, that we are already seeing thoughts being put into the travel of tomorrow as we adapt our mindsets for the 'new normal'.