---
Summary:
Seville's Pablo Airport is witnessing a decade high year-on-year growth in both capacity and passenger demand;
Summer capacity at the main gateway to Andalusia is up more than a quarter (+26.8%) versus last year and traffic growth is replicating that rate at +26.3% for the first seven months;
While some of the legacy national carriers are seeing growth at Seville, it is the LCCs that are facilitating much of the growth;
Seville will next month host the first ever CAPA - Centre for Aviation Low Cost Long Haul Global Summit at the Barceló Sevilla Renacimiento hotel.
---
The Blue Swan Daily analysis of OAG schedule data shows that summer 2018 system capacity in Seville has risen more than a quarter (+26.8%) versus last year with almost 20 new non-stop destinations added to its network. This is the fastest growth rate this decade and far exceeds the +4.1% average for the period. It represents the fifth successive summer season of growth after declines in 2012 and 2103.
Almost all of the airlines serving Seville have increased capacity this summer, some by significant margins. Ryanair has added over 450,000 system seats during the schedule (+40.1%), while Vueling have added over 230,000 (+19.0%) and easyJet more than 105,000 (a whopping +82.4% growth). Double-digit capacity rises have also been seen at (ranked in terms of operation size)... Iberia (+13.5%), Transavia France (+26.15), Transavia (+18.2%), TAP Air Portugal (+53.6%), Volotea (+27.7%), British Airways (+10.7%) and Blue Air (+64.7%).
While some of the legacy national carriers are seeing growth at Seville, it is the LCCs that are facilitating much of the growth and have helped push passenger numbers up +26.3% in the first seven months of 2018 versus the same period last year. New non-stop flights are being offered to Cologne/Bonn, Copenhagen, Edinburgh, Hamburg, Karlsruhe/Baden-Baden, Krakow, London Luton, Manchester, Nice, Verona, Vitoria and Warsaw Modlin, while connections have been restored to the likes of Bari, Bristol, East Midlands, Fez, Malta and Venice.
The growth will continue into the winter with Laudamotion arriving with flights from Vienna, while IAG brand LEVEL will also add services to the Austrian capital in summer 2019. To support the growth the airport plans to launch a terminal extension and remodelling project in the coming months, described as "the most ambitious project that has been undertaken at Seville Airport in about three decades".
CHART - Seville's traffic levels have been growing at a much faster rate since the start of the winter 2017/2018 schedules and have been maintained through the current summer months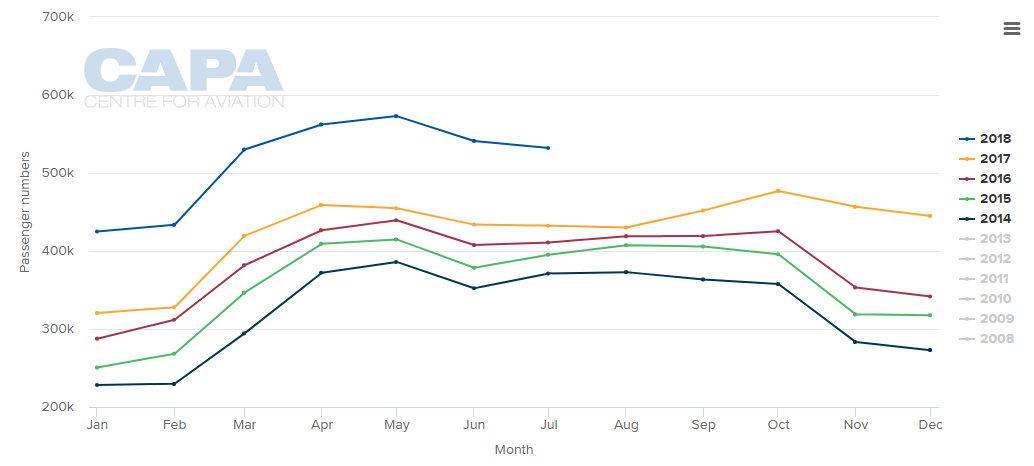 Source: CAPA - Centre for Aviation and AENA
The airport is also intensifying its strategy to attract new long haul international routes. Next month, aviation and travel professionals from around the world will convene in Seville for the CAPA – Centre for Aviation Low Cost Long Haul Global Summit, the first ever event dedicated to these development market segment, where a number of questions confronting the industry will be answered.
These include:
Can the economics that make short haul low cost viable translate to the long haul sector?
How crucial is fuel efficient aircraft in making low cost long haul sustainable?
Does the viability of the low cost long haul model depend on continued downward pressure on fuel prices? What happens when this high-proportion input cost (inevitably) rises?
Can independent low cost long haul carriers operate sustainably without short haul feed from a sister carrier?
Do LCCs need to change their product and pricing structure to operate in the long haul market?
Can FSCs survive the competitive threat of low cost long haul carriers?
As the two models continue to adopt features of the other, will there be any true distinction between a pure full service carrier and a pure LCC?

It's hardly a secret that the airline industry is facing myriad challenges, notably in the marketing and distribution areas, as companies with personalised data, and the analytics and artificial intelligence to go with it, become greater threats to the stability of the traditional airline model. Understanding aviation markets is CAPA's great strength and passion and the event agenda in Seville includes a variety of topics sure to generate interest.
This high-level aviation event, hosted at the Barceló Sevilla Renacimiento hotel in Seville, Spain, is a forum for debate and discussion of strategic issues facing both full service and low cost carriers with the emergence of increasing Low Cost Long Haul operations and it is attracting delegate interest from across the globe.
Alongside keynotes from Air Canada and others and a high-level airline panel on the continued blurring of the divide between full service and low cost carriers, topics under discussion include:
Can the full service carrier and the low cost long haul model exist in the market side by side?
Networking long haul operations: combining with short haul partners at each end
Don't beat them, join them: LCC alliances, long haul and short haul LCC and LCC-FSC partnerships
Aircraft, engines and operations – enabling new generations of LCLH services
Financing and funding growth: Managing risk with large aircraft orders
The evolving airport-airline relationship: What do airports and LCCs need from each other?
LCCs working as part of a full service/low cost group: secrets for success
Know thy customer: Marketing and distribution initiatives for low cost long haul carriers
Generating non-ticket revenue streams - Leveraging retailing and ancillary initiatives
Can low cost long haul airlines cater to corporate and business travellers?
FIND OUT MORE… visit the CAPA Low Cost Long Haul Global Summit homepage to find out more about this not-to-be-missed opportunity to discuss relevant issues impacting the aviation sector and learn meaningful insights from your industry peers