While such qualifications remain the benchmark, employment requirements have changed considerably over the years and being technology literate is at the heart of employment success new research from social media channel and jobs specialist LinkedIn.
In an analysis to find the most in-demand skills by identifying the skills listed on user profiles of "people who are getting hired at the highest rates," LinkedIn has identified that while the soft skills valued by companies tend to change gradually, the most sought-after hard skills "evolve lickety-split, pushed largely by the relentless transformation of modern technology".
Hard skills concern an employee's ability to do a specific task, and soft skills are more about the way they do them — how they adapt, collaborate, solve problems, and make decisions. Soft skills are more about behaviour and thinking, personal traits and cognitive skills. Hard skills include specialised knowledge and technical abilities and are often easier to define and measure than soft skills.
On the soft skills side, the LinkedIn research found that creativity, persuasion, collaboration, adaptability and emotional intelligence are the most desired. Recruiters would obviously be looking for these to fulfil any new roles, but it is the hard skills that can make a candidate stand out for a specific role.
But, what are the most called for hard skills? Well, supporting the technological revolution we are seeing across almost all industries, technical knowledge tops the most in-demand hard skills, and sat right at the top of the list is… Blockchain.
Blockchain's role in reshaping the way businesses are run is gradually being appreciated. While frequently associated with various cryptocurrencies, its significance runs much deeper than popular cryptocurrency investment.
It is fast emerging as the priority technology for future exploration among airport and airline CIOs globally, attracting the most research attention in 2018, according to research released by SITA. Elsewhere, the influence of machine learning, blockchain, and chatbots can provide corporate travel managers powerful communication tools for driving travel programme compliance. It is even suggested it could disrupt the financial services industry.
LinkedIn says Blockchain "has emerged from the once shadowy world of cryptocurrency to become a business solution in search of problems" and as such is much more desirable to an employer than perhaps previously when it was mainly of interest to the financial services industry.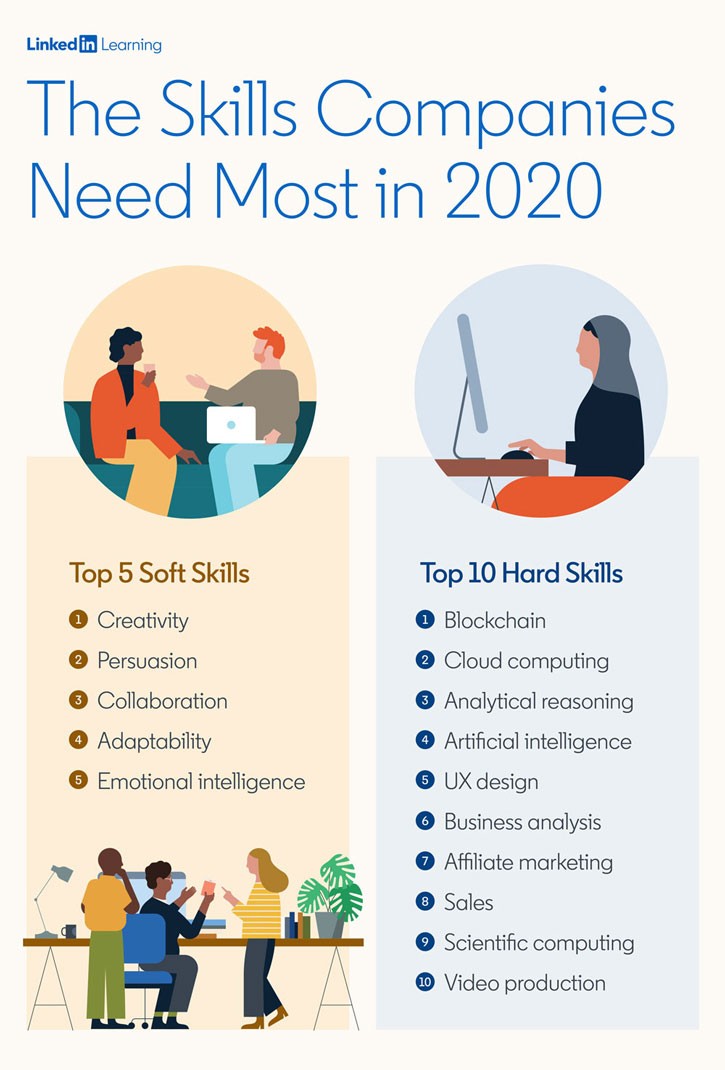 The promise of blockchain - essentially a shared digital ledger - is huge, and businesses clearly believe it is something that needs serious consideration. "Blockchain has become a line of business for a who's who of the corporate world — IBM, Oracle, JPMorgan Chase, Microsoft, Amazon, and American Express, to name just a few," highlights the report.
Blockchain is now being used in industries ranging from shipping to healthcare, from farming and food safety to entertainment and gaming, and The Blue Swan Daily has featured many applications in the airline, airport and travel spaces over the past couple of years.
The LinkedIn report puts Blockchain as the most in-demand skill in the United States of America, the United Kingdom, France, Germany, and Australia. But, other tech skills are also important - cloud computing, analytical reasoning, artificial intelligence, UX design, scientific computing joined it on the list of in-demand hard skills. Others in the top ten comprised affiliate marketing, sales, and video production.
While tech skills also dominated in LinkedIn's 2018 report, Blockchain was not among the top ten hard skills that year. However, its rise – perhaps not necessarily to the top – was expected as blockchain developers had topped the site's emerging jobs list in 2018.
Backing the LinkedIn research, a recent report from jobseekers platform Indeed has shown that more and more blockchain and crypto-related job postings are appearing on headhunting websites. Its own research shows that the number of such job ads rose by more than a quarter (26%) over the past year.