Seeking authentic experiences has been one of the key motivational drivers for travel, but just like the dictionaries it does not have a single definition to support its meaning in the sector, but represents a range of experiences that can differ greatly among travellers.
In the hospitality sector while a sterile hotel room and wider property offer means standards are set, there has been a rising appeal among travellers – business and leisure alike – for boutique accommodation. This has seen multinational groups establish new brands to appeal to this market and an offer of something a little different. But sometimes it is hard to deliver the authenticity that a small- or medium-sized independent property can offer.
This has been the driver behind the launch of the new Radisson Individuals brand by the Radisson Hotel Group this week, a conversion brands that offers independent hotels and local, regional chains the opportunity to be part of the global Radisson Hotel Group platform, benefit from the Group's international awareness and experience, but, most importantly retain the freedom to maintain their own uniqueness and identity.
The launch is part of the group's ambitious five-year transformation plan "to be recognised as one of the top three hotel brands in the world and the brand of choice for owners, guests, and talent," explains Federico J González, CEO, Radisson Hotel Group, and is its answer to meeting to meeting the evolving demands of the modern market for both hotel owners and guests.
"Joining Radisson Individuals is an ideal first step for individual hotels with strong service scores who wish to remain independent or may be considering transitioning to one of our successful core brands, as well as a strong proposition for local, regional hotel brands seeking to explore additional distribution channels and/or co-branding options," explains Mr González.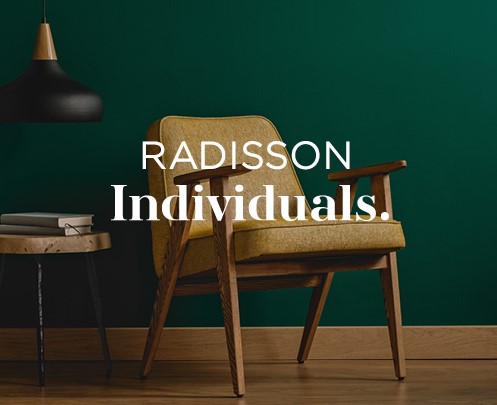 Radisson Individuals hotels are being selected for their own characteristics and personalities, offering guests an opportunity to discover new locations around the world, while always delivering Radisson Hotel Group's standards of quality and "Yes I Can!" service hospitality, combined with the local flavours and personality of the member hotels.
A number of hotels have already joined Radisson Individuals in the UK and Asia with additional properties in advanced discussions in Italy, Germany, Russia and beyond. Among those confirmed to be transitioning under the new umbrella brand are Henrietta House in Bath, UK this year and River House Hotel in Inverness, UK next year.
It is clear that Radisson Individuals represents an exceptional opportunity for hotels to enhance their visibility, nurture customer confidence, and access a wider audience through multiple distribution channels and a global sales structure, while retaining their individuality. Members will benefit from the contracting power and economies of scale that come from a major and respected brand as well as access to integrated IT and revenue platforms, and comprehensive operational systems to deliver high GOP margins.
Radisson confirms that hotels wishing to join Radisson Individuals will be required to undertake a compliance assessment focusing on four key parameters, SGS health and safety compliance, Online Index evaluated through their GRI, compliance with Fire & Life Safety and ability to connect to the Group's main operating systems. Hotel members of Radisson Individuals will also receive training on the Group's "Yes I Can!" Service philosophy and will need to deliver an above 80% GRI score to ensure high guest service quality standards.
Elie Younes, executive vice president & chief development officer, Radisson Hotel Group, says Radisson Individuals offer owners "the necessary flexibility to shape their future and ensure their success" by becoming part of the Radisson Hotel Group. "It is a unique approach where each affiliated hotel measures success and standards based on the online scoring from guests. In simple terms, it is a brand for hotels with a proven record of happy guests," he adds.
In the below video, Mr Younes highlights more about the vision and purpose of the Radisson Individuals brand and more information on new hotel signings across EMEA in 3Q 2020. The properties across the UK, Italy, Ukraine, Germany, Egypt, Saudi Arabia and Nigeria, build on the 15 hotel signings which were announced in 2Q 2020.
They comprise the Radisson Blu Hotel, Sheffield, UK (opening 2023); Radisson Residences, Baden Württemberg, Germany (opening 2023); Radisson Hotel, Florence, Italy (opening 2021); Radisson Collection Hotel, Venice, Italy (opening 2021); Radisson Hotel, Odessa, Ukraine (opening 2021); Radisson Hotel, Abuja, Nigeria (opening 2022); Radisson Blu Residences, Mekka in Kingdom of Saudi Arabia (Opening 2022); and Radisson Blu Resort, Port Ghalib, Egypt (opening 2023).