---
Summary:
Major airlines continue to invest in enhancing the travelling experience for premium passengers.
Emirates describes new First Class suites as "game changer" while Lufthansa says new Business Class will set "a new benchmark".
New Emirates First Class Suites to enter service this week on routes from Dubai to Brussels and Geneva.
Lufthansa to debut new Business Class on Boeing 777-9 from 2020.
---
These cabins remain an important revenue stream for the world's airlines and with the dramatic growth of the industry has actually seen premium seats increase by more than a quarter (27.3%) over the past ten years and has actually grown 42.1% this decade after a decline in numbers in the late 2000s. A closer inspection of flight schedules shows that First Class capacity will decline this year (-21.3%) for the first time since 2011, but this will be more the compensated from a premium cabin perspective by Business Class growth (13.1% from a much higher base).
CHART - The global expansion of the air transport industry means that the number of premium seats in commercial service has grown every year of this decade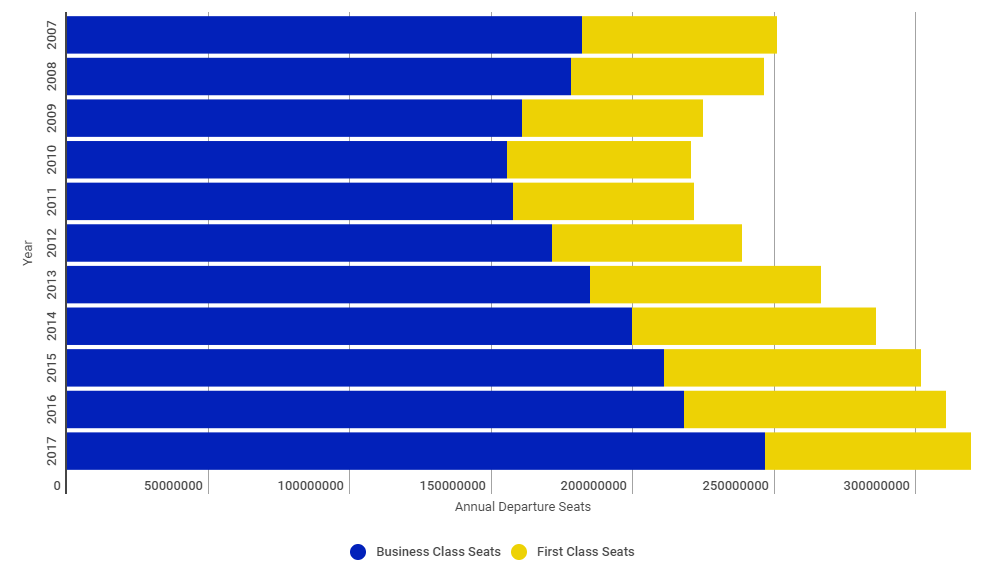 Source: The Blue Swan Daily and OAG
The unveiling at the recent Dubai Air Show of Emirates Airline's brand new First Class offering on its Boeing 777-300ER highlights that the carrier still sees a strong demand for life's luxuries among its growing passenger base. It may have reduced the cabin size by a quarter from eight to six, but has ramped up every offer as part of the reengineering of its offering as it has moved from a 1-2-1 to a 1-1-1 design and taken its onboard experience up a level.
Versus the industry average, Emirates places a lot more attention on its premium cabins and with its pedigree you wouldn't expect anything else but something special from its new First Class. The airline originally pioneered the private suite concept on commercial flights in 2003 and has a track record of new innovations that have raised the bar for the industry in terms of inflight customer experience.
CHART – Emirates Airline has a much larger premium offering than the world average with First Class seats consisting 2.1% and Business Class seats 12.5% of its inventory
Source: CAPA - Centre for Aviation and OAG (data: w/c 27-Nov-2017)
Emirates' new fully enclosed private suites in First Class are inspired by Mercedes-Benz and with floor to ceiling sliding doors and sleek design features certainly takes luxury and privacy for the airline's premium passengers to a new level. The space in each suite allows passengers to comfortably change clothes in private even after the seat has been reclined into a fully-flat bed and its "zero-gravity" position inspired by NASA technology, said to give "a feeling of relaxation and weightlessness".
Emirates says the inflight experience is at "the heart of our brand and service proposition". Aside from the new fully enclosed private suites, the new 777 Business Class features its latest fully-flat leather seats with personal minibars, Economy Class seats have adjustable full leather headrests, and the inflight entertainment system has been upgraded for all cabin classes.
"The new 777 interiors are part of Emirates' ongoing investment to continually raise the bar and exceed our customers' expectations," explains Sir Tim Clark, president of Emirates Airline. "Throughout the aircraft, our customers will see modern and airy cabins, with painstaking attention to detail evident in design touches such as the textured wall and ceiling panels, lighting features, and more."
The first of its reconfigured aircraft will enter service on routes to Europe from 01-Dec-2017. Initially they will operate on the EK083 and EK084, one of the two daily flights from Dubai to Geneva, and the EK183 and EK184 between Dubai and Brussels.
Meanwhile, taking a look into its future, Lufthansa has revealed the Business Class cabin for its future which will be first employed on its 777-9 fleet which will start to arrive over two years from now in 2020. The new concept allows premium passengers to select what is important for them on their journeys with an offer of 1-2-1 and 1-1-1 arrangements, with aisle-access for every premium passenger. Depending on their personal needs, they can choose between an extended-length bed or a seat with twice as much desk space.
The new seat is the key element of an enhanced service and comfort level and is based around privacy and an optimum comfort for sleeping, which Lufthansa describes as "two of the most important needs of on international routes. It has been developed with "the goal of facilitating the best and soundest sleep up above the clouds," according to the carrier with conversion into beds with a length up to 220 cm (86.6 inches).
"The new, ultra-modern Lufthansa Business Class creates a new global benchmark. It offers our passengers a unique travel experience," explains Harry Hohmeister, Member of the Executive Board of Deutsche Lufthansa AG. "We want to provide them with the perfect travel experience. The new Business Class showcases the full innovative capacity of Lufthansa."
Premium passengers will not have to wait until 2020 for enhancements to Lufthansa's Business Class offering with new arrivals in the cabin from early 2018 including mattresses, new duvets, and sleeping sweaters for passengers, something that was previously only available in its First Class cabin.