---
Summary:
China is dropping its 'one route, one airline' policy that has been used on long haul international route allocation since 2009;
The new 'double designation' will allow a second airline to serve some route pairs in a move in recognition of the changing nature of China's aviation market;
UK consultancy MIDAS Aviation outlines how 'double designation' will work, a criteria that is "pretty simple, but its interpretation is "slightly more complex".
---
The government controlled regulator Civil Aviation Administration of China (CAAC) has said the move is in recognition of the changing nature of China's aviation market, and also to prepare for the opening of Beijing's second international airport scheduled for next year. It planned to divide international routes into two categories based on how open China's air transport agreement was with the destination country. The number of carriers would be unrestricted for one group, while some restrictions would be placed on the other.
UK consultancy MIDAS Aviation has now provided some additional light on how the 'double designation' process will work and says that while the criteria is "pretty simple, it says the interpretation is "slightly more complex".
It notes that the new policy "is not about selecting airports which will be permitted 'double designation', but putting in place a policy which could apply to any Chinese airport – first or second or even third tier – as long as they meet the criteria."
CHART - China's international capacity grew at accelerating rates through most of the decade, but slowed in 2016 and 2017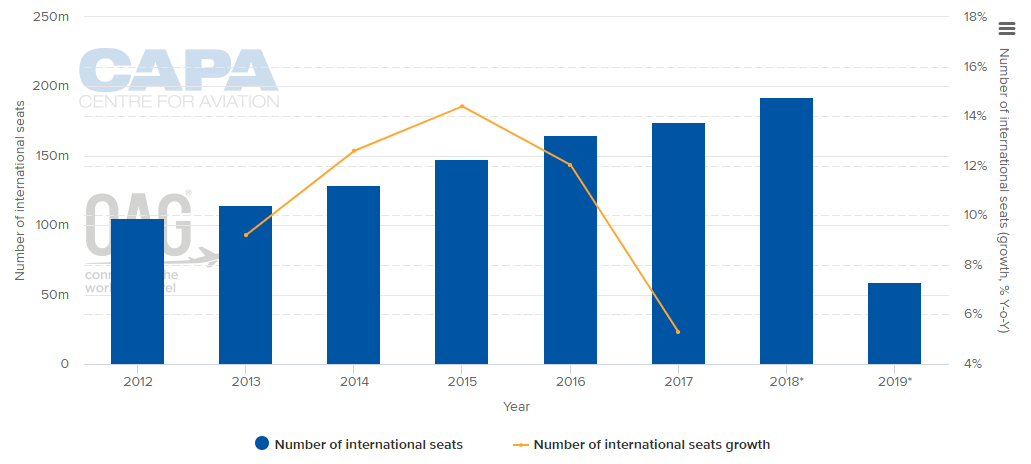 Source: CAPA - Centre for Aviation and OAG
The basis of 'double designation' will be based on a couple of criteria, firstly if the frequency share of Chinese airlines on the route is less than 70% and the combined weekly frequency for both Chinese and foreign airlines is above fourteen flights a week, reports MIDAS Aviation.
Secondly, double designation can be awarded where a Chinese airline has been the only operator on a route for the last six years. Given that many international routes are still in their infancy, this will more likely be an opportunity for growth and competition between Chinese carriers in the coming years.
The new regulations will certainly open the door to additional competition on a number of long haul routes from China, but for now will be mainly restricted to the biggest markets served from both Beijing Capital International and Shanghai Pu Dong International airports, and perhaps to a lesser extent from Guangzhou Baiyun International Airport. While route licences may be approved by the CAAC there will remain the need to also secure the necessary slots at each end of the route to make them economically viable.
As MIDAS Aviation notes, the changing regulation ultimately reflects the growing confidence of both the Chinese market and its future potential for further growth, although it says "the policy remains quiet on the need for additional capacity to accommodate some of the opportunities" that it promises to deliver.