JAL commenced flights to Melbourne on 1-Sep-2017 with a daily service from Tokyo Narita. The airline's only route to Australia for seven years had been Tokyo Narita-Sydney. JAL dropped service to Brisbane in Sep-2010 and at its peak in the first half of last decade carried more than 700,000 annual passengers to and from Australia.
In 2016, JAL flew only 151,000 passengers to and from Australia, accounting for a 12% share of total Australia-Japan nonstop passengers, according to BITRE data. A decade earlier, in 2006, JAL flew 679,000 passengers between Japan and Australia and accounted for a 43% share of the total market. At the time Qantas was the only other airline operating scheduled services between Australia and Japan.
Over the last several years JAL has ceded market share between Australia and Japan due to the launch of services from Jetstar Airways and All Nippon Airways (ANA). Jetstar began serving Japan in 2007 and in 2016 accounted for a leading 45% share of total Australia-Japan traffic. Qantas accounted for a 32% share and ANA an 11% share.
ANA launched services to Sydney on Oct-2015 and currently operates a daily service to Sydney from Tokyo Haneda. ANA had not served Australia for 16 years.
Qantas currently operates three daily flights to Japan, including one flight from Sydney to Tokyo Haneda, one flight from Brisbane to Tokyo Narita and one flight from Melbourne to Tokyo Narita. Qantas is adding three weekly year-round flights from Sydney to Osaka Kansai on 14-Dec-2017.
Jetstar currently operates one daily flight from Cairns to Tokyo Narita, five weekly flights from Cairns to Osaka Kansai and five weekly flights from Gold Coast to Tokyo Narita. All of these flights operate with 335-seat 787-8s, resulting in 5,695 weekly one-way sets to Japan for Jetstar Airways. Jetstar adds frequencies to Japan during peak periods; for a six week period this summer it will operate 21 weekly flights to Japan, providing over 7,000 weekly seats.
Qantas uses 747-400s on Sydney-Tokyo and A330-300s on Brisbane-Tokyo and Melbourne-Tokyo, generating approximately 6,700 weekly seats. Qantas will also use A330-300s on the new Sydney-Osaka route, lifting its Japan capacity to more than 7,500 weekly one-way seats.
ANA uses 215-seat three class 787-9s to Sydney, generating 1,505 weekly one-way seats. The ANA product in the Sydney market includes 48 lie-flat business class seats, 21 premium economy seats and 146 economy seats. JAL also uses 787-9s to Sydney but has an even lower density 195-seat configuration, including 44 lie-flat business class seats, 35 premium economy seats and 116 economy seats.
JAL uses low density 161-seat 787-8s on the new Melbourne route with 38 lie-flat business class seats, 35 premium economy and only 88 regular economy seats. Therefore, JAL's total capacity in the Australia market is 2,492 weekly one way seats – which marks a significant increase compared to the last several years but still well below capacity levels from the last decade when it had more flights to Australia with much larger aircraft.
Earlier this year, JAL also down-gauged its Sydney service from 777-300ERs to 787-9s. However, the launch of Melbourne more than offsets the capacity decrease in Sydney and should enable JAL to regain some market share in Australia.
JAL currently accounts for a 15% share of total non-stop seat capacity in the Australia-Japan market, compared to less than 12% a year ago. Qantas currently accounts for a leading 41% share of Australia-Japan seat capacity, Jetstar 35% and ANA 9%.
The Qantas share will increase slightly after it launches Sydney-Osaka, while the Jetstar share increases seasonally from mid-December through January as it is the only airline adding frequencies for the peak season. Qantas retook Jetstar as the largest airline in the Australia-Japan market in late 2016 as it launched Melbourne-Tokyo Narita. In less than a year the Melbourne market has experienced a huge surge in Japan capacity – from a base of zero – as two new flights have been launched.
JAL was able to resume expansion in Australia because earlier this year the Japanese government imposed growth restrictions that had been in place since its bankruptcy and government bailout were finally lifted. JAL dropped Brisbane along with several other international destinations during its bankruptcy and was essentially forced to maintain capacity in Australia for seven years while other airlines expanded.
Australia to Japan one-way seat capacity by airline: Sep-2011 to Apr-2018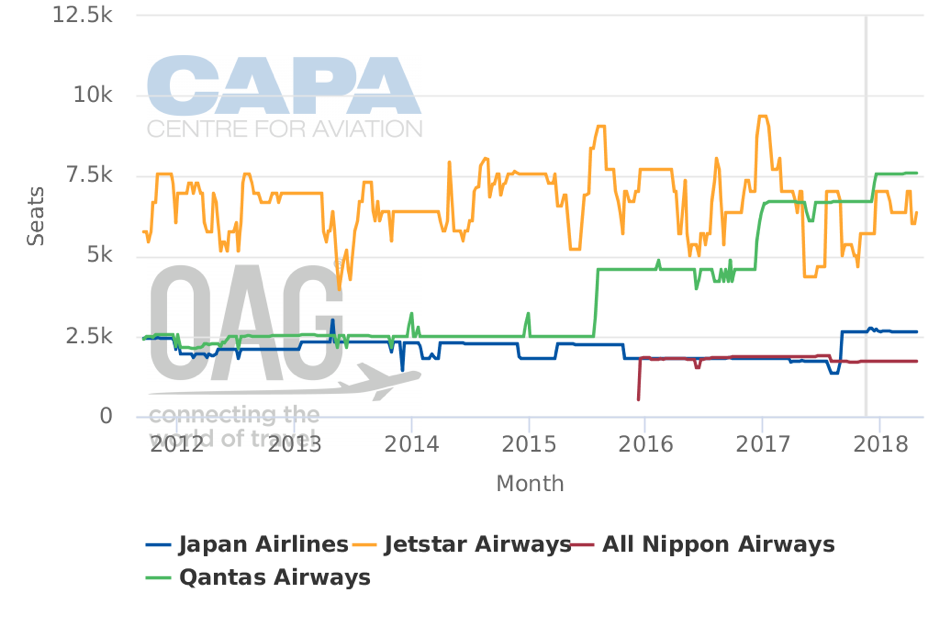 Note: seat capacity figures are approximate
Source: CAPA – Centre for Aviation & OAG