With more than 440,000 Australians choosing to visit Japan in 2017, a 12% increase year-on-year, desire for trips to Japan only continues to grow, with bookings for 2018 are already 35% higher than the first half of 2017.
Australian visitors
The number of Australian tourists visiting Japan has increased by an incredible 170% over the last five years. The total number of overall visitors surpassed 20 million in 2016, and with key global events like the 2019 Rugby World Cup and 2020 Olympic Games, Japanese officials expect to hit a huge 40 million tourists in 2020.
Japan National Tourism Organization Sydney Executive Director Kana Wakabayashi, said:
"Sustained promotion by the Japan National Tourism Organization (JNTO) is one of the key drivers behind phenomenal growth in Australians travelling to Japan. Japan's strength and appeal as a travel destination lies in our difference – we can offer experiences that can't be found anywhere else in the world, like eating yakitori in a lane-way bar and chatting with locals, soaking in a natural hot-spring with a view of Mt Fuji or even hiking along an ancient trail and visiting beautifully preserved post towns."
Capacity
To meet the growing demand for travel to Japan, airlines have followed with capacity increases. According to CAPA – Centre for Aviation, Qantas and Jetstar lead capacity with 44.5% and 29.4% respectively, for the week beginning 16-Jul-2018. Japan Airlines almost doubled capacity in 2017 with the launch of a daily Tokyo Narita-Melbourne Tullamarine service.
Australia to Japan seats per week: 19-Sep-2011 to 31-Dec-2018

Source: CAPA - Centre for Aviation and OAG
With Tokyo ninth on the global most visited cities list, Skyscanner also examined local patterns in overseas visits to Japan and noted December and January as the most popular time for Australians to fly.
Skyscanner suggest Australians consider an alternative airport in order to save on airfares. A flight from Sydney to Osaka offers an estimated saving of AUD97 on arrival into Tokyo, and the same flight departing from Brisbane could save holiday-makers AUD319. Findings point toward additional searches or research into arrival cities will help Australians reduce overall holiday cost.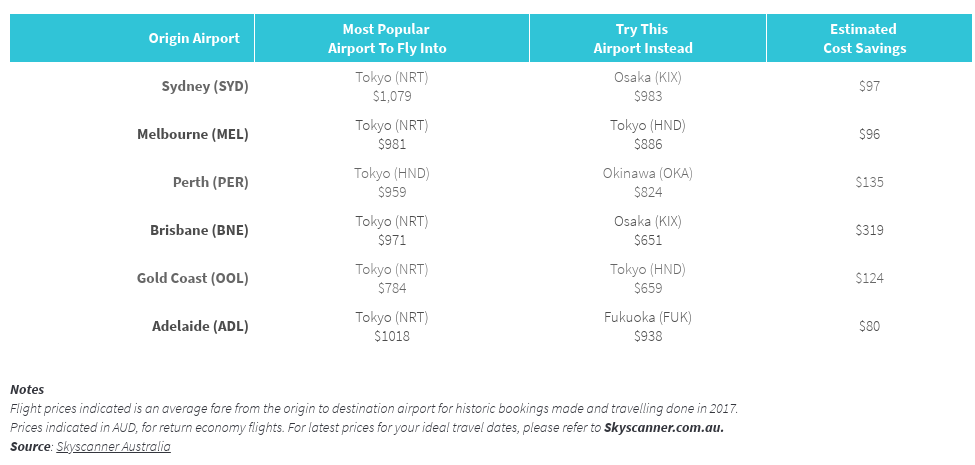 Skyscanner also revealed the "Best Time to Book" for travel between Australia and Japan.