The Independent Kuwait carrier is currently making a buzz in the market having first launched flights in Oct-2005. Last year it opened its own dedicated terminal at Kuwait International airport - the first owned, built and operated by a private airline in the Middle East – and recently announced a substantial increase in its profitability for the first half of 2019.
The airline reported a notable KD6.2 million ($20.4 million) net profit, more than four times greater than the KD1.4 million recorded for 1H 2018. Revenue rose 37.4% to KD47.3 million and passenger numbers grew by 20% to 1.1 million.
Jazeera has boosted fleet utilisation and loads, growing 77.6%, up +3.9% on the same period a year ago. Passenger yield for the second quarter was up 11.5% at KD45.6, according to its financials. Its network has already extended into the Indian sub-continent, but could its first service to Europe be a step too far, especially given the Kuwait – London sector length, far beyond any other city pair in its network.
The new service is being made possible by the arrival of three additional Airbus A320neos before the end of the year on lease from Avolon. These add to the single version of the type its already flies (it was delivered in May-2018) and currently mainly deployed on the Kuwait-Hyderabad market, but also flying local sectors, including Jazeera's largest market linking Kuwait to Cairo.
TABLE – Jazeera Airways currently operates a fleet of ten Airbus A320s, including a single A320neo

Source: CAPA – Centre for Aviation Fleet Database
Jazeera will offer a three-class arrangement on the London route with business, premium economy and economy cabins. It will bring competition to a route served by British Airways and Kuwait Airways, albeit serving Gatwick rather than Heathrow airport used by the established operators on the route.
British Airways currently operates a daily schedule between Kuwait and London using Boeing 777 widebodied equipment. Kuwait Airways upped to 13 flights per week between the two cities this summer, mainly using its Boeing 777-300ER, but will revert back to ten per week from the end of Oct-2019 as Jazeera enters the market.
CHART - Kuwait Airways and British Airways have provided stable levels of capacity from Kuwait City to London, albeit the former added three additional weekly rotations this summer

Source: CAPA - Centre for Aviation and OAG
The new entrant describes itself as a hybrid carrier and it appears to be offering flights positioned just below those currently offered by its rivals. The use of Gatwick may deliver different clientele and will mean a reliance on local traffic inbound to London, albeit its own network could support some connecting traffic onward from Kuwait into the Middle East and Indian sub-continent. It's own terminal at Kuwait International airport could also be a pull for O&D corporate demand, which could be decisive in the route's success.
While Jazeera has been successful gaining slots at Gatwick, the limited availability at the London airport has meant it is not able to offer a uniform schedule. Flights will depart Kuwait City between 06:45 and 11:00 on different days of the week, arriving in London between 10:50 and 15:05. Return flights depart London between 12:35 and 16:40, arriving in Kuwait City in the 21:55 to 02:00+1 window.
At over 4,600km it is longer than any other route in the Jazeera network, by some margin (it is six hours outbound and beyond seven on the eastbound leg), and will be among the longest sectors currently scheduled on the A320neo.
CHART - The majority of Jazeera Airways' flights are less than three hours; its average is 2 hours 36 minutes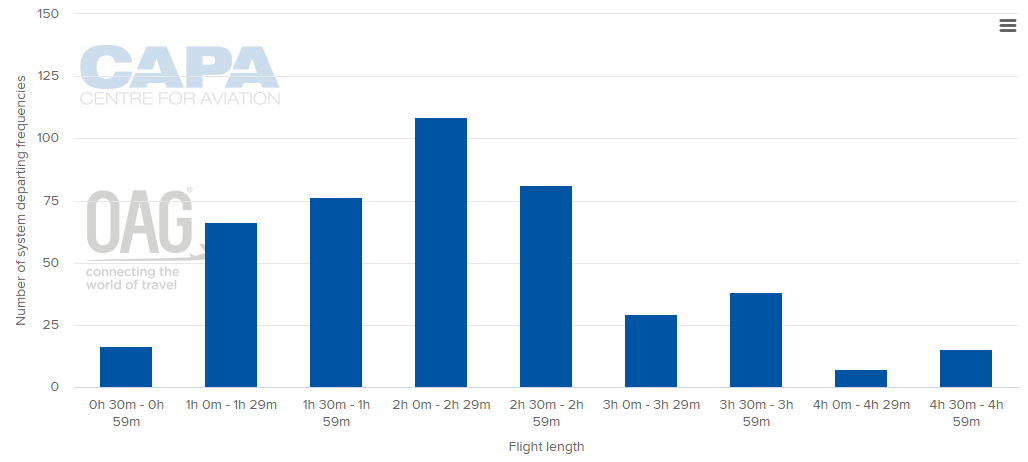 Source: CAPA - Centre for Aviation and OAG (data: w/c 12-Aug-2019)
London is likely to be the first stage of a further network expansion. In addition to its existing fleet commitments to grow to 13 aircraft by the end of 2019 and 16 by the end of 2020, Jazeera Airways is planning to place an order for up to 25 additional narrowbody aircraft to its fleet.
Reports say it will decide between the Boeing 737MAX or continued expansion of A320neo numbers in the second half of next year, as the airline looks to add more longer routes by 2024. Jazeera's CEO Rohit Ramachandran is not put off by Boeing's current MAX issues and says he is confident in Boeing's ability to resolve issues related to the grounded aircraft.
The airline expects Kuwaiti holidaymakers, students in the UK, business travellers and feed traffic into Saudi Arabia for Hajj and Umrah, to be among the users of the new London link, and its success generating this traffic will ultimately drive where it flies next – the UK markets of Birmingham and Manchester are both under consideration, as are the likes of Athens, Malaga, Munich and Nice, according to Mr Ramachandran in an interview with the UAE press.
Before them, Jazeera has already confirmed it is planning flights to Al Ain, Chittagong, Dhaka, Karachi, Kathmandu and Saudi Arabian cities Dammam and Qassim in the fourth quarter of this year, with further destinations in India, Oman, Pakistan and the CIS being considered.