The failures of Primera Air and WOW air were as much about growing too fast and adding complexities to the model, the latter's decision to add widebodies a perfect example. For many, low-cost long-haul, or long-haul low-cost, can only be achieved with a business model that brings feed and a premium option to the market to boost loads and yields. Now, and long-expected, US carrier JetBlue Airways plans to bring this to the market with flights linking Boston and New York to London.
These will take-off in 2021 and will be flown by single-aisle Airbus A321neoLR – alongside the announcement the US carrier has confirmed plans to convert 13 of its existing A321neo order to the long-range variant, which will be required to ensure non-stop operations, especially on the westbound leg.
CHART - Weekly capacity between London and Boston (top) and New York (bottom)is on the rise moving into summer 2019 with British Airways the largest operator on both city pairs


Source: CAPA - Centre for Aviation and OAG
The announcement has been expected for some time, the only uncertainty was where the airline would fly. London was an obvious option, but Amsterdam was also high on the consideration list. But domestic pressures to eliminate internal costs had started to raise some doubts if the risk was manageable. It clearly seems that JetBlue believes it is and it thinks it has just the right weapon in its arsenal to achieve it… Mint!
The airline's Mint premium cabin can certainly be highlighted among the reasons the airline has succeeded in the busy US transcontinental market. Now a "a reimagined version" of the premium flat bed cabin will be used to set it apart from rivals across the Atlantic.
It is too earlier to know what it plans, except that it "will feature more lie-flat seats than currently offered on the airline's existing A321 aircraft". It describes its trans-Atlantic Mint offering as "an intimate and exclusive travel experience" with an "elevated flying experience for a fraction of what other airlines are charging today for premium seats". JetBlue currently uses the Thompson Aero Vantage seat, a product that both Aer Lingus and TAP Portugal will use for business class on their A321neoLR fleets.
"London is the largest metro area JetBlue doesn't yet serve from both Boston and New York, and we could not be more thrilled to be changing that in the years ahead," says Joanna Geraghty, president and chief operating officer, JetBlue. "The fares being charged today by airlines on these routes, specifically on the premium end, are enough to make you blush."
This highlights that JetBlue certainly has its eyes on the premium market. The question will be where in London it will fly. Its announcement makes no mention of airport. In fact, it talks about airports – "JetBlue is evaluating which London airports it will serve."
To support the premium demand Heathrow is an obvious target, but securing slots may not come easily (or cheaply!). In fact the airline's Robin Hayes used an Aviation Club of the UK address to highlight competition concerns and airport access challenges in Europe.
It is clear that Stansted and Luton will make competitive bids to attract JetBlue, but Gatwick is a logical choice and a thought-process that led joint venture partners Delta Air Lines and Virgin Atlantic to announce plans to introduce their own flights linking Boston and New York to the airport from summer 2020.
"The big airlines will tell you that competition has never been more robust, but the smaller airlines have never found it harder to get access," says Ms Geraghty, who calls for regulators in the US and across Europe to create conditions where smaller carriers and new entrants "can thrive, instead of letting the giant airlines get even bigger" through joint ventures. "Given a chance to compete, JetBlue can have a tremendous effect on lowering fares and stimulating traffic," she says.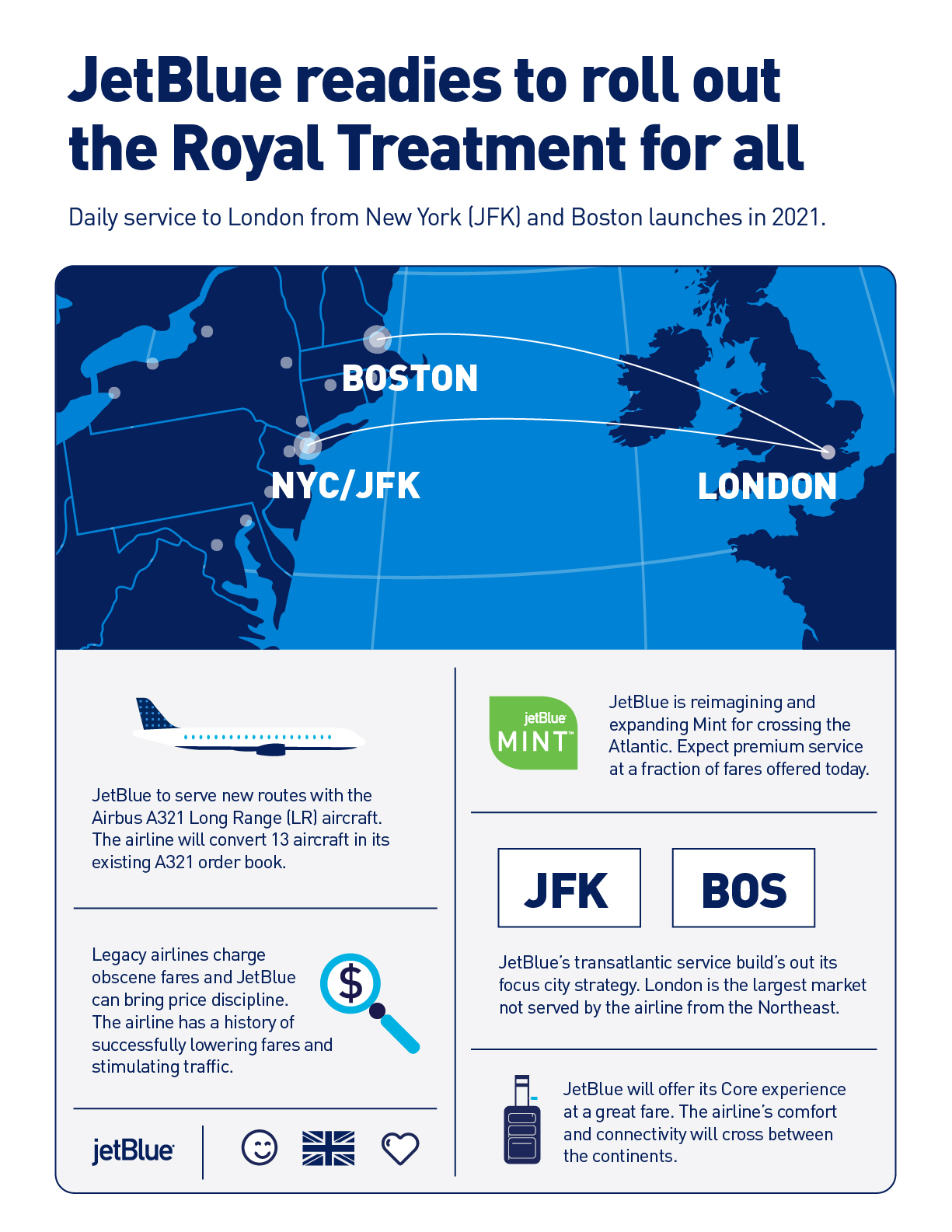 JetBlue says growth into Europe "is the next natural step" in its focus city expansion strategy, with London being the largest destination not currently served by the carrier from both New York and Boston. The new service will strengthen JetBlue's relevance in its two largest focus cities where its strong existing networks will provide significant feed to the trans-Atlantic schedules.
To win over business demand it is not just about the product, but the schedule too. With 13 A321neoLRs on order (and the ability to convert more) it is clear that JetBlue has aspirations beyond just London, but it will need multiple daily frequencies if it is to succeed on two of the world's biggest city pairs.
JetBlue believes travellers flying across the North Atlantic between the northeast US and London have "long faced sky-high fares" – particularly in premium cabins – or "mediocre service" in a market it says that is "effectively controlled by legacy carriers and their massive joint ventures".
The industry has been waiting a long time for JetBlue to make its mark across the Atlantic and its announcement this week is quite rightly seen as one of the most existing developments in this famous market. Its planned arrival has already stirred a reaction from incumbent rivals… we can expect to see more as we move closer to the launch.