The airline had begun the first phase of its interior cabin restyle in spring 2018 when its started to modernised its so-called "classic interiors" with products that matched those found on its newer A321 aircraft, mainly around introducing more modern seats and larger seatback TVs. More than a dozen A320s have been restyled with these products and several more are expected for completion in the coming weeks.
But this restyling will "fully transition" to this new second phase "2019 version" of onboard products, introducing a wider seat, custom-designed seatback inflight entertainment (IFE), the ability to pair personal mobile device to the screen, easy-to-reach power sources at every seat, and expanded coverage of free Wi-Fi connectivity.
CHART - JetBlue Airways currently operates a fleet of 130 Airbus A320s

Source: CAPA - Centre for Aviation Fleet Database
The restyling effort has been several years in the making and represents the first major interior change since the airline first arrived in US skies. "JetBlue rocked the airline industry in 2000 with seatback television and all leather seats. In our first makeover since, this incredible new onboard experience represents what the founders would have done if they were launching JetBlue today," says Marty St George, executive vice president and chief commercial officer, JetBlue.
A major focus of the restyling is keeping customers connected throughout their flight, including a new inflight entertainment system, high-definition seatback televisions, in-seat power outlets with USB ports and continued free gate-to-gate Fly-Fi high-speed internet with an expanded coverage area – including throughout the Caribbean and Latin America where it has not been available until now.
The new seat comes in the form of the Rockwell Collins Meridian offer, which is used by many other airlines already, but has been additionally customised for the airline's needs with a number of specific design elements built around brand alignment and customer comfort.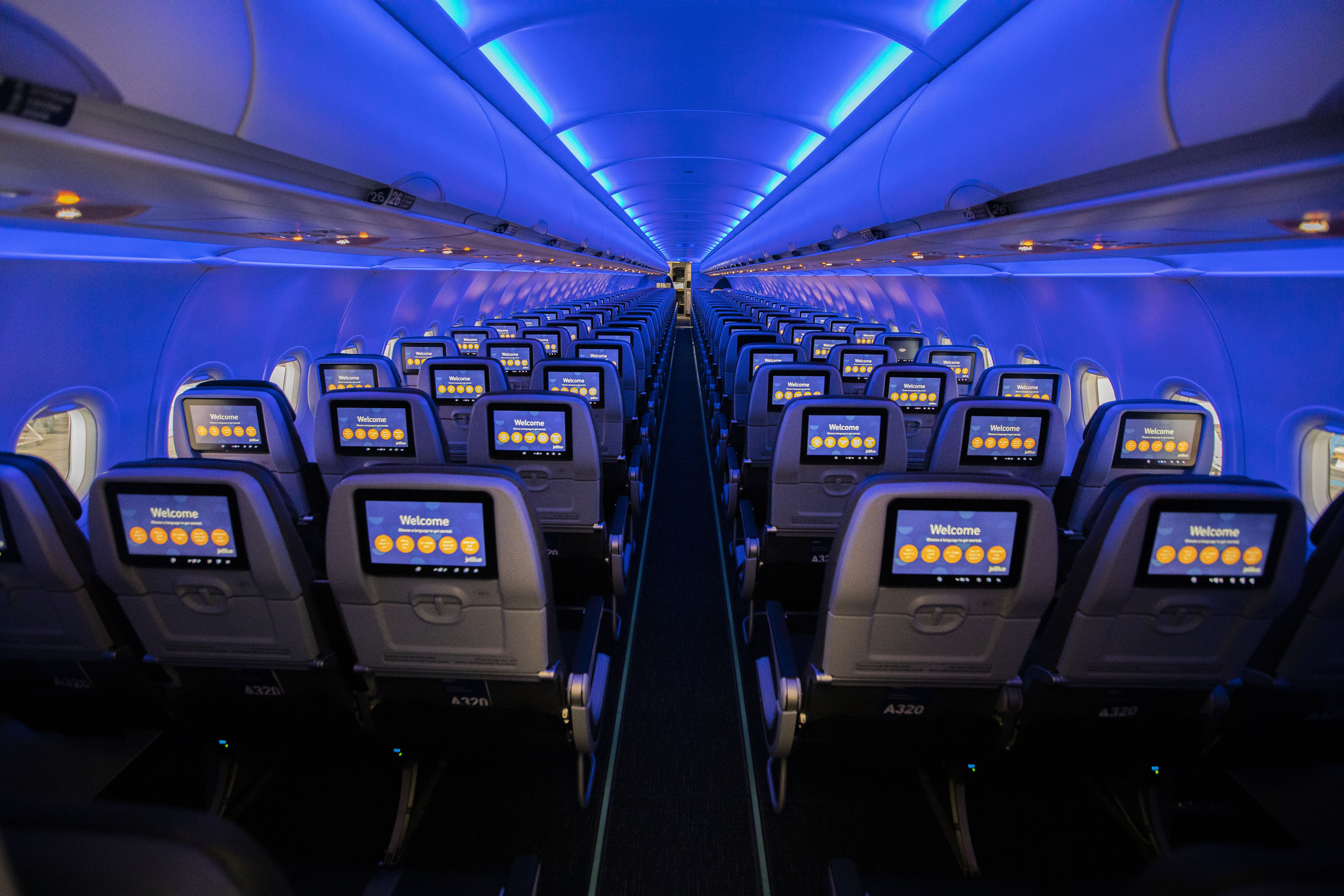 This includes expanding the seat width to more than 18 inches, which according to the airline is "the widest available for the A320", while at the same time offering the "most legroom in coach of any US airline," about one inch more than currently available with its Pinnacle seats from Rockwell Collins.
Further custom offerings include an enhanced cushion comfort, adjustable headrests (a new feature for JetBlue's A320), a contoured seatback design at knee level to create additional space, a redesigned seatback stowage and power connections at every seat.
The new seat will be complement with enhanced inflight entertainment options with Thales AVANT and ViaSat-2 connectivity. Each seat will have a 10.1 inch, 1080P high definition screen offering more than 100 channels of live television with DVR-like pause and rewind functionality. This expanded offering will include on demand movies, TV shows and video content, plus new gaming features. The content will be destination-specific, include a picture-in-picture function and an enhanced 3D flight map offering.