---
Summary
Karratha has forged an agreement with regional airline JETGO covering the launch of services to Brisbane and Singapore
The new routes will significantly improve Karratha's connectivity as the city is now only linked with Perth
Karratha passenger traffic should recover following five consecutive years of declines
Qantas previously linked Karratha with Brisbane as well as Melbourne and Sydney
Singapore is a totally new route – and Karratha's first scheduled international route – and requires upgrades to the airport to facilitate international arrivals
---
Karratha, a small isolated city in the Pilbara region of Western Australia, is currently only linked with Perth. But the city has been trying the last few years to restore domestic routes to eastern Australia and attract its first international route. This search, which involved talking to several airlines, ended in Dec-2017 as the city forged an agreement with JETGO.
Karratha expects JETGO's new twice weekly Brisbane-Karratha-Singapore scheduled service to begin by mid-2018, subject to regulatory approvals and an upgrade to the airport terminal to accommodate international flights. "This is an extremely exciting time for the City of Karratha and Karratha Airport passengers who will soon be able to fly directly to Asia and the East Coast with the introduction of this new service," stated Karratha Mayor Peter Long in announcing the agreement with JETGO. "We consistently receive feedback from the community that they want international and interstate connectivity from Karratha Airport and we have been working hard to secure additional route options."
JETGO, a small independent regional airline based in Brisbane, plans to acquire an 88-seat Embraer E175 regional jets to operate the new Karratha service. JETGO currently operates two 37-seat ERJ-135s, two 44-seat ERJ-140s and one 50-seat ERJ-145, according to the CAPA Fleet Database.
The ERJ-145 was added in late 2017 – with a second expected to be placed into service in early 2018 – and have been used to upgauge existing domestic routes. JETGO has been operating the ERJ family of regional jets for five years, making the step up to the larger E175 logical and relatively straightforward.
Launching Karratha-Singapore is a big step for both JETGO and Karratha Airport given it will be the first scheduled international route for both the airline and airport. JETGO currently operates scheduled domestic services to 11 airports throughout eastern Australia but currently only operates charter flights in the international market.
Karratha is a tiny city with a population of less than 20,000, but has a relatively large mining industry which has been showing signs of recovery. Karratha and the Pilbara region, including Australia's rugged northwest coast, also has potential to develop tourism as the air connectivity improves. Karratha recorded 436,000 international visitor nights and 1.7 million domestic visitor nights in FY2016.
Karratha passengers travelling overseas or to east Australia now have to backtrack through Perth. Qantas and Virgin Australia both currently operate the Karratha-Perth route. QantasLink has 43 weekly flights on the route using a mix of Fokker 100s and 717s, according to OAG schedule data. Virgin Australia has 17 weekly flights using mainly Fokker 100s and occasionally 737-800s.
Both airlines offer Karratha passengers connections to Brisbane and Singapore via Perth (with Virgin's partner Singapore Airlines operating the Perth-Singapore leg). However total transit time for Karratha-Brisbane is now more than seven hours while Karratha-Singapore transit time is approximately nine hours. JETGO will be able to cut Karratha-Brisbane travel time in half and Karratha-Singapore travel time by two thirds. JETGO will also likely offer much cheaper fares.
In Singapore Karratha passengers will be able to connect to other destinations in Asia as well as to Europe, resulting in significantly shorter total transit times. However, purchasing two tickets will likely be required. JETGO does not currently have any codeshare partners.
Singapore Airlines regional subsidiary SilkAir, which Karratha also approached, would have been a better solution as it would be able to offer connections beyond Singapore. However, SilkAir was not interested in launching services to Karratha, even with incentives. JETGO is a more appropriate fit in that it is able to operate the route with much smaller aircraft, providing a better chance of long term success.
The Karratha market is likely too small to support any new services with narrowbody aircraft. The Karratha Airport handled less than 500,000 passengers in 2017.
Karratha's traffic has been on the decline since 2012, likely due to a weakening mining industry. The airport's traffic peaked at 818,000 passengers in 2012 and has since declined for five consecutive years.
Karratha Airport passenger traffic and year over year growth: 1999 to 9M2017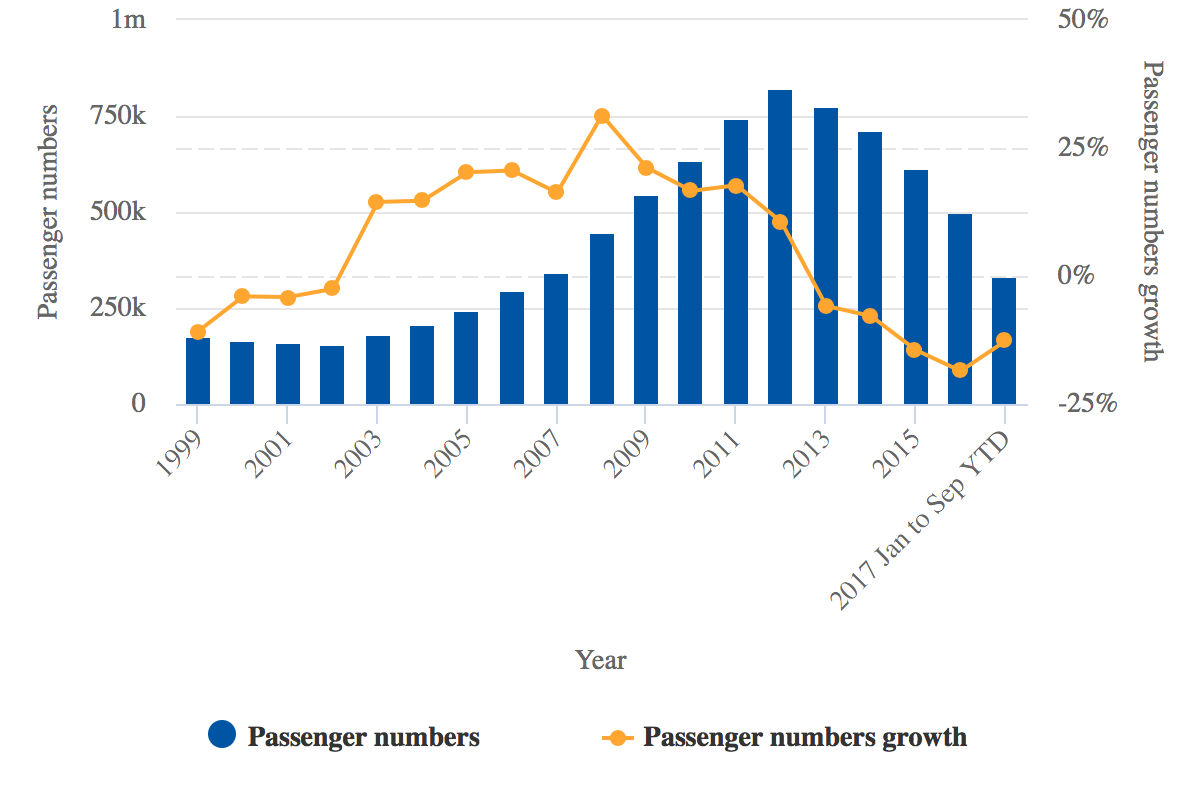 Source: CAPA – Centre for Aviation, company reports and BITRE
Qantas previously served Karratha from Brisbane, Melbourne and Sydney but dropped all three routes, which were served with one or two weekly frequencies, in 2014. Qantas also previously operated more frequencies on the core Karratha-Perth route.
Regional airline Airnorth pulled out of the Karratha market entirely in 2016. Airnorth served Karratha from Broome and Port Headland.