---
Summary:
Reykjavik's Keflavik International Airport expects to handle 10 million passengers in 2018, 11 years ahead of its most recent master plan forecasts;
A third runway, new passenger terminal and high speed rail (HSR) link to downtown Reykjavik will prepare the airport for future demand;
Stabilisation of tourist growth and transfer passengers may give Isavia the time it needs to initiate new capacity building measures.
---
Fast-forward only two years and KEF has seen growth far outpacing the airport company's earlier predictions of reaching just six million passengers by 2018. According to data from CAPA – Centre for Aviation, the main air gateway to Iceland registered 56 consecutive months of double digit year-on-year passenger growth from Aug-2013 to Mar-2018, with total traffic more than doubling from 2014 to 2017.
Looking at monthly traffic in more detail, larger passenger jumps tend to be seen in the shoulder and off-season periods, as travellers take advantage of cheaper airfare, hotel and in country travel expenses despite the chilly winter months and try to avoid congested (and more expensive) peak summer periods.
KEF handled 8.7 million passengers in 2017, including over two million visitor arrivals, and is on track to reach the 10 million mark this year, with passenger traffic up 15.1% to date in May-2018.
CHART – Strong passenger growth since 2010 will require an acceleration of capacity building projects moving forward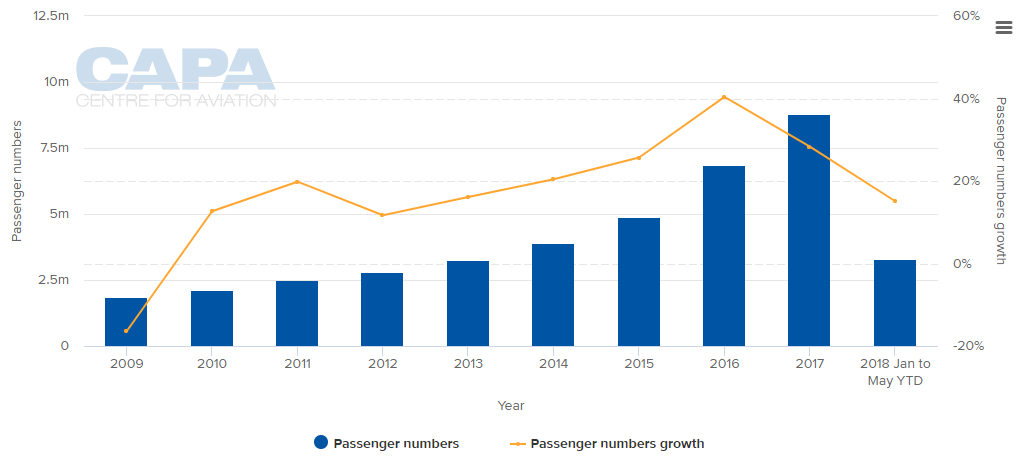 Source: CAPA – Centre for Aviation and Reykjavik Keflavik Airport
This result is reflected not the least in Keflavík Airport more than doubling direct connections served in the last five years, according to statistics from Isavia and ACI Europe. Major markets such as Dallas/Fort Worth, Chicago, Miami, Nice, Riga, Mallorca, Berlin Tegel and Budapest, to name but a few, have been added to the map in the past two years, with upcoming destinations including direct services to Rome and Delhi in 2018 served by Norwegian and WOW air respectively.
CHART – US passengers account for one third of seats to Iceland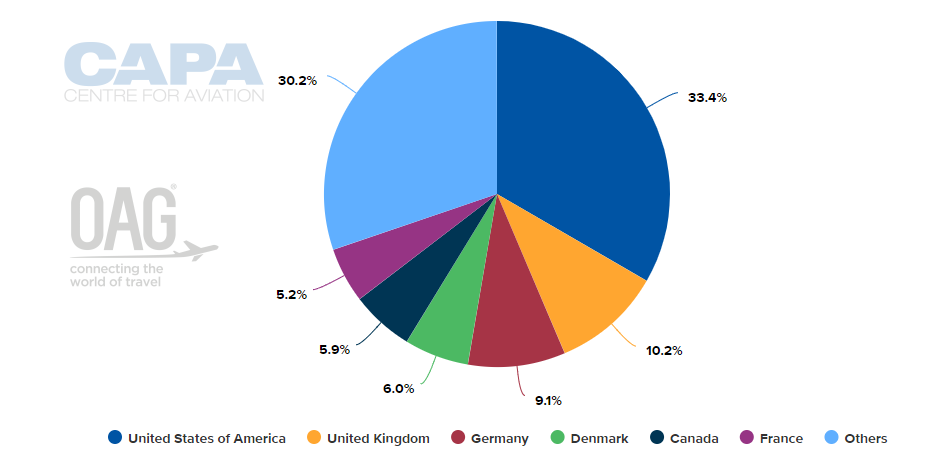 Source: CAPA – Centre for Aviation and OAG (data: w/c 16-Jul-2018)
Air travel has continued to rebound since the collapse of the world banking system in 2008, with increased demand supported by two strong local carriers: national carrier Icelandair and low cost airline WOW air, which account for nearly 80% of seat capacity. Greater Reykjavík and Southern peninsular comprise a local population of around 240,000 and as the most sparsely populated country in Europe, Iceland's population totals roughly 350,000.
Isavia chief executive Bjorn Oli Hauksson said in Jan-2018 the company intends to invest around USD1 billion at Keflavik Airport over the next seven to eight years, commenting it is "just a matter of time" before the airport presents firm expansion details. Highlights of Isavia's 2016 master plan include construction of a third 2500m runway and associated apron/taxiway expansion and construction of a new terminal in addition to ongoing passenger terminal expansion, to be completed over multiple phases.
VIEW Isavia's full masterplan for Keflavik International Airport: Isavia Masterplan 2015-2040
The plan also outlined development of a new HSR connection between Keflavik Airport and Reykjavik's city centre. Situated 50 km southwest of Reykjavík near the edge of Suðurnes (South peninsular), journey times between KEF and the city will takw up to 20 minutes, according to project development company Fluglestin, with terminus at Reykjavik's current BSÍ bus station.
Though there is some cause for haste in these projects, we are not likely to see the same remarkable growth spikes compared with that of the previous three years. Iceland's Arion Bank economic outlook 2018-2020 for example anticipates Iceland's tourism industry, having increased almost five-fold since 2010, will see growth slow to between 4% and 6% out to 2020. Incidentally, tourist arrivals show a 5.5% increase to year to date up to May-2018.
Such a "deceleration" may be a blessing in disguise, as it gives Isavia time not only to expand airport capacity but also develop sustainable tourism practices and bolster environmental awareness on the impact of tourism in collaboration with Icelandic tourism bodies.