---
Summary:
African carrier Kenya Airways will take over the running of Nairobi's Jomo Kenyatta International Airport under a concession contact;
The objective is to allow both the airport and the airline to better compete with Gulf airlines and the aggressive Ethiopian Airlines on a level playing field;
But there are anti-competitive risks here, impacting on the already strangled-at-birth African open skies project;
The agreement will certainly deliver an improved platform for Kenya Airways to develop much needed improved connectivity within and outside of Africa.
---
To avoid lengthy legal issues, the decision is to be effected through a concession with Kenya Airways designated as the private party and Kenya Airports Authority as the contracting authority. Under the new arrangement, NJKIA – currently under the sole management of the State-owned KAA, and with estimated annual revenues of KES7 billion (USD70 million) – is to be owned and managed by a holding company that will, in turn, be 100% owned by Kenya Airways under the concession agreement.
KAA will receive concession fees from Kenya Airways but will face the loss of approximately 90% of its revenues, which were generated by the airport. KAA will, though, continue running the country's remaining airports but their contribution to its financial coffers is paltry in comparison.
These two large State-controlled institutions are being brought together under one roof in an effort to consolidate State assets in the aviation industry; effectively copying the model practised by Middle East carriers where airlines and airports are in common ownership.
But there is something of a conundrum here. The move will have major financial implications for the KAA because almost 100% of its revenues come from the operations of NJKIA. Furthermore, rival airlines may not take kindly to any perceived favouritism falling to Kenya Airways. NJKIA is dependent on Kenya Airways, which right now has over half of all seat capacity there, but the airport has been losing business to competing hubs in Africa (e.g. Addis Ababa) as well as in the Middle East.
While it is Kenya that has the safari parks and beaches that are not evident in Ethiopia it is the latter country's airline that is expanding its services to more countries and at a considerably quicker pace. Ethiopia is also outstripping Kenya in tourist "potential" recognition and adds insult to injury by ferrying ever more foreign passengers into and out of Kenya through its hub, closing in on 5% of seat capacity and now threatening to eclipse Kenya Airways' limited schedules on some major intercontinental routes, including the Americas as a whole.
Currently, more than 50% of flights leaving JKIA are by competing airlines while the share of Kenya Airways in the hub has significantly dropped in the last three years.
CHART - While Kenya Airways is the dominant carrier at Nairobi's Jomo Kenyatta International Airport its standing has waned due to increasing competition. It now accounts for less than half of all movements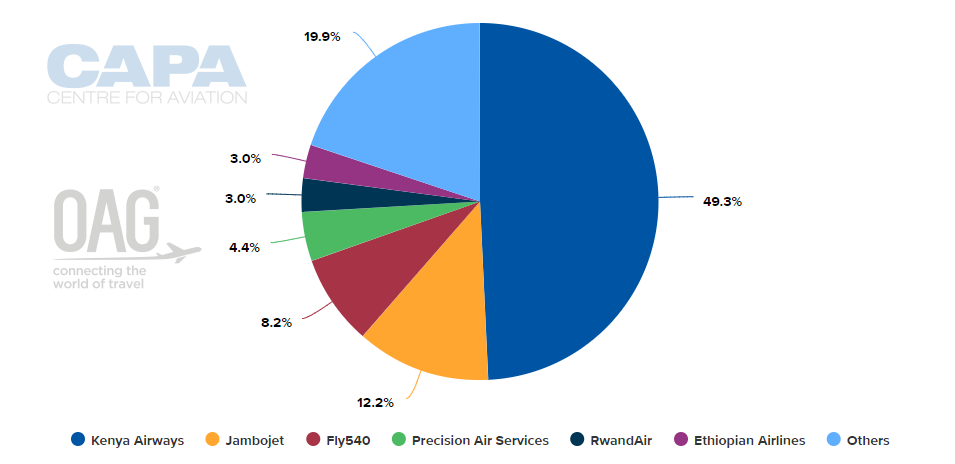 Source: CAPA - Centre for Aviation and OAG (data: w/c 11-Jun-2018)
So as important as Kenya Airways is, as the government hands over NJKIA to the airline, it may find itself accused of uncompetitive practices and learning that competing airlines cannot be treated as second class citizens; they have a hugely significant role to play in the future performance of NJKIA.
And yes, Ethiopian Airlines is well protected at Addis Ababa by its own government, not to mention the Gulf carriers, but two (or more) wrongs don't make a right.
MAP - Latest schedule information shows Nairobi (top) is connected directly to 65 destinations by passenger flights including 16 destinations outside of Africa. Meanwhile, Addis Ababa (bottom) has direct passenger flights to 104 locations, with 35 outside of the Continent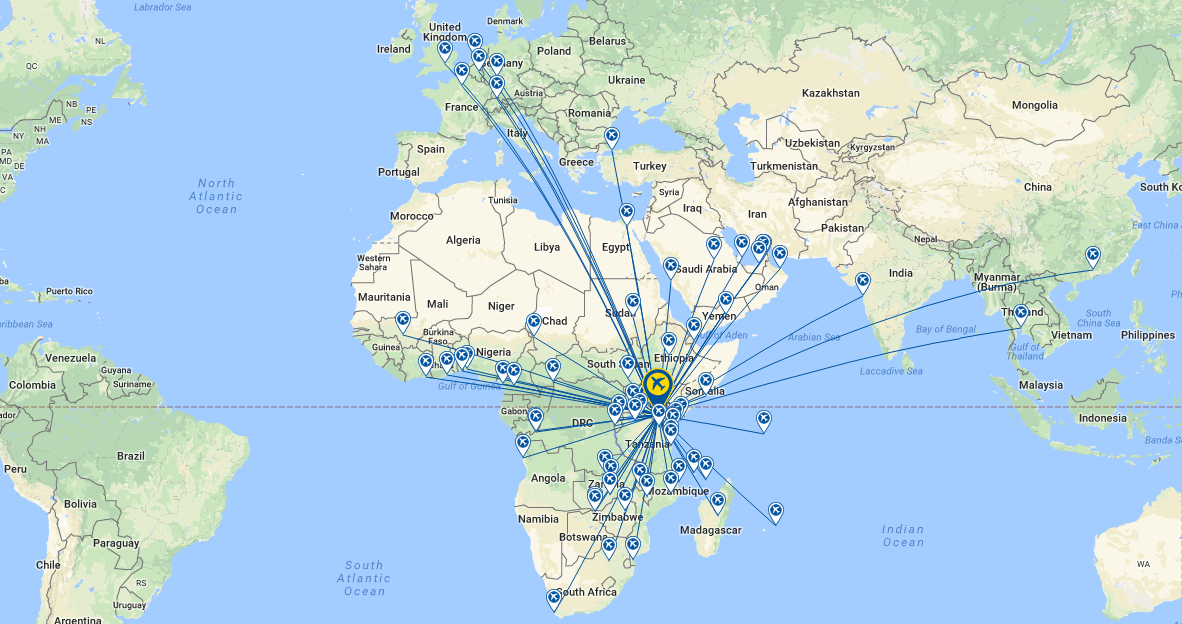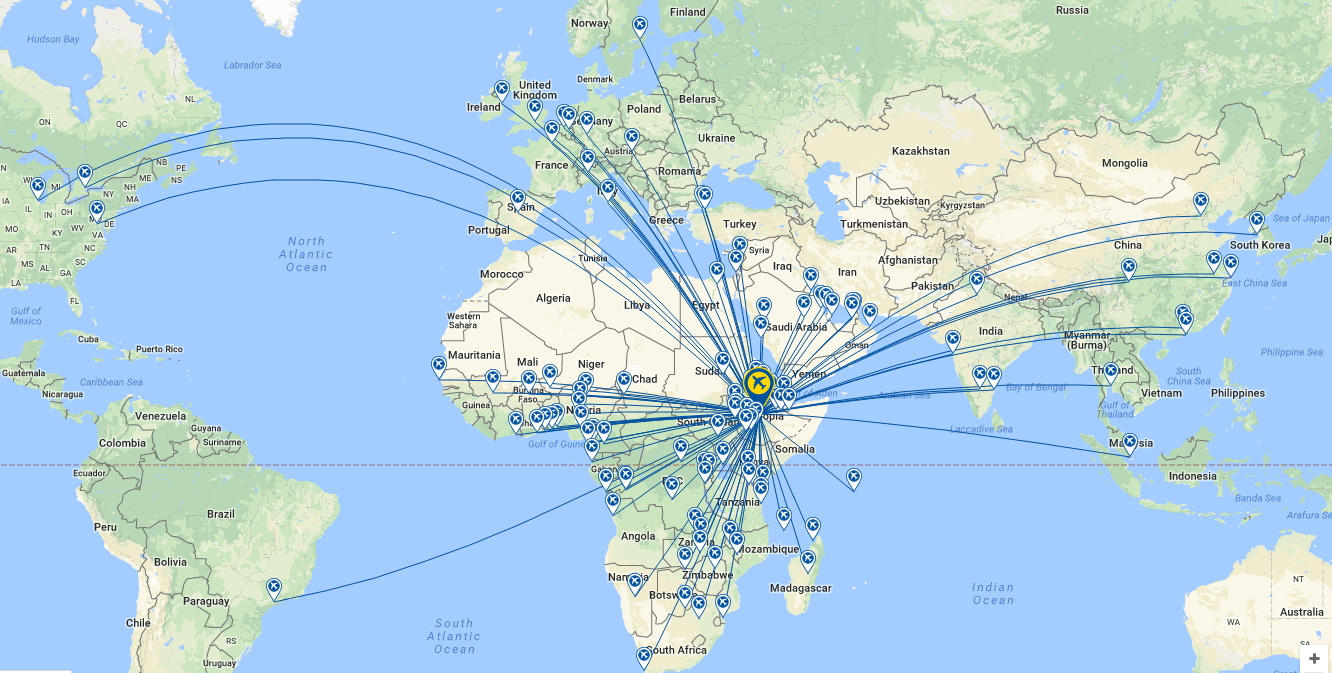 Source: CAPA - Centre for Aviation and OAG (data: w/c 11-Jun-2018)
Speaking of "performance", Kenya's aviation sector in general has been struggling in the last decade, as demonstrated by the declining fortunes of Kenya Airways. Over the last three years, Kenya Airways has accumulated debts running to USD2.2 billion — partially the result of an ill-timed aircraft acquisition programme. As a result, the company, not able to service its debts, was lurching towards insolvency.
So one can well imagine that the airline "takeover" of the airport is regarded as a win-win by the government; countering the impact from Ethiopia and the Gulf by copying the modus operandi. But Kenya adopted the 2015 Africa Union's Declaration on the Establishment of the Single African Air Transport Market (or SAATM), the nearest that the continent has come so far to implementing the decades-old Yamoussoukro Agreement. By taking this action it threatens to slam the door, again, on Yamoussoukro, which might have a more destabilising impact in the long term.
The current wisdom within government is that in the next stage of the new experiment, the national airline will be made to operate more or less like Middle East carriers by being allowed advantage and control over aviation-related businesses such as ground handling, fuel distribution and catering and maintenance repairs and overhaul businesses. The precise financial commitment to investment in the airport's infrastructure by Kenya Airways was not revealed.
Note: The CAPA Global Airport Investors Database lists over 30 airline "investors" in airports which are 'active', 'potential', or 'lapsed'. They include the likes of Lufthansa, Ryanair, Aeroflot Russian Airlines, Bangkok Airways and Qatar Airways.