Looking at the UK market alone and the majority of its major airports now charge for even the shortest drop-off and pick-up durations at specified locations outside of the terminal building. These can be up to GBP3 for stays less than five minutes, up to GBP4.50 for up to ten minutes, GBP10 for up to 15 minutes and as high as GBP25 for 30 minutes, with some adding hefty penalties for exceeding specific durations of stay.
There are some exceptions to the rule that still allow free drop-offs and pick-ups, while many airports have an alternative area that can be used free of charge, but this is usually a little way away from the terminal and accessed either via a shuttle or longer walk.
Although the fees are unpopular, airports claim they are offering options for different passenger requirements and have the premium levy for the convenience of arriving or departing closer to terminal building. They also use the charges to help manage congestion in what is a capacity-restricted area, albeit the commercial gain will always be seen by passengers as the overriding motivation for airports.
A recent comparison from Taxi Insurers Staveley Head of short-term drop off and pick up charges at the UK's busiest airports highlights just how varied charges are from one airport to another and that you could be charged less for a stay of 30 minutes at one than the cost of simply passing through a barrier at another. The data, detailed in the table below, is all sourced from the UK Civil Aviation Authority (CAA) and ranked from the most expensive to the cheapest based on a ten minute stay directly outside the terminal.
While, London's Southend Airport does not charge for stays of less than five minutes, time perhaps for a peck on the cheek of your loved ones, it is actually the UK's most expensive airport for a ten minute drop-off, charging GBP4.50. However, for those needing a slightly longer wait (which is usually unpredicted and based perhaps on arrival, immigration or baggage collection delays), London's Stansted Airport is the most expensive for a 30 minutes wait, charging GBP25.00. That's almost £1.00 per minute!
TABLE - Short-term drop off and pick up charges at the UK's busiest airports are highly varied by location and duration of stay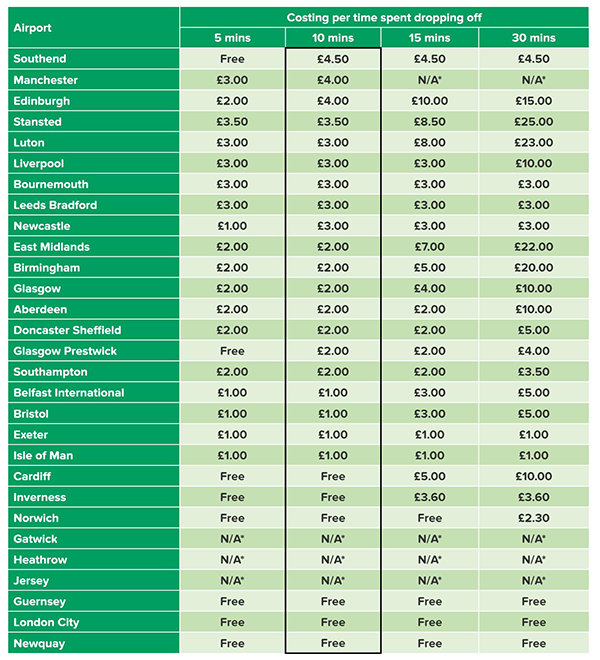 Source: Staveley Head and UK CAA
Manchester Airport became the latest UK airport to adopt these charges from Jul-2018. It actually has a restriction limiting stays to just ten minutes with significant penalties if that limit is exceeded. The airport said the charge is to "ease congestion" with one of the main causes of the congestion was the "high proportion of vehicles re-circulating around the campus".
According to the official, at peak times, one in five drivers has to do an extra lap of the airport before they can find a drop-off space, even though 84% stay for less than five minutes. The airport has warned that anyone trying to avoid the fees by lapping the airport will face a GBP25 fine, with automatic number plate recognition used to monitor the traffic.
Elsewhere in the UK, Newcastle International Airport has from this month doubled its charge to drop off passengers in its Express car park at the front of the airport's main building. The price hike is part of a major review which will see tariff increases across all of the airport's fee-paying car parks, albeit it will still offer 15 minutes of free parking in its former medium stay car park - renamed Short Stay 2 - a short distance away from the terminal.