---
Summary:
Korea Airports Corporation (KAC) generated KRW925.5 billion in revenue at its 14 Korean airports in 2018 and expects to break the KRW1 trillion figure in 2019;
KAC has secured several airport contracts in Latin America and expects them, and others, to contribute extensively to its bottom line in 2019;
But, while it seeks expansion at home as well some municipalities want other corporations to take over some of its airports.
---
Within Korea, KAC aims to handle more than 90 million passengers in 2019, partly by offering airlines financial incentives to operate larger aircraft and launch new international services. But, it is the activity away from home that is getting attention, particularly in Latin America where assets include Manta Airport in Ecuador and Pereira Matecaña International Airport in Colombia.
KAC has been actively seeking selective foreign acquisitions for some time, but you could say that it has been unlucky in its selection of tenders and that is putting it mildly. Examples include the concession on the Kingston Norman Manley International Airport in Jamaica (for which it prequalified but the original deal on offer fell through as the anticipated return on investment was too low); the USD150 million P3 contract to modernise the Asuncion Silvio Pettirossi Airport in Paraguay, which also collapsed; and the Chinchero Cusco green field airport contract in Peru, which was cancelled and put into the public sector instead by the government.
MAP- KAC's portfolio of airports (owned or managed) in South Korea spreads across the entire country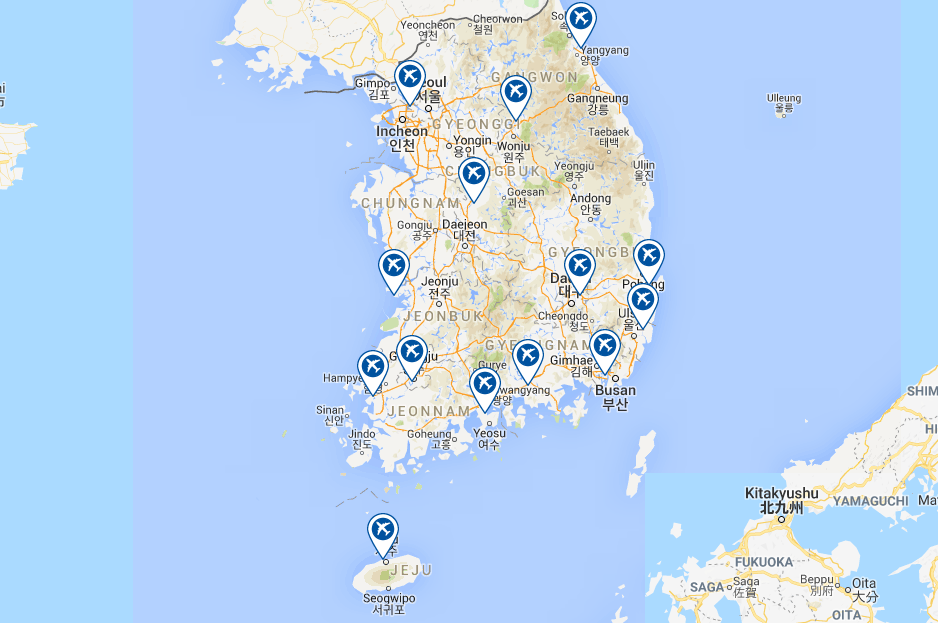 Source: CAPA - Centre for Aviation Airport Investor Database
Indeed, as long ago as 2013 KAC was broadcasting that it was seeking to construct airports in Peru and Vietnam to obtain new revenue sources in "emerging markets", adding that it was urgent that the law be revised to enable the company to expand in overseas countries. By law, at that time KAC could build an airport only when the government asked it to do so. Even before then, in 2012, it had been awarded a USD48 million contract to reconstruct airports in Benghazi and Misurata, in war-torn Libya.
But it was only in Sep-2017 that the Ecuadorean DGAC announced KAC was interested in partnering with Ecuador for the concession and development of airports including Latacunga Cotopaxi International and Manta. Prior to that KAC had won a KRW1.83 billion (USD1.6 million) contract to provide operational consulting services to the Pereira Matecaña International Airport.
KAC president Sung Il-hwan was quick to claim this contract would "strengthen" its entry into the Latin America market, saying "We will actively participate in airport operations in Latin America, including Ecuador and Brazil". Shortly thereafter, KAC confirmed it had been selected as the priority negotiation rights holder on a tender for operation management rights for Manta Airport, Santa Rosa Regional Airport and Latacunga Cotopaxi International Airport in Ecuador.
Separately to all this, KAC has been contributing to the Korea Overseas Infrastructure and Urban Development Support Corporation (KIND), in parallel with the better-known Incheon International Airport Corporation (IIAC) and five other Korean corporations. KIND will participate in foreign infrastructure development projects, including airport development projects. KIND was officially established in Jun-2018 and will have an annual operating budget of KRW200 billion (USD187.2 million).
Moreover, KAC is reported to have established its own KRW35.5 trillion (USD33.2 billion) infrastructure fund for airport development projects in Central and South America including the New Bogota Airport in Colombia and the operation of Guayaquil Jose Joaquin de Olmedo Airport in Ecuador.
Just why KAC should be so fixated on Latin America is unclear. IIAC is not particularly attracted to that part of the world; rather to Asia Pacific and Europe. On the other hand, Latin America has long been popular with Koreans. There is reputedly a Korean diaspora of 250,000 in Brazil and 35,000 in Argentina while Paraguay also had a high Korean population though it has diminished now.
KAC has not shown its hand in Brazil yet, but it could do in the next two rounds of concessions there, which are overwhelmingly of smaller airports, like those in Ecuador and Colombia.
CHART - KAC's busiest airport is Jeju International where following rising passenger demand, growth has stalled over the past two years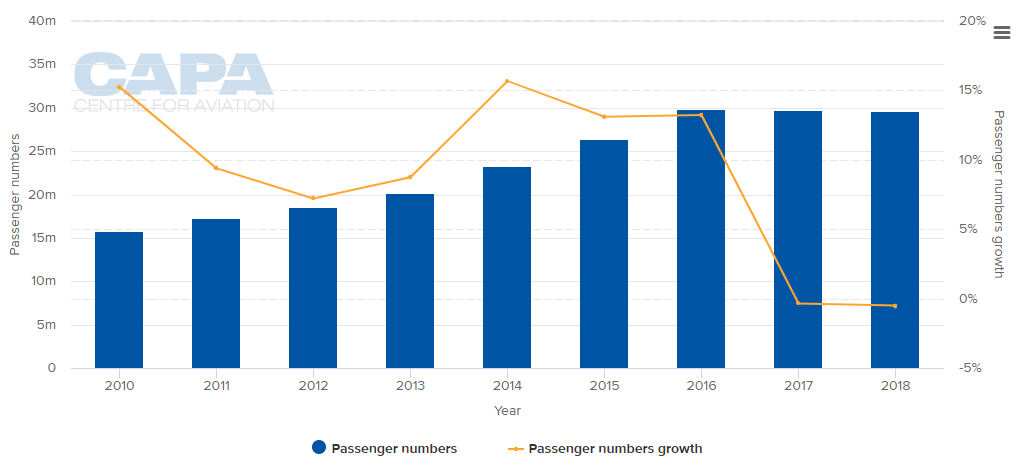 Source: CAPA - Centre for Aviation and Korea Airports Corporation
Standing in contrast to these foreign excursions is the intention expressed by the Jeju Province Governor candidate Kim Bang-hoon last year to establish Jeju Airport Corporation (JAC) and transfer ownership and management rights for Jeju International Airport from KAC if elected, on the basis that "KAC lacks the funding required adequately to develop Jeju Airport."
But KAC remains ambitious at home too, and wants to increase the total number of airports under its operation to 18 by 2026 if its efforts to secure operating rights for the New Jeju Airport, Ulleungdo Island Airport, Heuksan Airport and New Busan Airport are successful.
KAC is expected to face challenges from several South Korea regional municipal governments, two of which have already publicly advocated for the establishment of new airport corporations to operate New Jeju Airport and New Busan Airport. In these circumstances it would be reasonable to expect more "foreign" activity from KAC.