---
Highlights:
Korean Air has stopped selling first class on 27 international widebody routes;
Korean Air is expected to take out first class cabins as it retrofits its existing widebody fleet;
Future widebody aircraft will also likely be delivered without a first class cabin.
---
The South Korean flag carrier has a first class cabin on all 103 of its widebody aircraft. Only Emirates Airline and British Airways have more aircraft with first class cabins, according to latest information from the CAPA – Centre for Aviation Fleet Database.
More than 30 airlines globally still offer first class products but Korean is one of only five airlines that have at least 50 aircraft with first class seats. CAPA data only counts a seat as first class if there is also a business class cabin in the same aircraft; for example seats marketed as first class on two-class narrowbodies are excluded.
TABLE – Emirates Airline, British Airways and Korean Air top the list of first class airlines based on the number of aircraft they operate with first class seats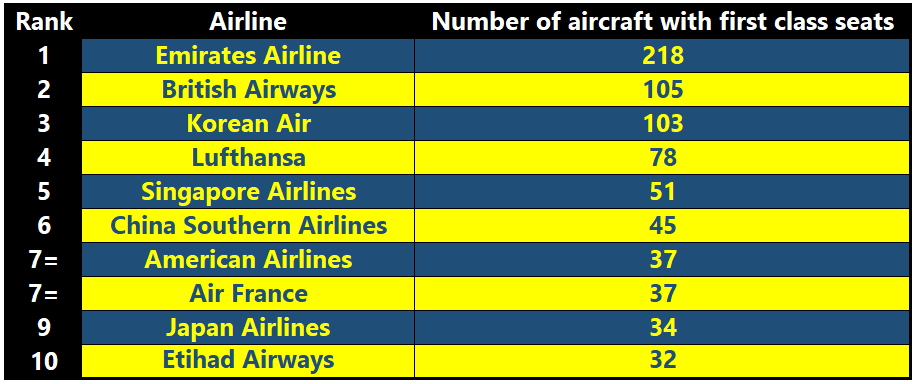 Source: CAPA – Centre for Aviation Fleet Database (NOTE: first class seats only counted as first class if there is also a business class)
Korean stopped offering a first class service on 27 international routes from the beginning of Jun-2019. These routes are operated with three-class (first, business and economy) widebody aircraft but the first class seats are now sold as business class with a business class service provided.
The airline continues to sell first class on nearly 40 international routes. It currently operates around 120 international routes; slightly over 50 routes are operated with narrowbody aircraft (mainly two-class 737s and a small number with single-class Airbus A220s).
All 10 of Korean's mainland US routes still have a first class service as well as 14 other long haul routes. However, first class is no longer available on 11 long haul routes (more than eight hours): Seoul to Auckland, Barcelona, Brisbane, Istanbul, Madrid, Nadi, St Petersburg, Toronto, Vancouver and Zagreb and Tokyo Narita to Honolulu (First class is still available on Seoul-Honolulu).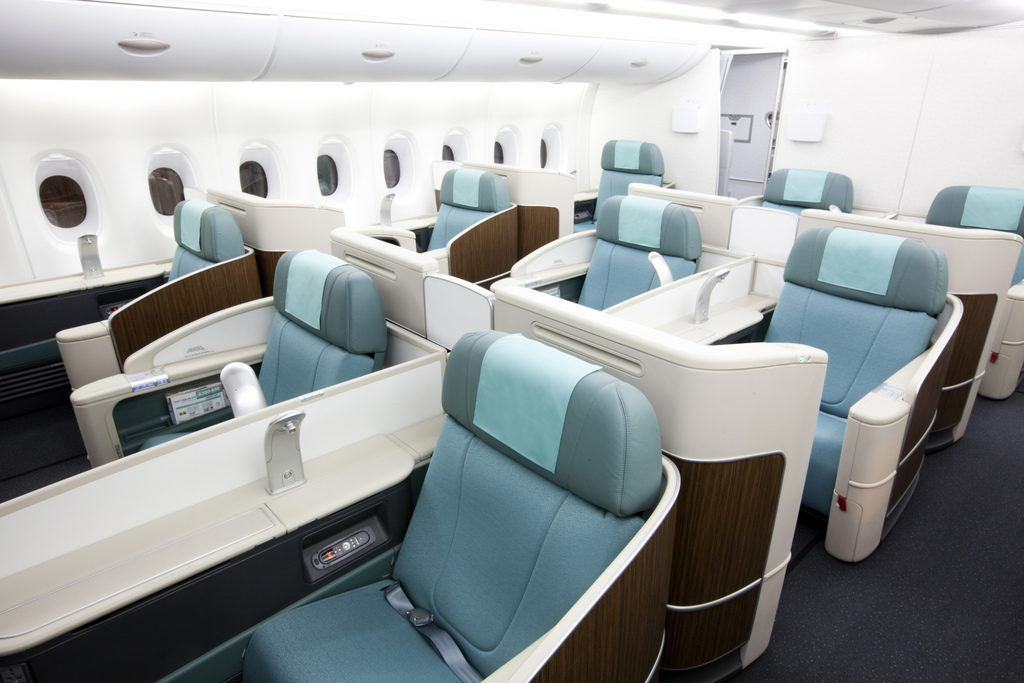 Korean is intending to remove first class seats on A330s, Boeing 787s and older model 777s as part an upcoming cabin retrofit programme. Korean is also considering removing first class from A380s, 747-8s and 777-300ERs, which would result in the airline not offering first class on any flights.
Korean Air CEO Walter Cho said at a 3-Jun-2019 media briefing following the conclusion of the IATA AGM in Seoul that the airline is planning a modernisation project for its existing fleet that will include WiFi, new seats, new configurations and new services. Mr Cho said Korean is talking to seat suppliers but the lead time for new seats is almost three years. "We will get there as soon as we can," he said.
New widebody aircraft, including 30 additional 787s that were announced this week at the Paris Air Show, are also expected to be delivered in a two-class configuration without first class.

Mr Cho said halting the sale of first class on some international flights improves efficiency and allows for "a simplification of service". The 27 routes that no longer have a first class service often had only a few first class passengers. Having to cater for first class and dedicate flight attendants was therefore inefficient and Korean believes by eliminating first class it can provide a better business class service.
Removing first class entirely would be a bold move, given that Korean has historically included first class on all widebody aircraft. However it could be sensible given market dynamics. Corporates generally do not permit first class travel, and it is increasingly hard for any customer to justify spending on first class, considering the improvements in business class products.
Korean will likely join other leading Asian airlines in introducing lie-flat business class seats with all aisle access across its widebody fleet. Korean may be better off scrapping first class entirely and focusing on offering a leading business class product.