---
Summary:
Kuala Lumpur International may not be Southeast Asia's busiest airport but right now it is the fastest growing amongst its peers and is the twelfth busiest anywhere for international passengers;
Singapore is Malaysia's largest provider of tourists and that fact is reflected in up to 84 daily flights between Kuala Lumpur and Singapore;
Future growth prospects at the hub are not helped by reluctance to commit to direct European flights, but that could change;
Kuala Lumpur International's operator projects a doubling of capacity in the next 10-20 years.
---
Apart from Hong Kong, which is nine million passengers ahead of its nearest regional rival, Jakarta's Soekarno-Hatta airport (which also saw the second largest regional passenger growth figure in 2017) there is a similarity in the performance of the other four regional gateways/hubs, with Manila's Ninoy Aquino International Airport the outlier, with 42 million passengers. All are in a position where they have an incentive to chase further pre-eminence.
CHART - KLIA grew at a much faster rate than its peer group of airports in 2017 and was the only one to record a double-digit year-over-year rate of growth
Source: The Blue Swan Daily and ACI
KLIA was also identified as the twelfth busiest airport in the world for international passenger movements in 2017. Malaysia Airports Holding Berhad (MAHB), the airport's operator, launched a strategic collaboration with Tourism Malaysia in Nov-2017 to build on this statistic, to promote inbound traffic globally, focusing on tourists from China, India and Europe.
Those three countries/regions aren't necessarily the largest providers of tourists, however. Singapore is the biggest by some margin, with almost 48% of the total number of foreign tourist visitors. China/Hong Kong (8.8%) is the third largest, after Indonesia, while India languishes in sixth position with just 2.1%. The European country providing the most visitors is the United Kingdom but that is only 1.4% of the total.
Presumably this push on China and India is dictated by the huge numbers of potential visitors from those countries, which both have a population count in excess of one billion, while the previous colonial ties between Malaysia and the UK and more recent connections through the Commonwealth will influence the focus on that nation.
CHART - Singapore dominates in terms of tourism arrivals in Malaysia and accounts for almost one in every two international visitors last year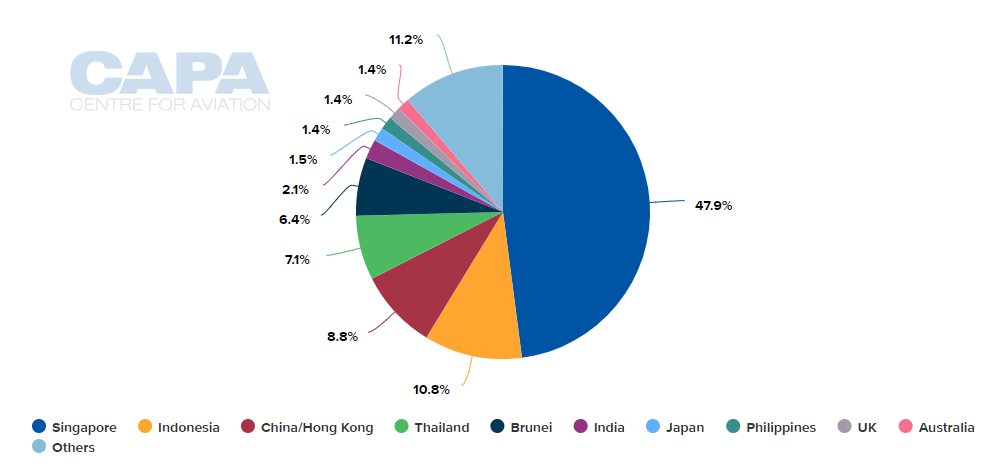 Source: CAPA - Centre for Aviation and Tourism Malaysia
While Europe as a whole may be a target market for tourism, that does not reflect in the current flight schedules. KLIA has 95 non-stop passenger destinations in Asia Pacific but just three in Europe (London, Amsterdam and Istanbul). There have been attempts to operate others, such as a Malaysia Airlines service to Manchester over a decade ago which was targeted at sixth freedom flight opportunities to Australasia from the UK and Malaysian sporting fans visits to soccer matches in the North of England, but without success.
Malaysia Airlines (MAS) and AirAsia X's dominance of long-haul services out of KLIA may be a hindrance to its touristic targets. Currently, MAS has 22.2% of all seat capacity and Air Asia X has 9.7%. Neither shows much propensity to be inventive with new long-haul routes westbound though that could change in AirAsia X's case with the progressive arrival of 66 A330-900neo and 10 A350-900 XWBs.
Western airlines such as Norwegian could serve KLIA from European cities. In its various guises it already flies to Bangkok and Singapore. The commencement of services to an airport which has an almost tailor-made terminal for low-cost, long-haul services would be quite a coup for MAHB.
CHART - LCCs just dominate out of KLIA with a 52.6% share of departure capacity; AirAsia leads the way in terms of airline share ahead of national carrier Malaysia Airlines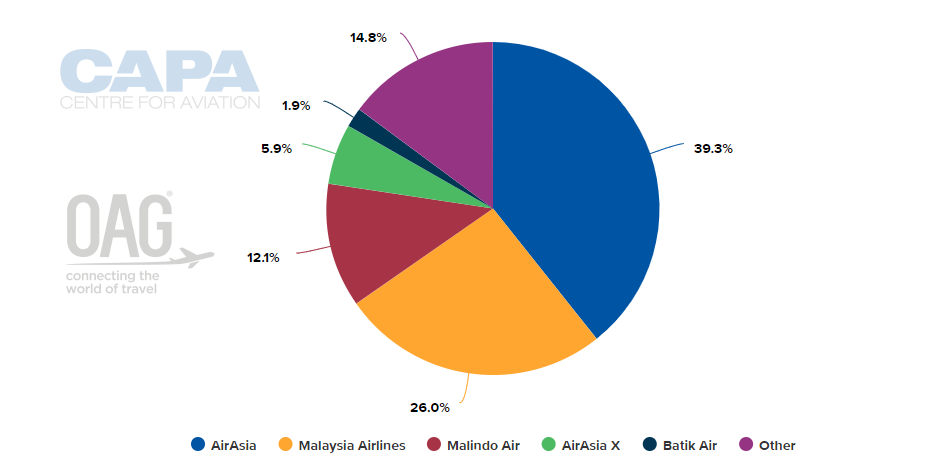 Source: CAPA - Centre for Aviation and OAG (data: w/c 07-May-2018)
The huge influx of 'tourists' into Malaysia (many of whom will do so via other means of transport of course as there are rail services and good roads, and many will be there for business reasons) is reflected in the enormous number of flights between KLIA and Singapore's Changi Airport. It is in fact the world's busiest air route.
Recently it was revealed that of the world's 20 busiest international air routes, 14 of them operate to, from, or within Asia, including the top seven. Many of those routes have strong competition, with an average of seven carriers operating on them, compared to an average of three in North America and Europe. The most interesting statistic is that those routes each have an average of over 35 daily scheduled frequencies and in the case of the busiest one between KLIA and Singapore it is 84.
MAHB, which also has considerable foreign airport interests – though it does tend to trade them on frequently (Hyderabad and Male airports so far in 2018, possibly Istanbul's Sabiha Gökçen to come) seems to be putting its eggs increasingly into one basket, despite recently claiming to be looking hard at airports in India. That basket is KLIA. At the end of Apr-2018 MAHB's CFO confirmed plans to double KLIA's capacity from 75 million to 150 million passengers per annum in the next 10 to 20 years, which would put it, in today's terms, into the top five globally as measured by annual capacity.
In the interim, according to the CAPA Airport Construction Database, there are projects being undertaken or envisaged related to terminal development, a new runway, control tower and airport city developments including a digital free-trade zone, to the value of USD1.3 billion.
So while KLIA rarely makes the headlines in the way some of its better-known rivals do, it actually occupies a position of greater gravitas in the overall scheme of things than it is given credit for.