See related article: New LAN-TAM parent LATAM emerges as a leader globally and a powerful source across South America
LATAM consolidated results: 2Q2012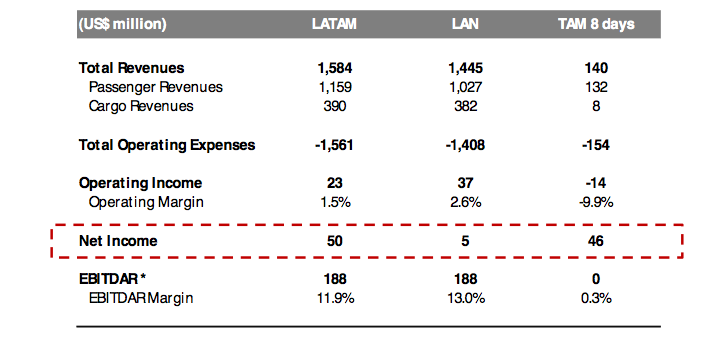 The loss at TAM was a reversal of a BRL60 million (USD30 million) profit the airline recorded during 2Q2011. LATAM attributed the weak performance to the 23% depreciation of the Brazilian real and a decrease in revenues from TAM's Multiplus frequent flyer programme, which was spun off in 2010 and is run as a separate business unit.
TAM select financial statistics: 2Q2011 vs 2Q2012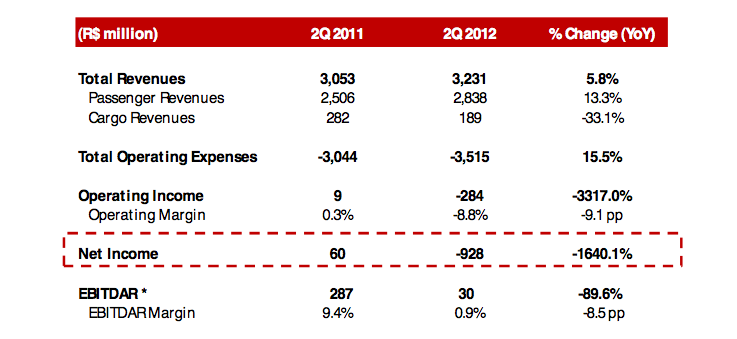 The results at TAM included a BRL846 million (USD419 million) foreign exchange loss and a negative BRL94 million (USD47 million) result in TAM's fuel hedging programme. Interim LATAM CFO Alexjandro de la Fuente told analysts during a 13-Aug-2012 earnings call that in order to mitigate the volatility in foreign exchange and fuel hedging the company was examining options to move TAM assets to the LATAM balance sheet, and all future aircraft deliveries at TAM would be financed by the parent company. All hedging going forward will also be carried out at the LATAM group level.
LAN's slide in net income resulted from pressure in its cargo operations and one-time costs associated with collective bargaining agreements and one-time charges recorded from the business combination with TAM.
LAN select financial statistics: 2Q2011 vs 2Q2012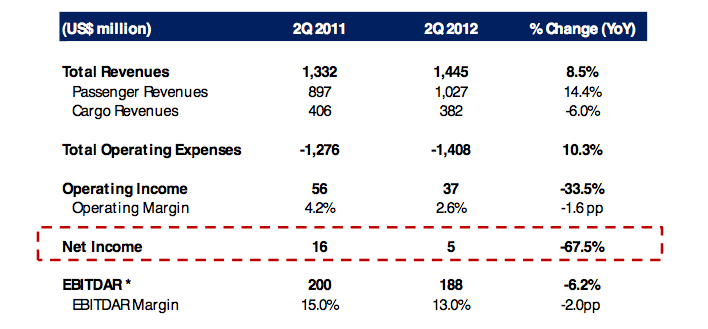 Cargo revenues for LAN declined 6% year-over-year during 2Q2012 to US382 million, a reflection of the challenging environment cited by Mr de la Fuente. He stated imports into South America weakened during the quarter, which was somewhat offset by stronger demand for commodities from the region. During Jul-2012 LAN and TAM integrated their respective cargo divisions, and for the remainder of 2012 the company expects to take delivery of two Boeing 777F aircraft to replace 767s for operation on routes to Europe and denser routes within South America, Mr de la Fuente explained.
LAN aims for positive contribution from Colombian operations in 2013
LAN has revised its break-even target for its Lan Colombia subsidiary from 2012 to 2013 after the carrier incurred a USD19.5 million loss during 2Q2012. LAN attributed the loss in Colombia partially to expense in the replacement of the former fleet of Aires, which LAN purchased as its Colombian growth platform in late 2010.
LAN is gradually phasing out the 737-700s previously operated by Aires. During 2Q2012 three 737-700s were returned to lessors while three A320s were introduced into Lan Colombia's operations. Two additional Airbus narrowbodies are expected to come online by year-end 2012.
See related article: LAN outlook brightens as strong 3Q2011 earnings are recorded and as merger with TAM nears
LATAM management also cited the work the company is doing to improve Lan Colombia's positioning among higher-yielding business travellers. Company executives noted the "flagship carrier" (Avianca, which is part of Avianca-TACA Holding) resonates strongly among those passengers while Aires' did not have a strong presence in the business market. LAN is working to improve its reach into the higher-yield passenger base through product improvements and bolstering relationships with travel agencies.
Lan Colombia's capacity grew 17% year-over-year, which was the second largest increase behind the 26% ASK growth recorded by LAN's domestic operations in Argentina. The results in Argentina reflect the disruption ushered in by the eruption of the Pueyhue Volcano in Chile, which created an ash cloud that spread and affected flights in nearby Argentina in 2Q2011.
LAN Group capacity change year-over-year: 2Q2011 vs 2Q2012

Both LAN and TAM show strong unit revenue growth during 2Q2012
LATAM's combined total operating revenues during 2Q2012 reached USD1.6 billion, and separately each carrier reported strong growth in unit revenues.
LAN's unit revenues grew 4% year-over-year during 2Q2012 despite a 1.4% decline in yields. The company's 16% traffic growth outpaced the 10% growth in capacity, which helped drive load factors up 4.5 ppts to 82%. LAN stated lower fuel surcharges and lower fares resulting from price promotions drove the decrease in yields.
LAN select operating statistics: 2Q2011 vs 2Q2012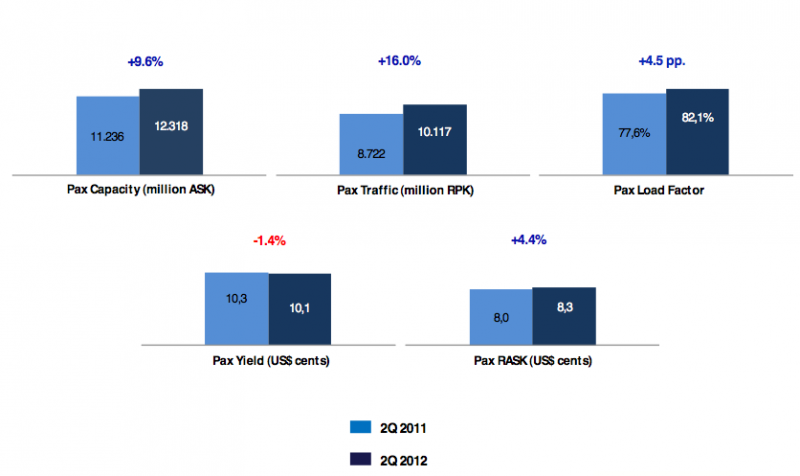 TAM recorded double digit unit revenue growth during 2Q2012 in both its domestic and international operations of 15% and 13%, respectively. The carrier's domestic yields increased roughly 14% year-over-year in both domestic and international markets. TAM decreased its supply 1.2% in the Brazilian domestic market as both TAM and its largest domestic rival Gol have steadily revised domestic capacity targets throughout 1H2012 to rationalise supply with demand.
See related article: Continued erosion in Brazil's domestic demand triggers stringent capacity discipline for Gol and TAM
TAM select operating statistics: 2Q2011 vs 2Q2012
LATAM management declared the conditions are in place to improve TAM's Brazilian operations, noting the 8.5ppt increase in the carrier's domestic load factor in Jul-2012 to 81% was the highest of all Brazilian domestic operators, and attributed the performance to improved revenue management and pricing strategies. TAM's projected capacity decrease in the domestic market for full-year 2012 is 2%-3%, which is a slight revision from a previous projection of zero growth to a 2% decrease. LATAM executives remarked that Brazilian domestic capacity can be managed through the reallocation of aircraft to other LATAM business units if necessary.
TAM's overall supply in 2012 should decrease by 1%-2% as combined LATAM capacity should rise between 3%-4% for the year driven by a 12% rise in LAN's capacity.
LAN plans buildup in Lima
LATAM executives stated the company's business in international markets remained solid, even in the shaky European markets. Not surprisingly yields in European markets are not as strong as LATAM's long-haul North American markets.
The company expects a large portion of the overall capacity increase in 2012 to be dedicated to its north-south long-haul markets to North America. During the next few months and into 2013, LATAM will increase capacity at its Lima hub to take advantage of the strong demand on North American markets to feed its South American network. Lan Peru is the largest carrier in Lima in terms of international seating capacity, holding about a 40% share. Lan Peru's North American routes from Lima include New York JFK, Los Angeles, Miami and San Francisco.
Lima J Chavez International Airport international capacity by carrier (% of seats): 13-Aug-2012 to 19-Aug-2012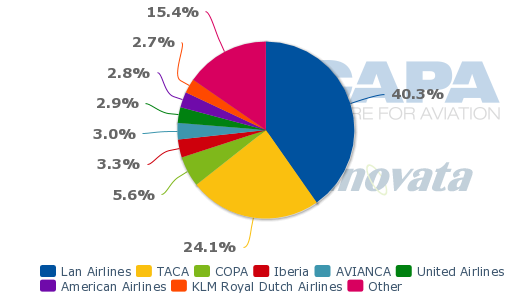 LATAM expects to dedicate the four 777-300ERs scheduled for delivery throughout the remainder of 2012 to TAM's most profitable long-haul routes, which are operated to the US. LATAM management stated the capacity is needed for this "very good market".
TAM currently operates flights from various points in Brazil to New York JFK, Miami and Orlando. TAM in Nov-2012 is upgrading its two daily flights from Sao Paulo to Miami from 223-seat A330s to the 362 seat 777-300ERs. During Oct-2012 TAM is introducing new flights from Rio de Janeiro to Orlando, and also plans to increase weekly frequencies between JFK and Rio and from Miami to Brasilia and Belo Horizonte.
See related article: American Airlines and TAM continue to expand US-Brazil as other markets show signs of weakness
The US expansion at TAM will reduce the carrier's reliance on the Brazilian domestic market. During the 1H2012 domestic Brazil accounted for 37% of total consolidated capacity at LATAM.
LATAM's consolidated capacity breakdown by geographic region: 1H2012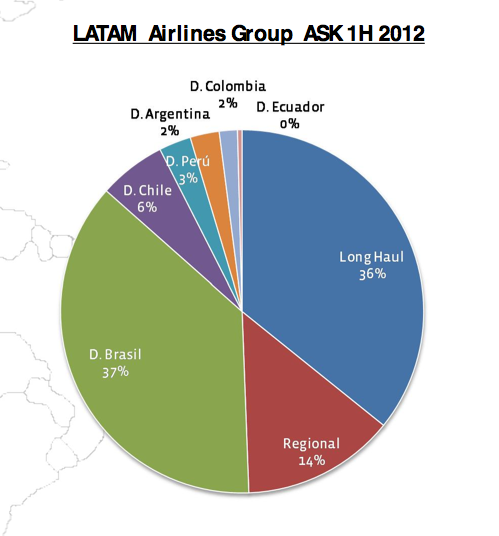 In the weeks after the close of the merger LATAM started cross-selling some flights and has launched codeshares on international pairings including Santiago to Orlando, Madrid and London. LATAM executives stated that the company has reached a favourable cross-selling base earlier than expected and passenger use of the codeshares are larger than initial expectations.
The company is also starting network tweaks to feed short-haul traffic to long-haul routes. Executives stated some of that will be achieved in the Lima build-up and transiting more passengers on LAN's flights from Argentina, Chile and Peru to TAM's Rio de Janeiro hub to strengthen TAM's long-haul operations at Rio.
Even as LAN and TAM had a short window between the close of their merger and the release of the first consolidated LATAM financial statement, work is continuing to eventually achieve USD600 million to USD700 million in annual synergies through network refinements and the combined carrier's ability to redeploy assets where they can achieve a higher return.
Background information
LATAM fleet projections: 2012 to 2014