To be competitive hub airports attempt to minimise the times between arriving and departing flows to offer a more convenient experience to transferring passengers. However this needs to be reduced to a sustainable level that allows a gentle flow from inbound and outbound aircraft. A short delay on the arriving aircraft, inconvenient gate allocations and too short a transit time can turn that short relaxing connection into an airport sprint.
"Quick efficient connections make the hubs work," says aviation intelligence provider OAG, which has analysed its flight schedule databases to deliver the impact revised security measures and an extended minimum connection time would have on Europe's major hub airports.
Whilst the threat of an expanded laptop ban appears to have disappeared for the moment, the potential impact on connections could be very significant. Using OAG Connections Analyser the company looks at potential impact on an expanded minimum connecting time of 75 minutes at each airport on "online connections" to accommodate the increased security, potential handover of a laptop and secondary search processes on connections between Europe and the United States of America.
CHART – Potential Lost Connections from Increased Europe – USA Connecting Times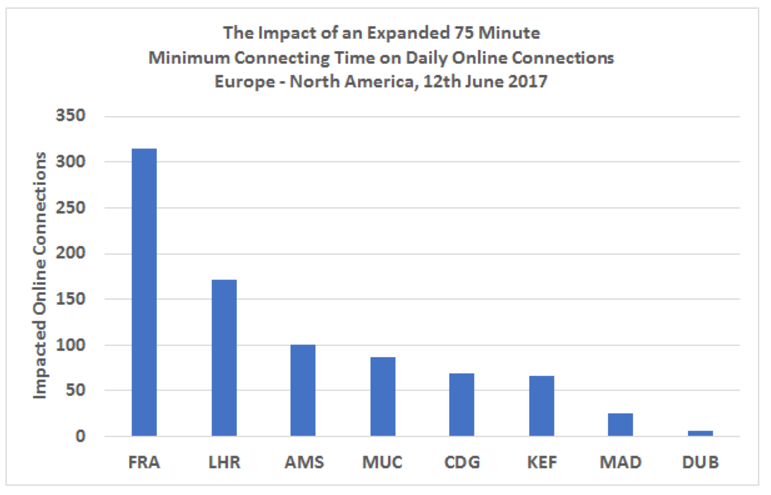 Source: OAG Connections Analyser
The data shows that Frankfurt would appear to be the hub airport with the most reason to be concerned. "Assuming the increased minimum connecting time then some 314 possible connections are at risk," says OAG. London Heathrow in the same analysis would lose some 171 existing connections with Amsterdam Schiphol at threat of losing around 100 such connections.
These numbers seem high, but remember the whole hub-and-spoke concept works off of delivering multiple connections to each onward flight. When you extrapolate that rate to include multiple arriving aircraft in each window then those connection options multiply significantly. This can be seen clearly in the case of arrival and departing traffic flows at Frankfurt, which has non-stop connectivity to 285 destinations, including 30 in the US.
CHART – Frankfurt Airport Flight Arrival and Departure Flows Per Day (July 11, 2017)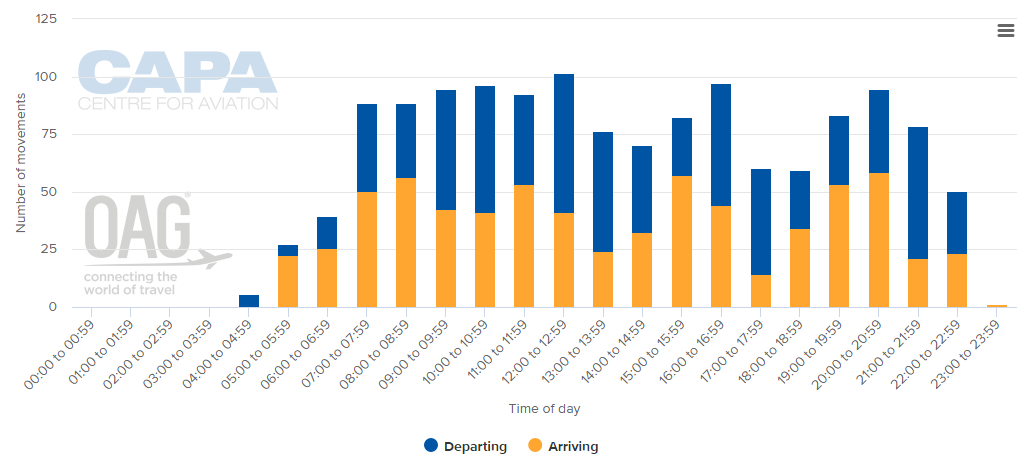 Source: CAPA - Centre for Aviation and OAG
The hub airport least affected by this change is Dublin, according to OAG, where only four potential connections would appear to be under threat. No doubt in the case of Dublin, US Pre-Clearance and the already extended connection times reduce the impact of any such ban.
In short, OAG says the morale of the analysis is that running is not always good for you! "Short minimum connecting times are brilliant although stressful for all but in a changing world with potentially increased security measures, many of them disappear," says the data provider. For the airlines this means either the complex task of changing its schedules to accommodate longer minimum connecting times or accepting that some traffic flows may be lost.