LATAM Airlines Peru's Boeing 767-300ER is the first of over 200 aircraft – approximately two-thirds of LATAM's global fleet – to be fitted with its new interior and in-flight experience over the next two years. The aircraft features LATAM's new all-aisle access premium business seat, a revamped economy cabin and LATAM+ Seats, which offer increased space, a dedicated overhead bin and premium services such as priority boarding.
Tracking website Flightradar24 shows flight LA2530 taking off from Lima on 28-Mar-2019, at 11:30am local time and heading south of Pisco, Peru, towards the Pacific where it drew an airplane portrait, before returning to Lima, landing at 2:33pm.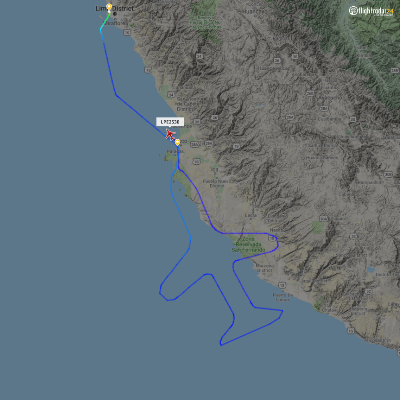 The Boeing 767-300ER, registration CC-CXC, was modified over four months in Abu Dhabi, United Arab Emirates (UAE) and had already entered commercial passenger service ahead of its plane-shaped flight along the Peruvian coast, which was purely for promotional purposes.
LATAM says the aircraft will operate international routes from the airline's Lima hub to destinations in South America (including Santiago, Buenos Aires, São Paulo and Guayaquil), North America (Miami, Los Angeles and Mexico City) and Europe (Madrid and Barcelona).
As part of a US$400 million investment plan announced in August 2018, LATAM will transform the cabins of both long and short haul aircraft, which will operate routes throughout its network. LATAM Airlines Peru will be the first of LATAM's affiliates to receive retrofitted Boeing 767 and Airbus A320 aircraft, with LATAM Airlines Brazil receiving its first new-look aircraft in the coming months. LATAM´s affiliates in Chile, Colombia and Ecuador will also receive revamped aircraft over the next two years.
Manuel van Oordt, general manager of LATAM Airlines Peru, believes the new cabins will help the airline strengthen its position in Latin America. Describing the debut of the new interior product as "a historic day, he explained "onboard experience has a direct impact on airline choice and passenger satisfaction, and we are confident our new cabins will help us to consolidate our position" in the local market.
LATAM's new premium business cabin will be gradually introduced to the airline group's long-haul (widebody) fleet, including current 767 and 777 aircraft and new 787-9 and Airbus A350-1000 due for delivery. LATAM is also modernising the cabins of over 150 Airbus A320 and A321 aircraft.
TABLE - The LATAM Airlines Group fleet extends to more than 300 aircraft with more than 70 more on order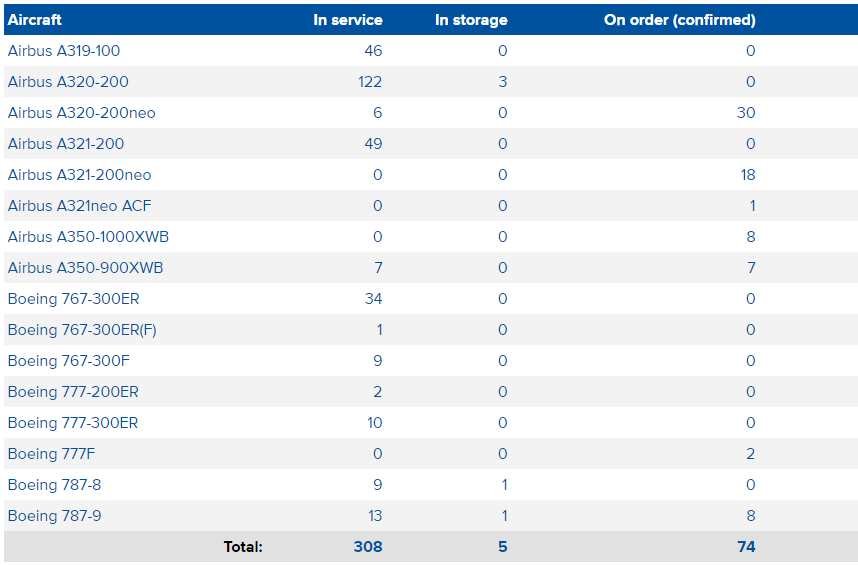 Source: CAPA - Centre for Aviation Fleet Database
After a period of restructuring facilitating the merger of LAN Airlines and TAM Airlines and economic instability across parts of South America, LATAM Airlines Group boosted its network capacity to its highest level last year. After three years of capacity declines in the past four years, the airline group recorded a 7.9% year-on-year rise in system capacity in 2018 as it looks to build for the future. This growth was buoyed by a 11.6% rise in international capacity, albeit its domestic offer also rose a notable 6.8%.
The new business class interior sees the introduction of the "Wide Thompson" seat from Thompson Aero that reclines to a fully-flat position, while offering direct aisle access and an 18-inch inflight personal screen. Meanwhile, the economy cabin will be fitted with Reacro seats and provide USB power ports to charge devices and a 12-inch inflight entertainment screen.
SEE RELATED REPORT: LATAM highlights its future flying experience with new cabin insight
SEE RELATED REPORT: LATAM Airlines Peru customers will be the first to sample LATAM's renovated cabins, a product that has been three years in the making