LATAM and its predecessor LAN have been serving the Australia market since 2002, when the Chile based airline group launched three weekly flights from Santiago to Sydney via Auckland using A340-300s. It gradually upgraded the route to daily and in 2015 transitioned to the 787, initially the -8 followed a few months later by the larger -9, after LAN phased out its A340 fleet.
LATAM Airlines plans to launch three weekly flights from Santiago to Melbourne flights on 5-Oct-2017. This new nonstop route will also be operated with 313-seat 787-9s, giving LATAM 6,260 weekly seats in the Australia market.
While a portion of LATAM's existing 4,382 weekly seats to/from Australia is used by fifth freedom passengers travelling between Sydney and Auckland, a majority of its Australia traffic is heading to or from South America. Following the launch of the new Melbourne flight, LATAM will have more capacity in the local Australia-South America market than Qantas, which now offers 3,698 weekly seats on the nonstop Sydney-Santiago route.
LATAM decided to launch Melbourne service in late 2016, stating that it noticed increasing demand for travel between Latin America and Australia in both the leisure and business sectors. LATAM's Sydney traffic has nearly doubled since 2013, giving the Chile-based airline group confidence that a Melbourne service can also be sustained.
LAN carried a record 184,000 passengers to and from Australia in 2016. Traffic was up 17% compared to 2015 and 88% compared to 2013. LAN's load factor on the Sydney-Auckland route also has improved significantly over the last two years, reaching 83% in both 2015 and 2016.
LATAM Airlines annual passenger traffic and load factor to/from Australia: 2017 to 2016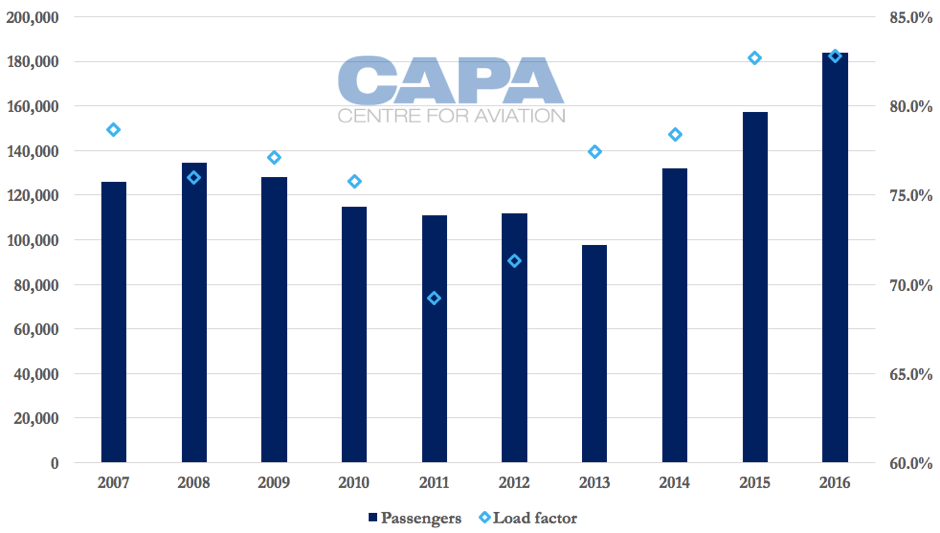 Note: LATAM was previously known as LAN
Source: Australia BITRE
Local traffic between Melbourne and Santiago is somewhat limited albeit growing. However, LATAM is able to offer connections to a wide range of destinations at both ends of the route. Local traffic between Melbourne and Santiago should also be stimulated as the nonstop option is more convenient than the current one-stop connections available via Sydney and Auckland, making Chile a more attractive destination for Victoria residents.
LATAM is Latin America's largest airline group and Santiago is its original base, where it connections throughout Chile and the rest of South America. From Melbourne, LATAM is able to offer domestic connections throughout Australia on partner Qantas as well as connections to Asia.
The new route is a boom for Melbourne Airport, which has not previously had a link to South America and does not attract significant sixth freedom traffic or international to international connections with the exception of New Zealand. Santiago-Melbourne will be an exception as LATAM/Qantas will be able to offer competitive one-stop connections via Melbourne in city pairs such as Santiago-Singapore
LATAM and Qantas are close partners and codeshare on all their Australia/New Zealand-South America services. While LATAM does not offer a nonstop option from Sydney to Santiago, Qantas has offered a nonstop product on this route since Mar-2012. Qantas launched the route with three weekly 747-400 flights and has offered four weekly 747-400 flights since late 2014
Qantas carried 123,000 passengers on the Sydney-Santiago route in 2016 with an average load factor of 81%. Qantas' traffic to and from Santiago has increased by 27% since 2013 – the first full year Qantas operated Sydney-Santiago – but was down slightly in 2016.
Qantas suspended the Sydney-Buenos Aires route prior to launching Sydney-Santiago. Qantas initially launched Buenos Aires in Jun-2008 and carried 73,000 passengers on this route in 2011 – the last full year operating it – with an average load factor of 78%. The switch from Buenos Aires to Santiago, precipitated by a weak Argentina economy and an opportunity to partner with LAN, has resulted in higher load factors as well as significantly more traffic.
Qantas South America annual traffic and load factor: 2008 to 2016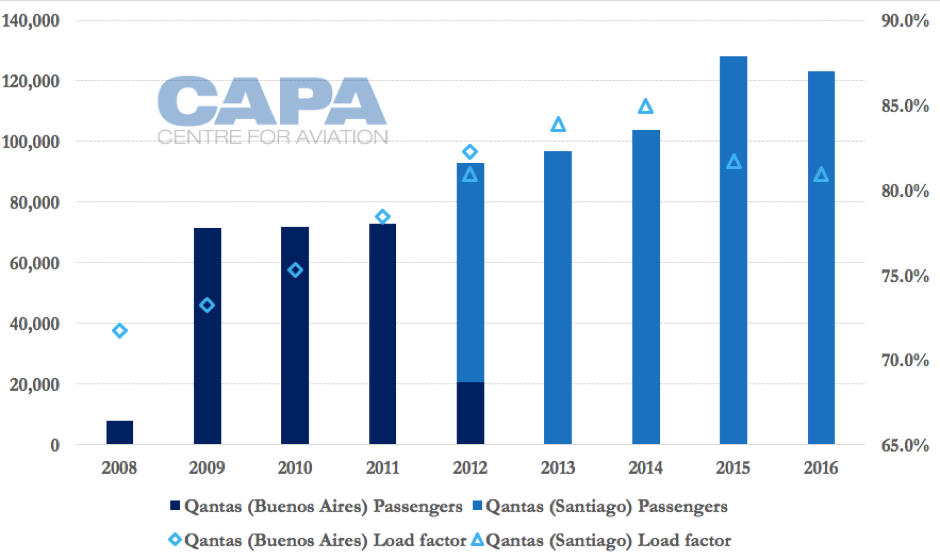 Source: CAPA – Centre for Aviation & BITRE
Aerolineas also suspended services on the Sydney-Buenos Aires route in mid-2012, which it served via Auckland. New Zealand three years later filled the gap, launching thrice weekly service from Auckland to Buenos Aires late 2015. Air New Zealand relies heavily on one-stop connections to several Australia destinations to fill up its Buenos Aires flights.
Air New Zealand initially served Buenos Aires with 777-200ERs before switching to the slightly smaller 787-9 in Oct-2016. It continues to serve the route with three weekly flights with the exception of the during peak southern summer period when it now offers a fourth weekly frequency.
Qantas could potentially use its new 787-9 fleet to replace the 747-400 on Sydney-Santiago, which would result in the 787-9 being used on all four routes across the South Pacific. Qantas could offer more frequencies with the smaller 787-9 while roughly maintaining total capacity and improving efficiency.
New aircraft technology is a game changer in the South Pacific market, where long and thin routes have always made for a challenging operation. Melbourne would likely have never had an opportunity to attract a South America link without new generation aircraft such as the 787.