The group's latest Travel Trends Index forecasts US domestic travel should grow by 2.4% year-on-year through May-2019, with the business sector outperforming leisure travel. Strong business investment continues, but the association is warning that recent volatility in the financial markets adds a certain level of uncertainty to its outlook.
US leisure travel growth should soften, but still remain at approximately 2% as wage growth continues to firm and consumer confidence remains high. The temporary end of the partial US government shutdown should help to lift temporary dips in consumer confidence.
The association calculated international inbound travel growth outpaced its six-month average in Nov-2018, expanding by 3.8% year-over-year. But the group warns its continues to forecast much softer growth through the first five months of 2019.
Weakening international travel trends are driven by familiar challenges – trade tensions, the international effect of the recent US equity sell-off and general uncertainty with the administration of US President Trump.
"Consistent with solid momentum in the US economy, strong growth in travel activity continued in Nov-2018. Looking ahead, both domestic and international travel demand are anticipated to slow amidst gradually cooling domestic and global economies, heightened market volatility and trade tensions," explains Adam Sacks, President of Oxford's Tourism Economics., with whom the US Travel Association partners to compile its travel index.
Overall travel to and within the US grew 3.0% year-over-year in Nov-2018 marking the industry's 107th straight month of overall expansion.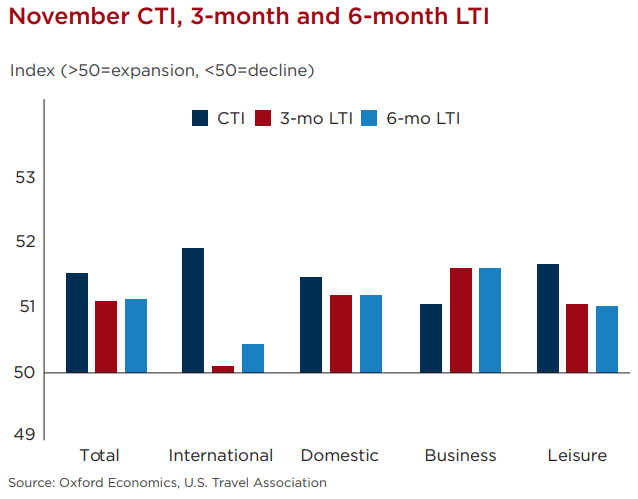 The US Travel Association's president and CEO, Roger Dow, like all across the aviation and travel sectors has welcomed the end of the government shutdown and hopes the agreement will avert any further disruption to air transportation, which undoubtedly would have moved downstream through wider sectors causing economic damage to the country.
He says, the reopening of national parks, plus the resumption of government travel and government-related business travel, will halt an estimated USD100 million in daily cost the loss of those activities had been imposing on the economy.
Mr Dow notes that it was "plainly evident" that the shutdown was affecting air travel and starting to damage the overall US economy. "Travel supports USD2.4 trillion in economic activity and one in nine American jobs, and is a top-10 employer in 49 states, so any slowdown in that sector risks an economic cost that could be felt in every corner of the country," he explains.