The Blue Swan Daily previously reported IAG's deal to acquire NIKI totalled up to EUR36.5 million, comprising an EUR20 million sale price and interim liquidity financing of up to EUR16.5 million. NIKI's Austrian bankruptcy executive, however, unanimously favoured a confidential offer from Niki Lauda to instead reclaim the carrier. According to the Austrian Union of Private Sector Employees (GPA-djp), Mr Lauda's offer in the Austrian insolvency proceedings was "significantly improved" over his initial one in the German courts, which totalled around EUR36 million.
Unlike his initial offer in the German courts, Mr Lauda's second bid for NIKI in Austria did not include Thomas Cook Group/Condor as a joint investor. Nonetheless, Thomas Cook is interested in buying seat capacity from a relaunched NIKI, as it did with airberlin in the past. Thomas Cook also confirmed it has been asked by Mr Lauda for support services, to enable NIKI's flight operations to restart by Mar-2018. Despite not having a stake in NIKI, Thomas Cook will largely be involved NIKI's management, at least initially.
Supporting a restart of NIKI could however be more difficult than originally envisaged. NIKI's works council chairman at the GPA-djp union has recently raised concerns of pilot and crew rostering issues, with around 90% of NIKI's 220 pilots currently in an application process with other airlines. Between 50 to 100 cabin crew have left the company since ceasing operations on 13-Dec-2017, while another 50 to 100 are expected to leave by the end of Jan-2018.
Despite the union's staffing concerns, Mr Lauda has offered all NIKI employees a new job. A 'new' NIKI would re-establish a hub at Vienna International Airport, as per an open letter submitted by Lauda to employees, while the airline would refocus efforts in the Austrian holiday market. This would contrast to NIKI's summer 2017 growth, which saw a shift in capacity away from Austria to Germany and Switzerland with a focus on serving Palma de Mallorca.
CHART - NIKI plans to refocus its activities on the Austrian market following its purchase by former owner Niki Lauda, where it will face strong competition from Lufthansa Group airlines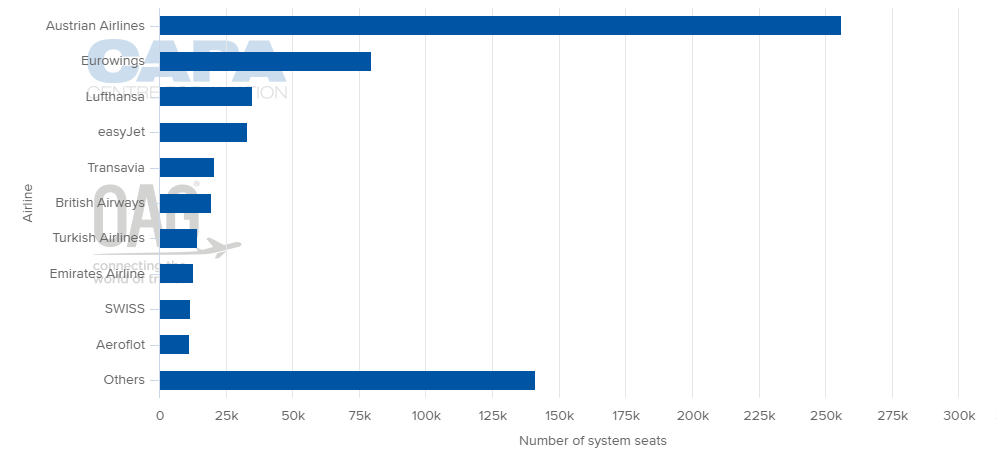 Source: CAPA - Centre for Aviation and OAG (data: w/c 22-Jan-2018)
Mr Lauda claims 15 aircraft are ready for the airline's relaunch, while his Viennese private jet company - Laudamotion GmbH - is eligible to procure the NIKI slot portfolio through use of its own air operator's certificate. NIKI's landing rights span multiple airports, including Vienna, Dusseldorf, Munich, Palma and Zurich, though it is unclear whether the airline will relaunch as NIKI or Laudamotion.
Lauda's vision for NIKI is fundamentally similar to that presented initially by IAG, which also allocated 15 aircraft for NIKI that would have operated under an Austrian subsidiary of Vueling. IAG CEO Willie Walsh, prior to the award of NIKI to Mr Lauda, said he saw growth for NIKI to "at least 30 aircraft in two to three years".
The unanticipated retraction of the initial IAG decision is representative of wider indecision NIKI has recently endured. On 08-Jun-2017, former airberlin shareholder Etihad terminated negotiations with the TUI Group on creating a new leisure airline joint venture, which would have combined NIKI with TUIfly.
This final straight victory by Mr Lauda could make it more difficult for the airline to return to business-as-usual by the outlined Mar-2018 date than under IAG's guidance, while observers argue that as an independent entity the venture could struggle in the competitive European short-haul landscape. What is sure is that Mr Lauda has shown a strength to succeed throughout his career and now as he returns to owning a commercial airline entity for a third time, he will hope that can translate into a podium finish for NIKI back in the Austrian market.