While the results indicate support for more ethical travel, the numbers imply a need for less talk and more action, and it is actually the travellers, not business, who are pushing for programmes to be more sustainable. This, it says, raises the question: Is the travel industry all talk and no action when it comes to the environment?
In a survey of over 110 European travel buyers, it was found that six in ten did not have an ethical travel programme, and while almost three in ten (28%) plan to introduce one, one quarter (25%) believe it's simply too costly and 8% actually have no intention to disrupt the status quo.
Of the 39% whose programme is deemed ethically conscious, one fifth (21%) restricts trips that are not 100% essential and a further 21% are switching from air to rail. More than a quarter (29%) believe that air miles should be banned for encouraging unnecessary air travel. However, just 17% said they currently offset aviation-related carbon emissions (26% plan to) and 27% share information about carbon emissions with travellers (26% plan to do that, too).
Three quarters (78%) of buyers polled also welcomed the UK Government's Net Zero legislation, which aims for the country to reduce carbon emissions to zero by 2050, with one quarter (25%) feeling it's long overdue and a further 21% saying it doesn't go far enough. However, 12% of respondents said they were unaware of the new law, one in ten describe it as being unfair on the airlines and a similar number (9%) said the timescale is unrealistic.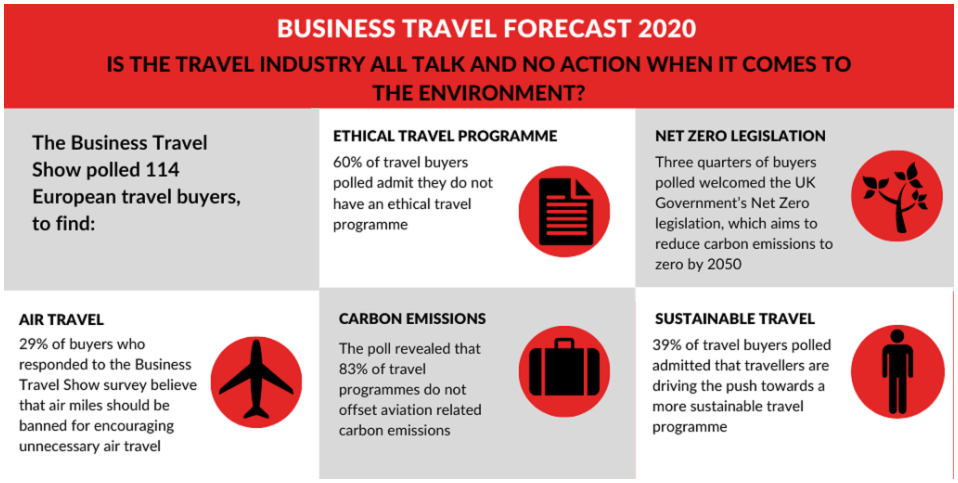 The surveyed European travel buyers also admitted that travellers are driving the push towards a more sustainable travel programme (39%), followed by procurement at 24% and C-Suite executives at 20%. Just one in ten (10%) pinned responsibility to their CSR and sustainability teams and 7% to those booking travel directly.
The findings seem to support increasing belief that many businesses are simply providing lip service in the environmental debate. Equally, for whatever reasons, it has also become apparent that when measures are in place – such as offset programmes – traveller engagement levels remain weak.
Lufthansa Group chairman and CEO Carsten Spohr recently highlighted the lack demand for the group's carbon offsetting tool, with only 1% to 2% of passengers choosing the compensation when purchasing airfares, and then only with the cheapest option. "The more expensive option is used by so few customers, that I could greet them all individually with a handshake", he was quoted as saying.
Amnesty International UK economic relations programme director Peter Frankental says this latest research provides further evidence that "too many businesses have their head in the sand when it comes to reducing their carbon footprint".
As the sustainability agenda grows there is no excuse for any company to ignore the impacts of its travel arrangements. Late last week, world-renowned natural historian and broadcaster, Sir David Attenborough, told the BBC: "As I speak, south east Australia is on fire. Why? Because the temperatures of the Earth are increasing." In the UK especially, the spotlight on climate change this year will be highly-charged ahead of the COP26 climate change summit in Glasgow towards the end of 2020.
Climate change awareness is not just the responsibility of travellers. Those businesses that deliver on their green credentials rather than just talking about them seem likely to be the winners as we as an industry increasingly aim to deliver ethical, environment-friendly sustainable travel.