---
Summary:
WestJet has revealed encouraging performance data on its AI-powered chatbot, dubbed Juliet;
Available in Facebook Messenger, Juliet assists customers in flight booking, highlights current promotions and serves as a virtual travel concierge;
The Canadian airline aims to use Juliet and artificial intelligence to further expand its business and is expected to adopt further AI pursuits in 2019.
---
Available in Facebook Messenger, Juliet assists customers in flight booking, highlights current deals and promotions, offers day of travel support and serves as a virtual travel concierge.
Recently, WestJet offered some statistics about Juliet's accomplishments. As of early Dec-2018, Juliet had handled 51% inquires, which was 26% above target, and produced 81% accuracy in intent and understanding within three months.
WestJet aims to use Juliet and AI to further expand its business, including the expansion of the chatbot on other messaging platforms and using Juliet to provide more integration into a customer's journey,
The airline also aims to use AI to optimise crew scheduling and reduce overtime, with a full scale launch of further AI applications for 4Q2019.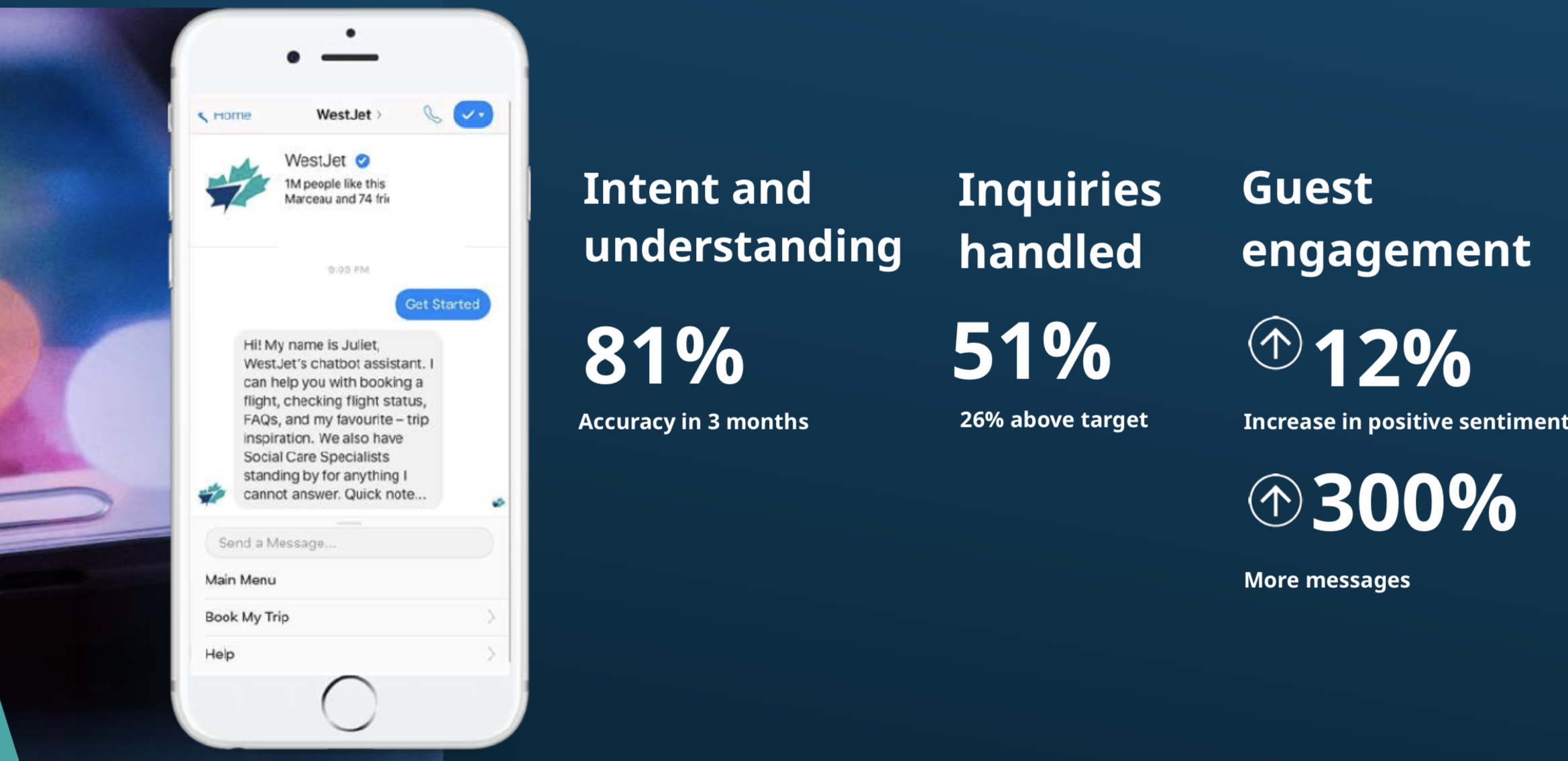 Canadian news outlet the Financial Post has cited forecasts by research firm Markets and Markets that has concluded the aviation sector's investment in AI is expected to grow from USD152 million in 2018 to USD2.2 billion by 2025.
WestJet's major rival Air Canada is also bullish on the prospects of AI. More than a year ago, Air Canada executives highlighted its partnership with RozieAI, which was helping the airline offer information through Amazon's Alexa. At that time, the airline was also working with Persado, which helps its clients identify AI generated language to create higher levels of resonance among customers.
During Sep-2017, the airline stated it was using AI powered models to deploy new customer fare sales, and upgrade emails, that were "40% more engaging than traditional offers".
Air Canada stated AI offered further opportunities to improve revenue management, noting AI was machine driven, providing the airline data to enable it do pricing in a more compelling fashion.
WestJet has been open to new ways to interact with its customer base for some time. For example, it says its approach to social media, where it has now had a presence for ten years, "has always been straightforward and simple – provide value to our guests by sharing interesting and relevant content while providing support before, during and after our guests' trips."
The airline understands the importance of being available to answer questions and provide support, which is "why it continues to be a priority for us," it explains. A couple years ago, it created a dedicated team to monitor social media feeds and respond to comments on Facebook and Twitter with its Social Care team the first in Canada to provide 24/7/365 service.
Juliet, named after WestJet's first aircraft, was launched in Aug-2018, and WestJet says there is so much more to come from the chatbot as she builds up additional knowledge. "Juliet is just getting started. She's only going to become more capable as time goes on because she's designed to accumulate knowledge based on conversations she has with our guests. The more interactions she has, the more she learns. She is, quite literally, learning all the time."