Data from the US lobbying group Airlines For America put the complete cessation of corporate demand into context. As the chart below illustrates, weekly corporate tickets sold by US travel agencies have not markedly moved off the bottom the industry hit in April, and trends are unlikely to change dramatically between now and the end of the year.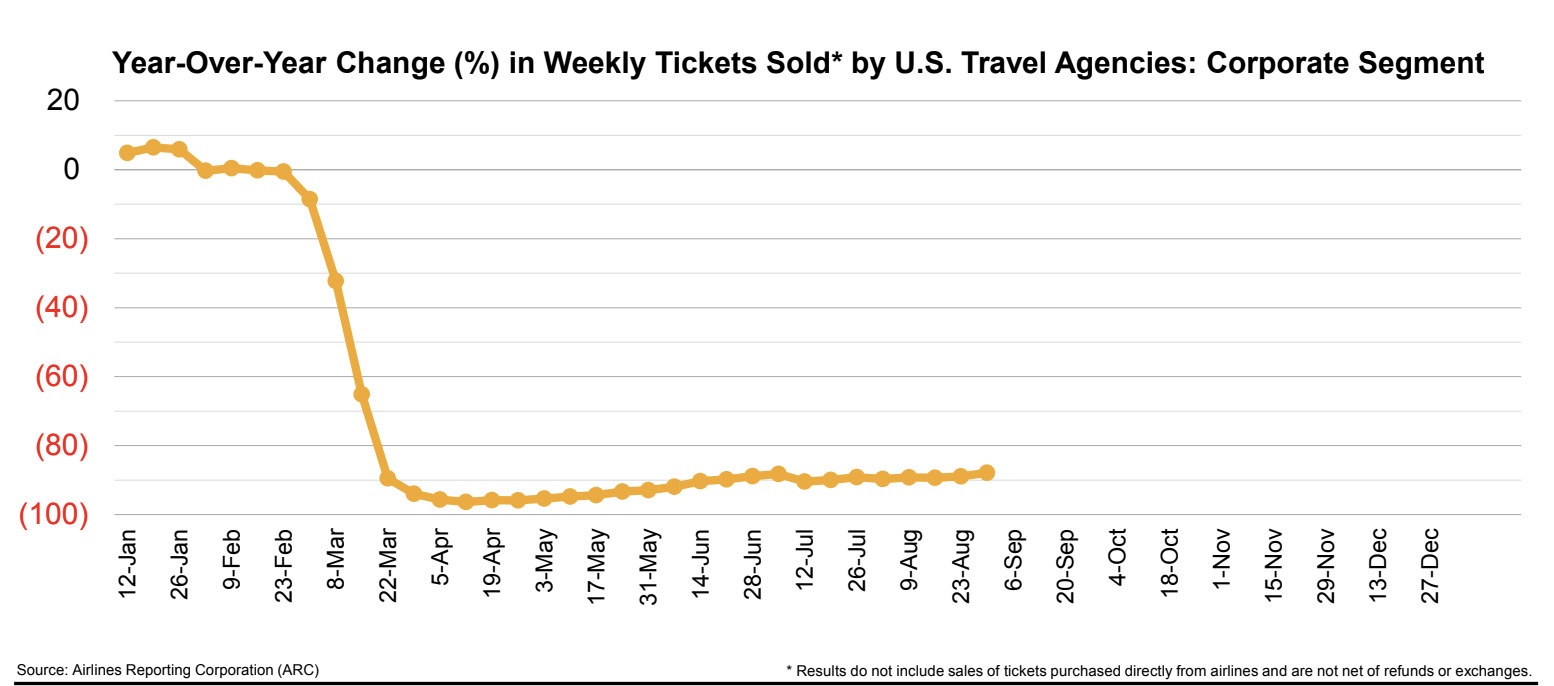 US airlines are bracing for continuing uncertainty. An executive from Delta Air Lines was recently quoted in a CNBC article stating that six months into the Covid-19 pandemic, the company has only recouped roughly 25% of its revenue. Southwest Airlines has declared that it needs business to double in order to reach a daily break even cash burn, and also believes that it is not seeing much activity in business bookings.
The latter's CEO Gary Kelly has revealed the carrier burned USD17 million per day in Jul-2020, and expects to reach USD20 million in daily cash burn in 3Q2020, due to "recent improvements in bookings and demand for Aug-2020 and Sep-2020". He stated that while the airline's cash position is "strong", the carrier has "got to find a way to eliminate these huge cash losses and just get to the other side of this pandemic".
Some larger US airlines are pivoting their networks toward leisure markets, but that is not a panacea for the long term as Delta, United Airlines and American Airlines have made significant investments in business class cabins and high end lounges in order to compete effectively for the high end business traveller.
A recent CAPA - Centre for Aviation report highlighted that some US airlines have been urging the US Government to establish temperature checks as part of the screening process for passengers. The article, 'US aviation: no government movement on temperature checks,' explains that regulators though have not exhibited a huge interest in instituting this procedure, which in turn has resulted in some airlines conducting their own tests to demonstrate the efficacy of temperature checks to allay passenger concerns about travel.
Southwest's Gary Kelly said he supports temperature screenings, and the carrier is trialling temperature checks at Dallas Love Field "for the sole purpose of trying to demonstrate to the TSA the efficacy of the process". Delta's CEO Ed Bastian noted people are "still concerned whether it's safe to travel", and Alaska Airlines CEO Brad Tilden believes the process will be "part of the confidence of society and people flying".
For now, the sobering reality is that corporate travel headwinds will continue until there is widespread vaccine available. When that might come remains anybody's guess. But right now things can change very quickly, for better or worse.
Some positive light from Cowen & Co managing director Helane Becker in a recent research report highlights the announcement by Abbott Laboratories of a USD5 15 minute at home Covid-19 test could be a positive step for air travel. "In our view, testing and tracing for Covid-19 is the only near term solution to handle the pandemic until there is a broader vaccine in place, " she says. Most in the industry agree, but many governments seem to be much slower of the mark in seeing this as a solution.