Speaking at the recent CAPA-ACTE Global Summit in London on the subject of LEVEL's business structure, Willie Walsh, CEO of IAG said: "You could say we took cost control to an extreme; we don't even have a CEO and we're using Iberia aircraft and cabin crew. It's a fresh approach to the business." However, speaking to The Blue Swan Daily on the sidelines of the event he confirmed that IAG is finalising the process of recruiting an executive team.
"LEVEL has been fantastic… bookings have been way in excess of what we expected. We've definitely tapped into something that wasn't being served in the market," he said. "we are expanding the business and we will have a new team in place to run it as a separate entity by the end of this year," he said.
IAG has just reported another strong quarterly performance with an operating profit up 20.7% to EUR1,455 million before exceptional items during Q3. This was built by strong performance across all of its operating companies with passenger unit revenue for the quarter by 0.7% (2.2% at constant currency). This brings its operating profit before exceptional items across the first nine months to 30-Sep-2017 to EUR2,430 million (2016: EUR1,915 million), up 26.9%.
CHART – IAG's passenger traffic has grown annually this decade, but the rate of growth in 2017 will be its slowest annual rise since 2011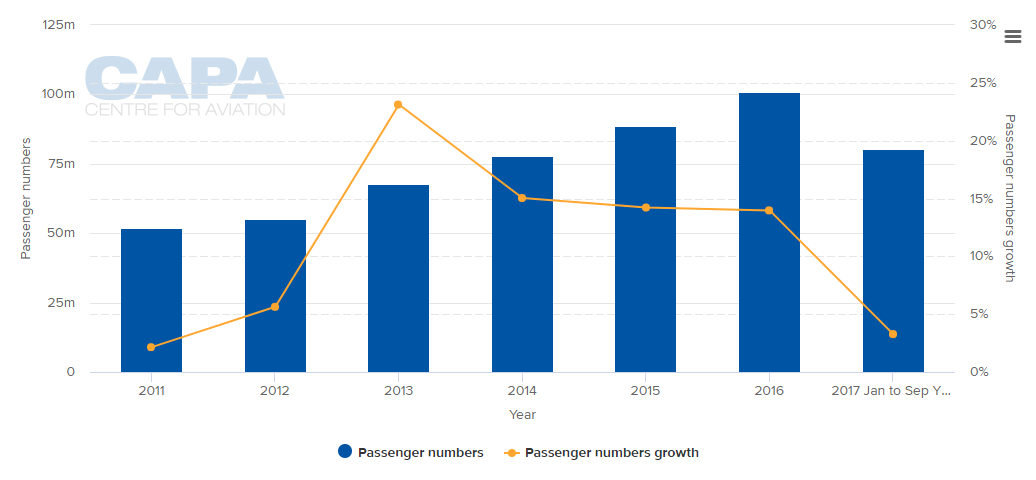 Source: CAPA – Centre for Aviation and airline group reports
LEVEL is certain to take on an increasing role within the IAG airline family and Mr Walsh has confirmed the "next generation long haul" brand will grow its fleet from just two aircraft to 30 over its first five years of operation. "QUOTE," he says.
Building on the success of its initial operations from Barcelona to Buenos Aires, Argentina; Los Angeles and Oakland, USA; and Punta Cana, Dominican Republic, he says the LEVEL fleet will grow to 13 aircraft in 2019 and up to 30 aircraft by 2022. It has already committed to three additional A330-200s for 2018 to support growth from Barcelona and to open a second base in either Paris, France or Rome, Italy.
While Mr Walsh has noted "low cost long haul might not dominate the market," and that Norwegian may be growing, but its "financial performance is not where they would want it to be," he said he is "convinced there's a profitable business there." In fact, he confirmed LEVEL will be profitable during its first year of operation, a significant for a start-up that wasn't even confirmed at the start of 2017. The IAG strategy group had been studying the emergence of the low cost long haul market for the past three years, but it was only in Mar-2017 that the final go ahead for the venture was announced.
WATCH our EXCLUSIVE CAPA TV video interview with Mr Walsh. Alongside confirming about the developments at LEVEL, he details the "good business case" for Ryanair feeding Aer Lingus' long haul operations at Dublin Airport and how the "very productive discussions" could lead to an agreement from next summer; British Airways' interest in the London Gatwick slots following the collapse of Monarch Airlines, which "didn't came as a surprise" to him; views on the Virgin Atlantic and Air France-KLM tie-up and Delta's involvement and how air traffic strikes are causing "huge disruption", particularly impacting Vueling.